Momina Mustehsan is a 23-year-old New York-based, Pakistani song writer and singer. She was co-writer and co-singer to Farhan Saeed's very popular 'Pee Jaun' but shot to relative fame when she sang playback for the band Soch in the Bollywood film Ek Villian, on a song called 'Awaari'. In addition, her rendition of the song Afreen kept everyone hooked and it wasn't just because of the Rahat Fateh Ali Khan was in the duet. She has gained so much fame that now there is hardly anyone who hasn't heard the voice of Momina Mustehsan and fallen in love with it.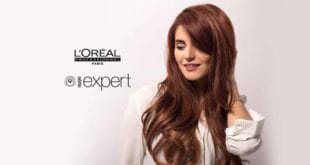 Recently,she starred in L'Oréal's TVC and though her hair looks great, we still are a little disappointed. As above started, there is no doubt that she is an amazing singer with one of the melodious voices of her time, but she isn't that good when it comes to acting.
Her acting in the TVC seems very mechanical and expressionless. But, I believe that she can improve. We've watched our cricket players become excellent models and actors in the past years and acting and cricket seem further from acting and singing!
L'Oréal Professionnel Serie Expert ft Momina Mstehsan

Find out Momina Mustehsan's secret for perfect hair every day.Whether color-treated? Undernourished, dry and damaged? Or coarse and unruly? L'Oréal Professionnel Serie Expert range is designed to address the individual needs of each person & delivers customized haircare to instantly transform your hair #HeadtothePros #SerieExpert #LorealPro

Публикувахте от L'Oréal Professionnel в Четвъртък, 15 юни 2017 г.