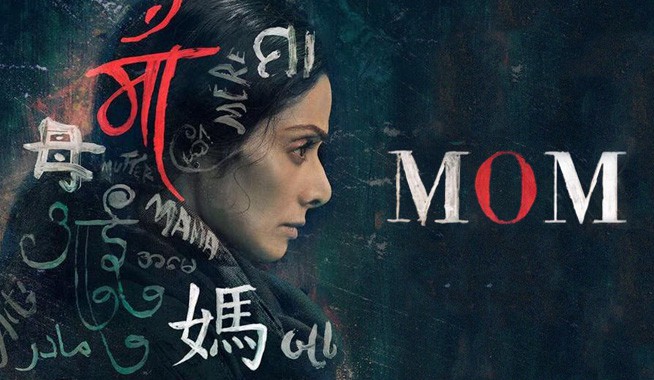 The trailer of the movie Mom is finally out and it has us all intrigued even more. For starters, it is has all the traits of a perfect movie trailer: the unique cohesion of a creepy lament in the background with the foreboding aura; narration with powerful dialogues and the enigma of the story-line which in no way has been clearly been revealed even in the two minutes that various scenes of the movie are put together. There is an ambiance of threat, danger, regret and despair as soon as the first sentence of the narration by Sridevi resonates in the video: "Which one will you choose: the wrong or more wrong?" We are flashed back in time where Sridevi's relationship with her step- daughter (Sajal Ali) is unfolded and even the bond that the family shared (Adan Siddique playing the father) as a whole before any trouble had been bestowed on them. Sajal Ali looks perfectly innocent, even fragile, on screen which perhaps plays a pivotal role in the circumstances that are yet to be disclosed but can only be guessed at; for an unfortunate turn of events seem to have come in between the mother-daughter relationship. Is Sajal Ali killed? Kidnapped? Gone through a traumatic experience, where maybe her mother is at fault or just blames herself for it?
The next interval of the trailer looks upon Sridevi searching for ways to correct her mistake or seek redemption for her own satisfaction. Here, two more actors are uncloaked : Nawazuddin Siddique (unperturbed and strangely calm among all the apprehension)  and Akshaye Khanna (handsome yet inscrutable); both disguised in the perfect get-up, yet we have no idea what part do they play in the conundrum that surrounds this plot.
The last card, however comes into play at the very end, where Sajal Ali questions her mom unequivocally : "But didn't you tell them? That I'm not your daughter, Ma'am?"
Is this it then? Is that the pivotal center of our storyline?
It seems like there is no end to the twists and puzzles of this thriller which only arouses are curiosity and impatience more.
One thing's for sure: We can't wait for this movie to hit theaters on the 7th of July!
Watch the trailer here and leave your thoughts in the comments below: