There was a time when Pakistani viewers desperately wanted to watch dramas which highlighted important social issues, broke stereotypes and were entertaining too since most of the dramas focused entirely on family politics and there were hardly any strong female leads in our dramas. Although, even today such dramas get ratings but there are plenty of viewers out there who want to see variation in Pakistani dramas and would rather tune into a show which serves a higher purpose. Apart from this, the viewers also wanted the drama makers to experiment with different genres.
The production houses finally realized that they needed to make dramas which were for those viewers who believe that dramas are a useful medium for spreading awareness and shedding light on topics which people usually shy away from therefore they didn't only let the writers experiment with genres but also showed quite a few hard-hitting dramas in prime time.
You can't watch issue-based heavy-duty dramas every day of the week therefore we have made a list of entertaining shows which will keep you hooked and also offer variety. While some of them are thought provoking dramas which show a realistic picture of some really serious issues in our society, others are feel-good family dramas which keep you looking forward to more and help you unwind.
Dar Si Jati Hei Sila
Writer: Bee Gul
Director : Kashif Nisar
Produced by: MD Productions
Rating: 5 Stars ☆☆☆☆☆
Dar Si Jati Hei Sila is a must-watch for all those people who like watching thought-provoking dramas which fit the bill. This drama will not disappoint you and it will give you tons to reflect upon. The writer's direct and honest approach, riveting performances and brilliant direction are few of the reasons why this drama is a must-watch. It is intense, powerful and definitely stays with you long after you're done watching it.
Dar Si Jati Hei Sila is the story of a family living in Noor Manzil. All the members of the family fail to see why the main lead Sila is so quite and scared all the time. It shows sexual abuse and harassment from a different perspective and questions the double standards of our society. The drama has plenty of interesting plot twists to keep you interested, the characters and the dialogues are its main attraction and the overall treatment given to this play is faultless.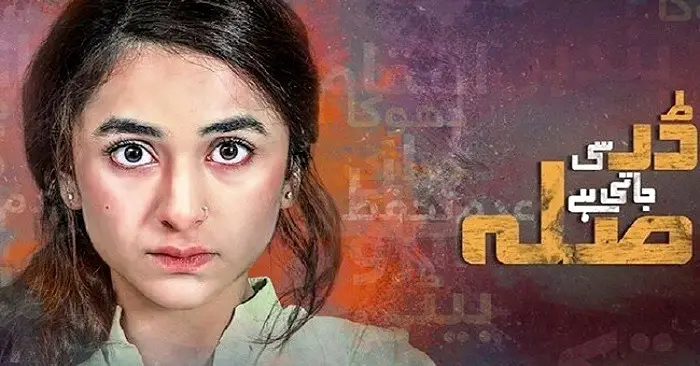 Aangan
Writer: Faiza Iftikhar
Director: Qasim Ali Mureed
Produced By: Six Sigma Plus
Rating: 5 Stars ☆☆☆☆☆
Aangan is one such drama that has so much to offer to every single viewer that tunes to it. It won't be an overstatement but Aangan is such a drama which is everyone's cup of tea because the writer has brought real life to reel life and for that very reason, everyone can relate to all the characters in this drama. Spot on direction, relatable and beautiful characters, brilliant acting and most importantly, the comic factor and perfect dialogues makes Aangan a must watch!
Aangan is a story of a huge Punjabi family where the daughters in law get to do the heavy lifting. Some days they fight and the others they come together to resolve their family issues. A situational story which warms your heart, makes you smile and at times leaves you teary eyed too. It is not an easy feat bringing so many characters to life and for that reason, Faiza Iftikhar should take a bow. If you are a fan of light-hearted dramas with some strongly embedded messages conveyed in a non-preachy manner, Aangan is the drama for you!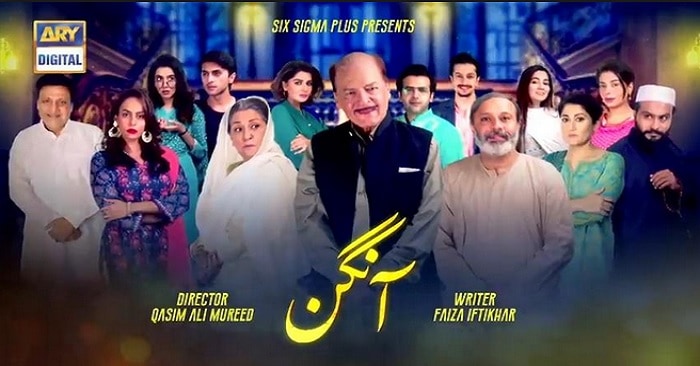 Aakhri Station
Writer: Amna Mufti
Director: Sarmad Khoosat
Produced by: Kashf Foundation & Khoosat Films
Rating: 5 Stars ☆☆☆☆☆
Aakhri Station is just plain beautiful! Everything about this drama is brilliant right from the get-go. It is a relatively short play which is meaningful, deep as well as gripping. Once you start watching this show, you won't be able to stop! It gives hope and educates at the same time. The OST of this drama is equally impressive. It is yet another feather in Kashf Foundation's cap. Amna Mufti's script is compelling and all-encompassing.
Aakhri Station is a mini-series which doesn't only highlight the problems faced by women in a male dominated society which thrives on suppressing women but also shows how they eventually empower themselves. Aakhri Station is the story of seven women who meet by chance and end up finding out that they have a lot in common. Although the odds are against these women but they are strong and eager to fight their battles. Aakhri Station shouldn't be missed, it is a gem which should be watched and appreciated.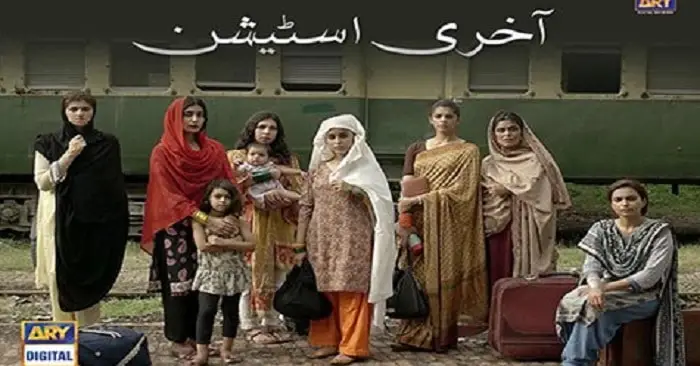 Khudgarz
Writer: Rida Bilal
Director: Yasir Nawaz
Produced By: Six Sigma Plus & Next Level Entertainment
Rating: 5 Stars ☆☆☆☆☆
Khudgarz drama is a result of an intelligently written script where the writer Rida Bilal didn't lose her grip on the script, from the beginning till the end. Khudgarz's script was strong but the director elevated its level with his strong direction and the actors took it a notch higher too with their extraordinary performances. This is one such drama that will stay with you for a long time and will touch you on a very personal level.
As the name suggests, Khudgarz was a story of a young man who couldn't see anyone happy and then his journey from being negative to someone who wanted to do everything to revert his wrongdoings. A story also covering strong friendships, beautiful marriage which was A result of sacrifices and compromise. Khudgarz also intelligently shed a light on the sensitive subject of depression and the way this entire aspect was covered made it too obvious that depression was never tackled in such a way in our dramas before. Beautifully written dialogues and all those situations  which kept you engulfed in deep thoughts when you tuned to this drama makes it a must-watch.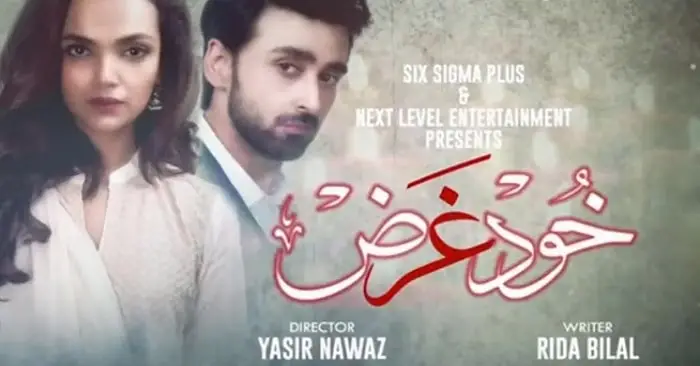 Zun Mureed
Writer: Amna Mufti
Director: Ahmed Kamran
Produced By: Moomal Entertainment
Rating: 3.5 Stars ☆☆☆☆
Zun Mureed highlights the issue of domestic abuse from a completely new perspective. It sheds light on how difficult it is for women to actually use the women protection bill to shelter themselves from abuse. Amna Mufti's script is powerful and affective but unfortunately Nadia Khan, who plays the role of Tabbasum (the main protagonist) failed to do justice to her character. This drama could have been even more impactful if it was given the right treatment by the director. Zun Mureed however shouldn't be missed because it is bound to give its viewers tons to reflect upon and raises some really important and relevant questions. Also, apart from Nadia Khan all the other actors have performed brilliantly therefore overall the viewers will have no trouble connecting to the characters and the situations.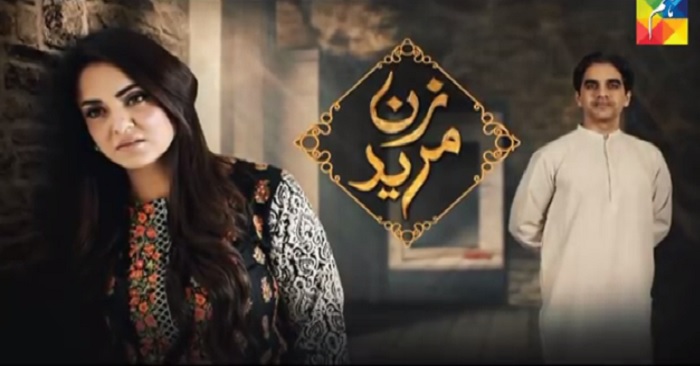 Shayyad
Writer: Faiza Iftikhar
Director: Syed Ali Raza (Usama)
Produced By: Babar Javed
Rating: 5 Stars ☆☆☆☆☆
Shayyad is a must-see drama for all the hopeless romantics out there who want to watch a different story of undying love. Uzair Jaswal's phenomenal performance, the beautiful dialogues and an unpredictable storyline are few of the reason why everyone should tune into this drama. The filmy feel of this play is sure to cast a spell on its viewers and you will find yourself falling in love with Saad (the main protagonist) more with every passing episode.
Shayyad is a love story which will win you over as soon as you are done watching the first episode. It is poignant, inspiring and meaningful, Shayyad is also one of those very few dramas which didn't drag at all. Some of the characters are so beautifully etched-out that at times they are the sole reason why you keep on coming back for more! Hani and Saad's love story is unforgettable and touching. If you haven't watched this play already, you need to tune into it ASAP!!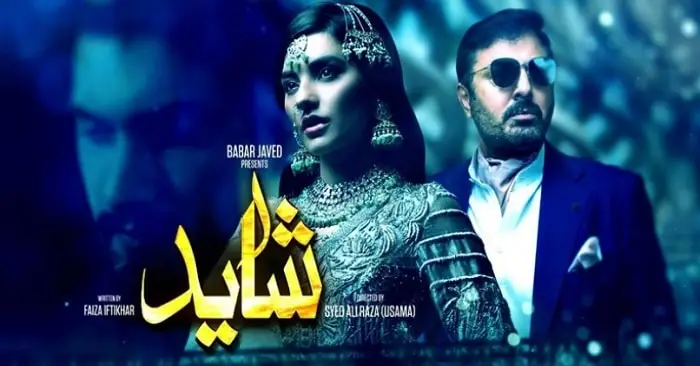 Nibah
Writer: Radian Shah
Director: Aabis Raza
Produced By: Big Bang Entertainment
Rating: 5 Stars ☆☆☆☆☆
Drama serial Nibah is a remake of an old classic Aanch. Making a remake of a classic is always a risky affair. I remember watching Aanch and my impressions of all the characters therefore naturally I found myself comparing Nibah with Aanch and there were plenty of moments when I was convinced that this remake was a more improved and polished version of the original drama. Nibah starts off slow but once it takes off, it completely wins you over. Nibah is one of the very few family dramas on air right now which you can tune into at 8 o clock and enjoy watching it with your family. Aamina Sheikh's performance is the highlight of this drama and the nuanced characters are the main attraction. Unlike Aanch the characters are not black and white, the overall treatment given to the play is much more impressive and I must say that some of the performances are far more compelling too.
Nibah is the story of two people who tie the knot in circumstances which are anything but ideal. This drama covers their journey and you end up forming an emotional bond with these two amazing but equally flawed individuals and you can't help but root for a happy ending. Nibah's script, direction, cast, performances and the pace is perfect. It is not to be missed, do tune into it. Aamina Sheikh continues to impress and enthrall the viewers and Asif Raza Mir is perfect for the role he is playing in the show. This is a perfect family drama which shouldn't be missed!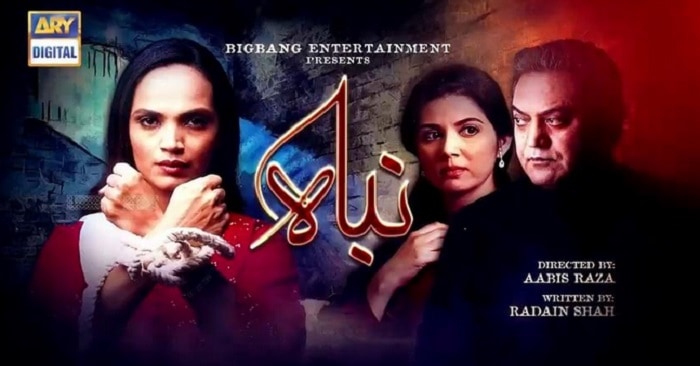 Belapur Ki Dayan
Writer: Inam Hasan
Director: Saife Hassan
Produced by: MD Productions
Rating: 5 Stars ☆☆☆☆☆
Belapur Ki Dayan is a perfect combination of horror and suspense, it is the kind of drama which will give you goosebumps and keep you at the edge of your seats. Saife Hassan's skillful direction, the excellent work done by the director of photography and a story which has tons of surprises are few of the reasons why this drama shouldn't be missed! The overall setting of the play so far is perfect, the location couldn't have been better and the strong attention to detail gives every scene a realistic touch.
Belapur Ki Dayan is the story of Aziz Sahib's family which is troubled by a dayan after they move into an old ancestral house. The back story of the dayan is as interesting as the present day happenings. The past and the present are seamlessly woven together. The performances are convincing and the execution couldn't have been better. This show is a must-watch for all those viewers who enjoy watching horror shows.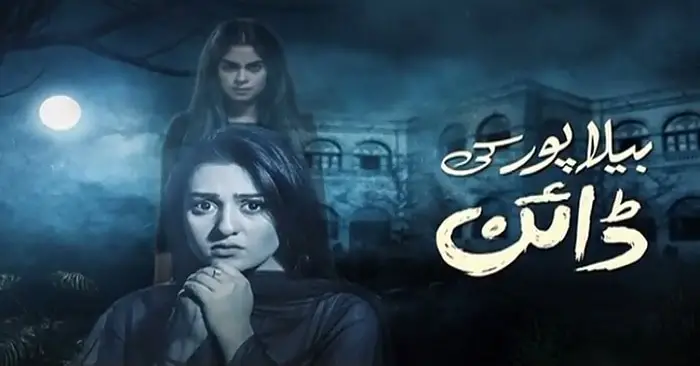 Ishq Tamasha
Writer: Misbah Nosheen
Director: Danish Nawaz
Produced by: MD Productions
Rating: 4 Stars ☆☆☆☆☆
Ishq Tamasha is an entertaining drama which shouldn't be missed. Even though this drama has a somewhat predictable story but the execution and acting makes you look forward to it week after week. The direction of this drama is strong and to see Kinza Hashmi portraying such a boisterous character without holding back is the main attraction of this drama.
Ishq Tamasha's story is about two cousins where one is carefree and dreams big, the other one is constantly reminded of how hard her life is. One of them gets involved with a guy and the other one happens to take the brunt for her cousin's mistakes. Ishq Tamasha has been written brilliantly and it definitely is a must-watch because it is one of those dramas that would keep you entertained and by the end of an episode, it will give you a reason to tune to it next week too.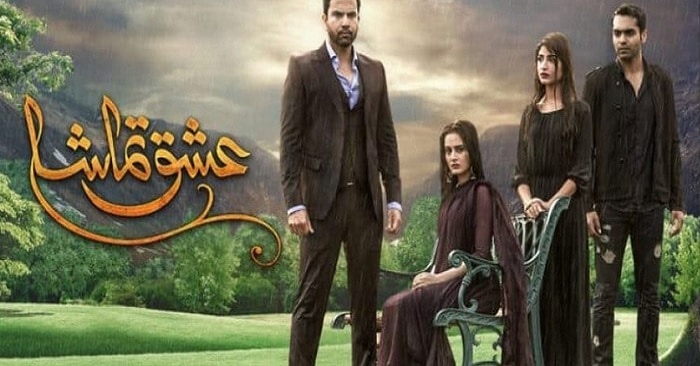 Teri Meri Kahani
Writer: Sumaira Hameed
Director: Ali Faizan
Producer: MD Productions & Moomal Productions
Rating: 3.5 Stars ☆☆☆
Teri Meri Kahani isn't as deep and meaningful as most of the plays in this list and some of the performances are weak as well but overall it is definitely the kind of show which keeps you interested. This is also Saheefa Jabbar's first drama and she is one of the main reasons why this drama has a fresh appeal. Some of the performances are below average but the story is engaging enough to keep the viewers interested. It won't be an exaggeration to say that Saheefa Jabbar makes this drama more likeable and watchable.
Teri Meri Kahani is essentially the story of relationships and how they shape up your life. It also shows how secrets can hurt your ties and the past can come to haunt you. It has different characters who are fighting to keep their relationships intact and others who find pleasure in causing pain to others. The script is interesting but the execution fails to impress at times, overall however it is entertaining and therefore is a must-watch.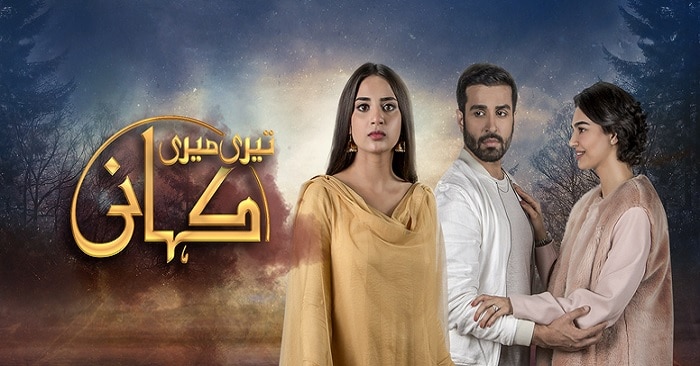 Lashkara
Writer: Zafar Mairaj
Director: Kashif Nisar
Produced By: Six Sigma Productions
Rating: 4 Stars ☆☆☆☆
Even though Lashkara's story is in the initial stages but the beginning of this drama has promised a lot. The way the director has brought the dynamics of interior Lahore to life on screen is commendable. This drama has so much to offer and there's so much that meets the eye.
Lashkara's story is about this beautiful girl Bubbly who has quite a lot of admirers and fans in her locality. Bubbly's beauty is the focal point and she has earned quite a name. The way the characters are being portrayed by Ushna Shah, Imran Ashraf and Mohsin Abbas Haider is impressive. Lashkara is one such drama that is going to keep you entertained, therefore is makes it to the list of must-watch dramas.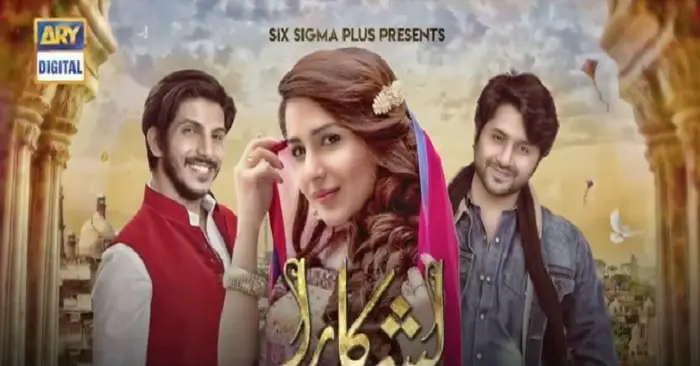 Visaal
Writer: Hashim Nadeem
Director: Ali Hassan
Produced By: Big Bang Entertainment
Rating: 3.5 Stars ☆☆☆
Visaal is again the drama that is in the initial stages of story-telling but the simple vibe and feel along with positive characters are the main factors why this drama has that appeal to draw the attention.
Visaal's story is about the imposter who has entered the lives of those people who are unable to see-through his intentions. Just because he fell in love at first sight with the main lead, he chose to pave his way towards her. There are a lot of misunderstandings that are brewing up a storm and along the way, a couple of love triangles are forming too. It is a simple drama executed impressively, therefore it is worth a watch.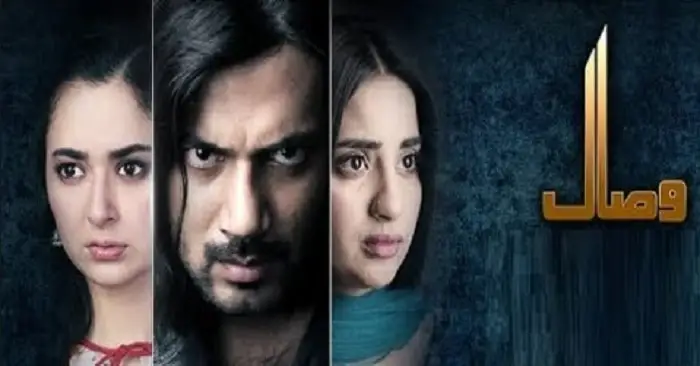 Ghar Titlee Ka Par
Writer: Samra Bukhari
Director: Mohsin Talat
Produced By: 7th Sky Entertainment
Rating: 3.5 Stars ☆☆☆
The number one reason why this drama made it to this list is Anji's character and the way Sanam Chaudhry has tanslated it on screen! Anji's character has been the star of every single episode so far. The most interesting element of this is that this Anji's character is negative (to say the least!) but even then Anji has more appeal than many other female leads we have seen in our dramas in recent times. Ghar Titlee Ka Par is addictive therefore once you start watching it, you won't be able to stop!!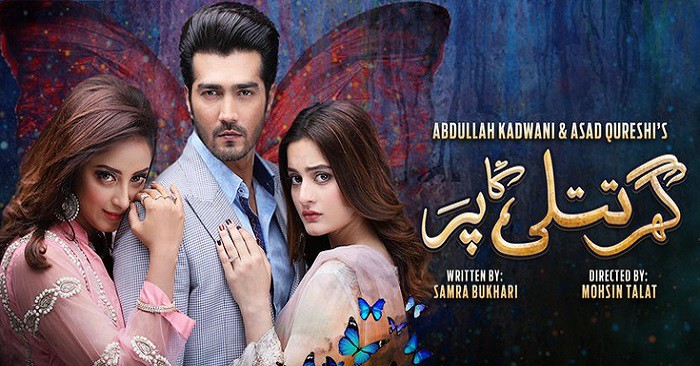 How many of these dramas are you watching and which ones are you going to tune into now? Do share your thoughts in the comments section.