News of Veteran TV actor, Nayla Jaffri battling with the last stages of ovarian cancer surfaced on the internet and the media.
But now, Nayla has clarified that the reports of her being sick were a "bit exaggerated".
in a message on Facebook shared by her son Jauhar Ali, Nayla informed her well-wishers that her treatment is in process and she is getting better.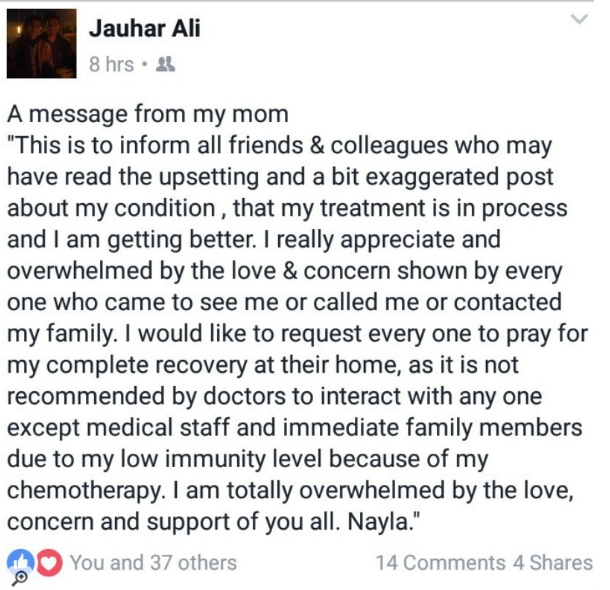 She has thanked everyone for her support.
Exaggerated reports of Nayla's critical reports were going viral on social media on Friday and Saturday. Famous celebrities like Adnan Siddiqui shared news of the actor's health on their Facebook pages which read: "B+ blood needed for Actress Nyla Jaffery. Admited in Liaquat National Hospital. Her cancer is in the last stage."
However, Liaquat National Hospital denied any truth to these reports, stating she is neither in need for blood nor is her cancer in the last stage.
The actor who was diagnosed with ovarian cancer last year has been receiving treatment at LNH since her diagnosis.
Nayla is very famous for her work in Aa Mujh Ko Sulana, Desi Girlsand Thodi Si Khushiyan.