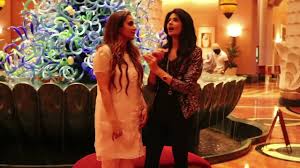 Nadia Khan and Madiha Ifthikhar are known for introducing fresh ideas and concepts and this time around, they have come up with yet another brilliant idea of an online magazine that revolves around lifestyle, fashion , health, entertainment, gossip and much more.
Nadia Khan bid farewell to morning shows a year ago with a promise to bring something new for the audience other than the on air shadi business, fake shows where you watch live exorcism, totkey to whiten up your skin tone and the live baby shower broadcast of the hosts themselves.
Madiha Ifthikhar, the beauty we know from the fashion world, also thought to quit the morning shows and bring something worthwhile for her fans. Their collaborative efforts earned them success and much fame through a platform popular among people throughout the world. Their new YouTube channel " Nadia and Madiha " is captivating enough as it deals with all aspects of life. Their videos not only help the viewers stay connected to their lives but also help aware people regarding different issues which are otherwise glossed over.From beauty tips to a healthy lifestyle, this vlog provides you all that you have always wanted to watch which makes it a complete package.
Covering lifestyles of two famous hosts and other everyday issues ,the channel has earned an impressive amount of followers and praises so far and this infotainment channel is all set to achieve a lot more.