Ohkay so, the production of Wajahat Rauf, direction of Zeeshan Ali & the writing of Mohsin Ali, Yaar e Bewafa commenced last night & I must say it most certainly had a great start. From writing in terms of introduction to the characters & their scenarios, to direction, everything was spot on & what I actually enjoyed the most about the first episode of this drama was how the director kept things simple, minimal & realistic. While watching this episode I never once felt that I needed to know more about the characters because everything that was important was given out perfectly without making it too obvious that they were trying hard to let us know who the characters are & what they're are going through. I liked the effortless approach of the director in the first episode & I hope that he has given this sort of treatment to the rest of the drama as well.
So, in the very first episode, the two couples & their stories got introduced. The first couple of Zaid (Imran Abbas) & Fizza (Arij Fatima) & the other one of Amna (Sara Khan) & Saleem (Saleem Mairaj). Zaid & Fizza's family consists of Zaid's mother (Samina Ahmed) & their son & they are trying hard to make the ends meet. At first, when you get an insight into Fizza's character, you feel she is eager & desperate because being a mother, she wants to give her son a better life but as you get to know more about her, you find out about the baggage that she is carrying. Fizza is a school teacher & Zaid is an employee in a firm but as much as they both earn, it goes into the household expenditures. Fizza & Zaid also have a future plan that they both are working on, which is for Zaid to settle in Australia so that he can provide better lifestyle for his family. Fizza & Zaid both have the same vision & believe in achieving their goals together with each other's support.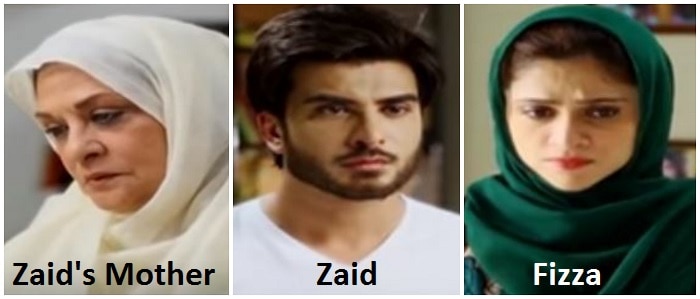 Things get tougher for both Zaid & Fizza when the immigration agent Rashid tells them to arrange a good amount of money to pay for a semester fee of the university so that Zaid can get his visa. Even though Zaid's friend tries to warn him of the frauds that tend to happen in this industry, Zaid still blindly trusts his agent as he guarantees him the visa which puts Zaid's heart to ease. Also, the fact that Fizza happens to be so adamant on this plan pushes Zaid to such an extreme that he doesn't even consider the possibility of things going wrong.
Amna is married to Saleem, a factory worker who keeps on getting into trouble because of his temperament. Amna tries to support her husband & stand by him through thick & thin but it seems he doesn't really appreciate what she does for his sake. Amna & Saleem also have a son. It looks like Amna has accepted her fate with a husband like Saleem & that is why even when her Aunt tries to knock some sense into her, Amna denies everything & assures her that she is happy with her husband because he loves her a lot. The fact that Saleem shuns the hassle that Amna goes through to arrange his bail highlights the fact that he really doesn't care much for her but Amna tries to tweak with the reality in order to present a decent picture of her life in front of people.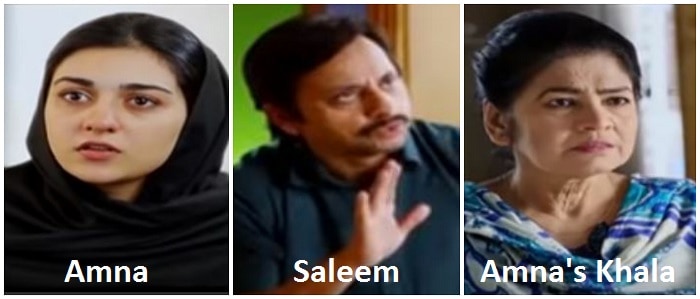 I must say I actually enjoyed seeing Fizza's character & how her background story was revealed, it's like you can't be sure of her & she can be a grey character which I liked. At first I thought she was doing everything & pushing her husband so much because she wanted a better & secure future for her son & rightly so because like she said, every single day through different channels she got a reminder of all those luxuries that were missing from her son's life but as I got to know more about her, I understood where she was coming from & everything she wanted was not only because of her son. At first when Fizza compared her life with the richer, it did make me feel that she was a bit too desperate but just a single visit to her parent's house changed my perspective of her. At this point, I am not forming an opinion whether Fizza's fixation with 'better & secure future' is right but seeing how she comes from a wealthy family showed that she did have her reasons.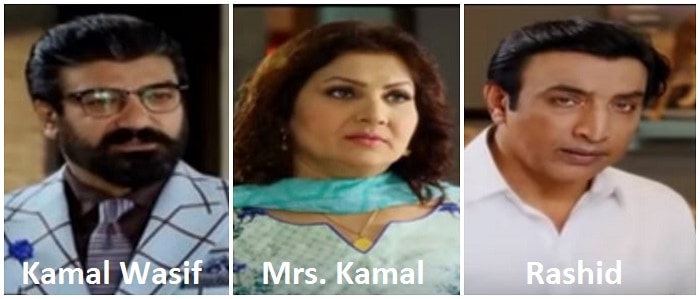 Fizza left every single thing for Zaid's sake & she settled for a very humble lifestyle because she loved him & just because she got desperate & visited her parents to ask for some financial help, she was reminded of all those claims that she made. Fizza's father Kamal Wasif (Tahir Jatoi) a wealthy businessman, didn't take a second to remind his daughter of what she said when she decided to get married to Zaid, obviously being in love did cloud Fizza's judgment at that point & she actually thought that she'd be able to live happily ever after even in the most desperate situations but now when she has been married to Zaid for 5 years, she actually has realized that things aren't as easy as she thought they'd be. The fact that Fizza comes from an affluent background & how she has settled for such a different lifestyle does justify her wants & needs because first off, she was used to all the luxuries & then comes the main reason, which is to prove her father wrong. All this while I thought Fizza was just someone who didn't mind complaining but seeing how much effort she has put into this relationship & how much she has also sacrificed for this relationship, shows that she is keen on a better future as she wants to prove to her father that her decision was right. Fizza's verdict saying 'wo jeet gaye' showed that she actually was striving so hard to make the most of this golden opportunity in order to tell her father that getting married to Zaid was not a wrong decision that she made & that Zaid was capable enough to provide a decent lifestyle for her.
Overall, the first episode of Yaar e Bewafa was really nice & I thoroughly enjoyed watching it. Zaid's mother got to make a very little contribution in the episode but her presence was felt & I liked seeing her. The fact that Zaid wanted to keep her free from all the worries & seeing how decided to help Zaid only to see a smile on her son's face was heart-warming. I do have a feeling that Zaid's mother might be suffering from some sort of mental illness because the fact that she forgets things a bit too easily was highlighted subtly in this episode. I liked all the characters but I actually am interested to see more of Fizza because where she does come across as reasonable most of the times, she does give an irrational vibe at times too & I think that was balanced out by the writer beautifully because that is what made her character real. Imran Abbas, Sara Khan & Arij Fatima, all did a fantastic job because it looked like they all had such a great understanding of their characters that they actually owned them, like not even for a second I felt that one of them was struggling to fit into his or her character & may be that's why I found everything quite effortless & realistic. Definitely impressed & definitely looking forward to the next episode. Please share your thoughts about the very first episode of Yaar e Bewafa.
Keep Supporting,
Cheers,
Zahra Mirza.