Celebrities mourning the deaths – Junaid Jamshed and others on board PK661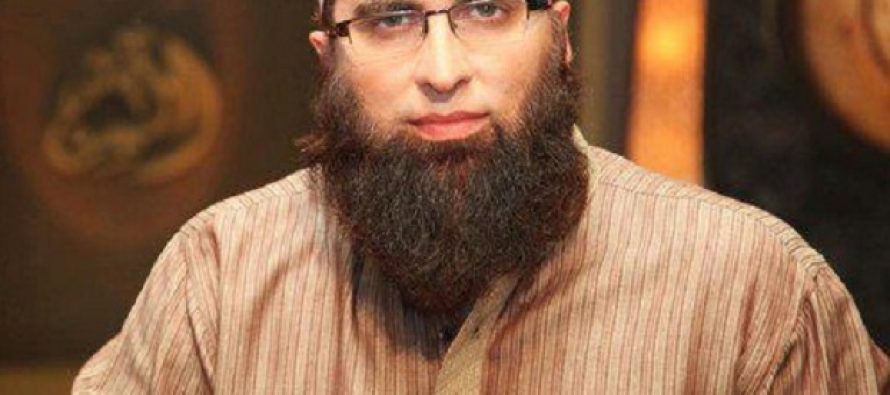 The news of the flight Pk-661 crashing broke out this evening, All the passengers and crew on-board lost their lives. And Pakistan once again lost many lives in the tragic accident. The renowned Islamic scholar Junaid Jamshed was on board too.
Celebrities took to twitter to mourn the loss of Junaid Jamshed and the rest on-board.
The voice of my youth, the voice of my generation….#JunaidJamshed you will be sorely missed. Prayers for all the departed on #pk661

— Huma A. Shah (@humaamirshah) December 7, 2016
Saddened beyond words! Rest in peace #JunaidJamshed & all the people who were on board! Inna Lillahi Wa Inna Ilaihi Rajiun!

— URWA HOCANE (@VJURWA) December 7, 2016
Heart is bleeding for the lives lost, condolences to the family. We lose another icon.. this is just so so sad. #PK661 #JunaidJamshed

— Mahira Khan (@TheMahiraKhan) December 7, 2016
In absolute shock over news of #JunaidJamshed and all others who have lost their lives in this crash – so tragic!

— zainab abbas (@ZAbbasOfficial) December 7, 2016
Abdul sattar EDHI, Amjad Sabri, & now Jnaid Jamshed!! we lost many gems this year. :(

— Shaan Shahid (@mshaanshahid) December 7, 2016
Loss of words. Shocking. Condolences to the families of all the passengers. Junaid bhaee :( #PIAcrash

— Ali Zafar (@AliZafarsays) December 7, 2016
I pray for all the families of the people who died in the Chitral plane crash, life brings such unexpected loss with it.

— Zoe Viccaji Official (@Zoeviccaji) December 7, 2016
No words ?#sadday #Junaidjamshed pic.twitter.com/V1cpS0LoJN

— Umar Akmal (@Umar96Akmal) December 7, 2016
why did you leave me without saying goodbye @JunaidJamshedPK To God we belong & to Him shall we return…#JaanJaanPakistan

— salman ahmad (@sufisal) December 7, 2016
Deeply saddened to hear about the plane crash. Prayers for the deceased. Rest in peace Junaid Jamshed, a great human being

— Humayun Saeed (@iamhumayunsaeed) December 7, 2016
Sad news coming from Pakistan, prayers are with the families of the passengers, #pk661@JunaidJamshedPK Inna lilah wa Inna ilahi Rajioun

— Kabir Ali (@Imkabirali) December 7, 2016
My heart is drowning in sadness to learn about the air crash of Pia.. news feared my friends Junaid Jamshed and alay Akram was in it 2..

— Shoaib Akhtar (@shoaib100mph) December 7, 2016
It is confirmed that my friend & neighbour Junaid Jamshed was indeed on the unfortunate flight. Allah have mercy. #PIA

— Fakhr-e-Alam (@falamb3) December 7, 2016
May the departed souls in rest in peace.
Rimsha Butt
---