Sultan Raahi the legendary name of Punjabi cinema was murdered some eighteen years ago and his murder case is still unsolved. Sultan Raahi's actor son Haidar Sultan has recently returned form United States and in a press conference reminded current Prime Minister Nawaz Sharif of his promise to trial the culprits of this unsolved murder.
Haider revealed when Sultan Raahi was murdered in 1996, Nawaz Sharif (then opposition leader) assured him of justice while visiting him to condole the death of his father. Now he is again in power, so the promise and assurance needs to be fulfilled.
Haidar is also working in a low budget Punjabi film being made in Lahore. He also appealed to Shaan, Babar Ali and Momi Rana to support the film industry.
We are with Haider Sultan over unsolved murder case of his legendary father. Regarding promise of Nawaz Sharif, one can only advise Haider Sultan never take the promise of a politician seriously.
Full content from Urdu Daily Naibaat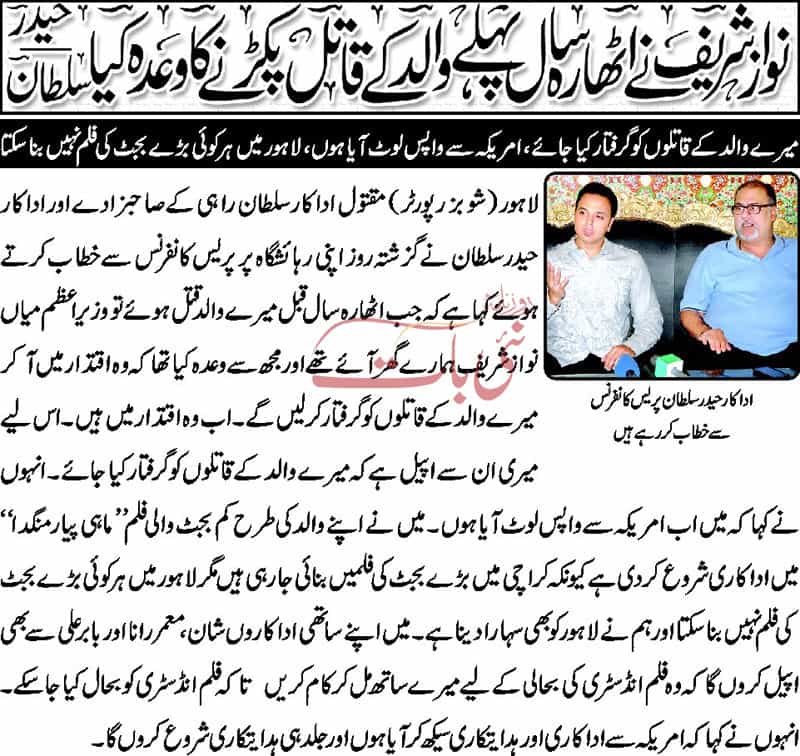 Rashid Nazir Ali