Once we had a thriving and booming film industry producing more than fifty urdu films every year which produced many prominent artists. Shabnum was one such artist who ruled Urdu cinema for almost two decades. Shabnum was from East Pakistan which separated in 1971 to become Bangladesh. After fall of film industry in early 90's Shabnum went back to Bangladesh, though she returned in mid 1990's for a brief stay of two/three years till departing permenantly in 1998-99.
The most successful heroine of Urdu cinema Shabnum was invited by Goverment of Pakistan and awarded life time achievement award in 2012 along with her husband musician Robin Ghosh.
Recently Shabnum had a telephonic conversation with Pakistani media in which is expressed her excitement on the news of revival of Pakistani cinema. Shabnum expressed best wishes for new breed of film makers. She is thankful to Pakistanis for the way she was cherished and welcomed upon her visit three years ago. She said, she can never forget the love of Pakistanis.
Shabum also said condolence to Ms. Parveen Saeed Haroon wife of Saeed A. Haroon who recently passed away in Karachi.
Full content from urdu daily naibaat.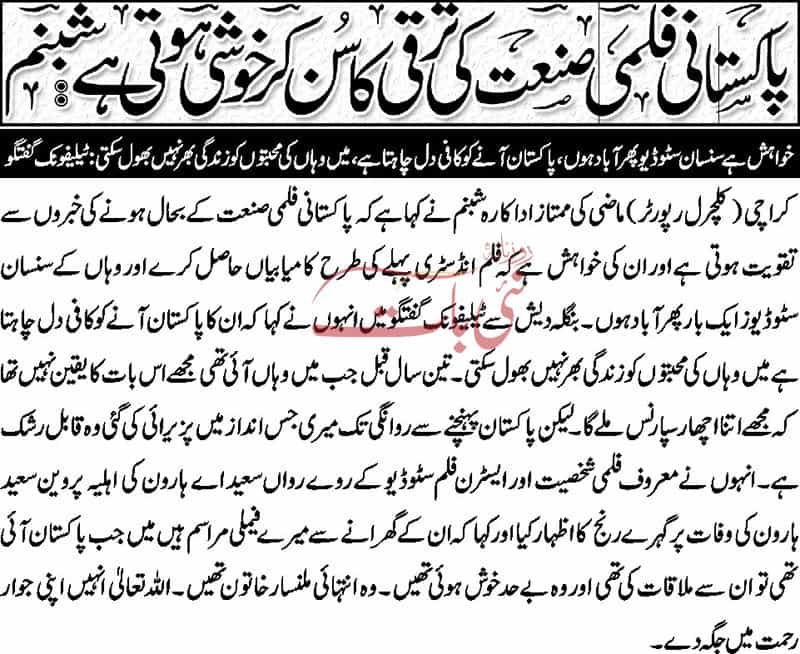 Rashid Nazir Ali