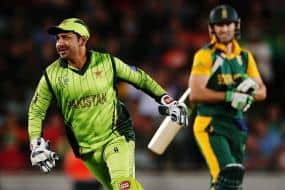 The heat is on in the match of Pakistan Vs. South Africa for the ICC Champions Trophy. South Africa has completed its 50 overs, making a score of 219 with 2 wickets to spare.
This is not a bad score to boot and stress levels are high as Pakistan takes its turn to bat after a surprisingly much better performance than compared to that shown against India on Saturday. However, this is the match that could just put them on the flight back home, in case of a defeat. (Talk about pressure!)
South Africa captain AB De Villiers won the toss and had chosen to bat first.
South Africa stood at 213/8 after 49 overs with Morne Morkel and David Miller at the crease. Hashim Amla and De Koc were forced to restrain to to LBW appeals to Imad Wasim and Muhammad Hafeez deliveries, whereas De Villiers and Wayne Parnell made thier way back to the pavilion without any runs.
In the following match, Fakhar Zaman (a left-handed batsman) was given an ODI debut, in place of Ahmed Shehzad, making a slight distinction in the otherwise right-handed set of players.
Junaid Khan was made to replace Wahab Riaz, who fell victim to an ankle journey against India on the 4th of June, after a delivery-stride gone wrong.
Any guesses for who might be the winning team this time? Let us know with your comments!
Meanwhile, our best of wishes to the Pakistan team for the 2nd innings of the match. Go Green!