The Wagah border came into existence at the time of Pakistan's Independence and partition. Pakistan became a new nation and Wagah, a small village found itself on the world map for its famous ceremonial border between India and Pakistan. It is also referred to as the Berlin wall of Asia and has an iconic, political, and historical importance. The most interesting thing about this border is the flag lowering ceremony that is held everyday at dusk. It attracts thousands of people from both sides of the border and foreigners as well.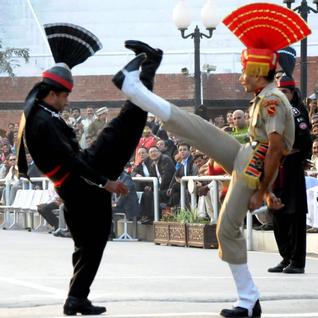 Pakistan is set to hoist the eighth largest flag of the world at Wagah border as reported by a local news channel.
This flag is to be installed in the  in the park adjacent to the Wagah border  The dimensions of the flag would be 400 feet high and 120 feet wide.
This flag will play an essential role in boosting the spirits of the Pakistani that visit the border for the parade.India and Pakistan are known as arch rivals and Wagha is the place where the show of passion and power takes place from the side of the patriotic citizens of both the countries.
According to the PIA assistant director , the machinery is at work to remove the trees from the place where the flag is planned to be erected.
Long Live Pakistan!