After the elections of May 2013, the PML-N has formed its government in the country and recently passed its first budget that is still been criticized by people all over the country. While the increment in salaries of the government employees was only 10% on their basic salary this time, the government played a little cruel game by increasing the GST on every product, making things expensive in general. It was this time that a special tax is now imposed on all the foreign content whether it be the Turkish or Indian dramas or the Bollywood or Hollywood movies. Giving a further blow to the entertainment industry and the life of Producers, The celebrities are now demanding a rise in package per episode.
One of the newspapers covered a special report where it highlighted that the cream actors of the drama industry including Noman Ajaz, Maria Wasti, Faisal Qureshi, Saba Qamar, Gohar Mumtaz, etc. have  demanded to increase their pay per episode with Rs. 5000 as the GST has made everything expensive.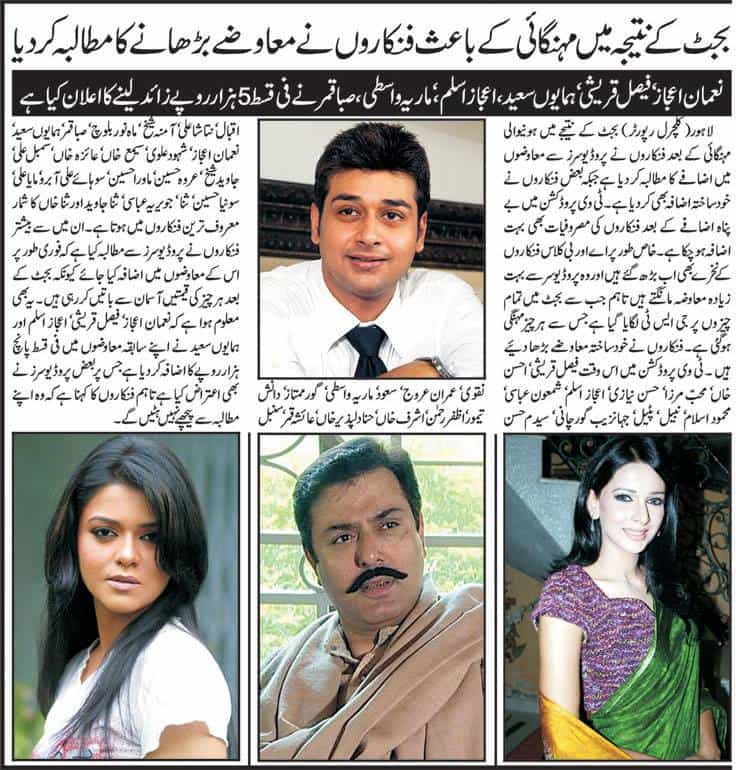 Some of the other celebrities have already raised their prices and the producers are now finding it difficult to negotiate with them on the said issue. According to these celebrities, their demand is just and they will not turn it down no matter what happens.
Lets see how producers will now settle the issue,but there is one thing for sure that the budget has increased problems for the poor citizens of the society who cannot even raise their voice to demand or request an increase in their daily wages.
God Bless this Country,
Nida Zaidi