This latest episode focused on Sikandar being adamant on not getting married to Arzoo and the aftermath of the "news" that he likes Kiran. The news that Sikandar likes Kiran spread like wildfire, everyone in Arzoo's and Sikandar's family found out about this latest development but Kiran had no clue what was going on. The call from Sikandar did get the alarm bells ringing in Kiran's head but she obviously has no idea what was brewing in Sikandar's head. I was hoping that we were going to find out why exactly Sikandar is so infatuated by Kiran – can't call it love just yet! I wish he would have mentioned the reason while talking to his mother or in any way at all – this guy does not even write diaries so we have no way of knowing that what is it about Kiran that he likes so much. It happens quite often in our dramas nowadays that this "falling in love", 'wanting to marry a girl" happens a little too quickly without any real rhyme or reason. Well, I guess this is what we call love at first sight but it most certainly doesn't sound convincing enough and definitely something one must put under the fantasy umbrella!
Fahad Mustafa was much more convincing today than in the previous two episodes but it will take time for me to get used to all the make-up. I have to say that I do not like anything about Sikandar's character at all till now. He seems like a very selfish person who wouldn't think twice before hurting someone. Yes, he does have a very valid point; he shouldn't be forced to marry someone he does not like but couldn't he try and talk to his mother about it nicely? I have to say though that the entire "not eating anything" tactic looked very familiar, I have seen sons using that tactic more than the girls and most of the times it works like a charm!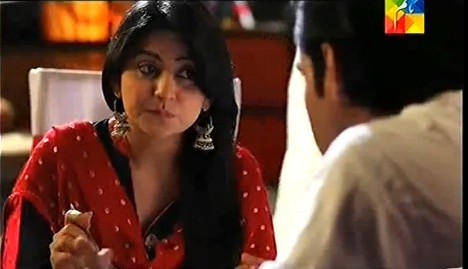 Sikandar is not the only one who is smitten by Kiran but poor Adnan is equally love-struck. Kiran has absolutely no plans of getting married anytime soon; she is definitely not interested in getting married to Adnan and Sikandar is a total no no of course. Although, Sikandar falls for Kiran, calls her (where did he get her number from by the way?) and confesses that he likes her but Kiran gets all the blame. This happens all the time in reality too; technically Sikandar didn't really cheat on Arzoo because there was no commitment to begin with but even if men cheat on their fiancés or wives, it is always the "other woman" who gets all the blame. Kiran is completely unaware of what is going on but Arzoo and Sikandar's mother blame her and sadly enough Arzoo also thinks that she may have something to do with what happened. What Sikandar's mother said to Sikandar about Kiran belonging to a middle class household, "mohallay mei rehte hei, tum un ke ghar mei beth bhi nahi sako gay", sounded awfully familiar. Didn't we just see all of that happening in Zindagi Gulzar Hai? I have a feeling that we will be hearing a lot of such things in the coming episodes.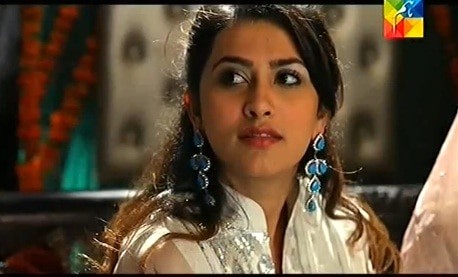 The story is definitely getting a little interesting, one does wonder what is going to happen next and I also hope that it is done well too. I have to say that for an Umera Ahmed play, the dialogues are quite average, nothing mind-lowing. The play is still giving me the "been there done that" feeling a little too often. I was hoping that the relationship between Kiran and her father will be one that we will remember for a long time but Behroze Sabzwari's role seems minimal. I feel that he is being wasted in this role; he is capable of doing so much more. Quite interestingly Kiran's father wants to marry Kiran to Adnan but her mother isn't very happy with the idea.
In short there was a great deal of talk about marriage proposals and issues relating to marriage in this latest episode. It seems like Arzoo and Kiran's friendship is over, which is sad! Like always the nok jhok between the sisters added a very real touch to the drama. Overall, this was definitely a very well directed episode. The male leads in the play, Hassan Niazi and Fahad Mustafa both seem to be the weakest link till now.
Fatima Awan