Thi ami, aap ki bhi izzat thi….ap ne karwaye nahi!
After Shaista insulted Kiran in every way possible, this one line by Kiran was enough to make any sane person realize who truly was at fault. Shaista's focus on material things was yet again reflective of her way of thinking. It was nothing short of a shock for her that Kiran couldn't care less about the jewelry or the money and she really was there to get her books. Shaista's hatred for Kiran has been portrayed superbly; she can only wish that she could have had the courage to stand up to her husband like that and that is the reason why she will go out of her way to make Kiran regret her decision. Also, one very important reason for Shaista turning into an even more evil person is the fact that she knows that her niece is still "available"!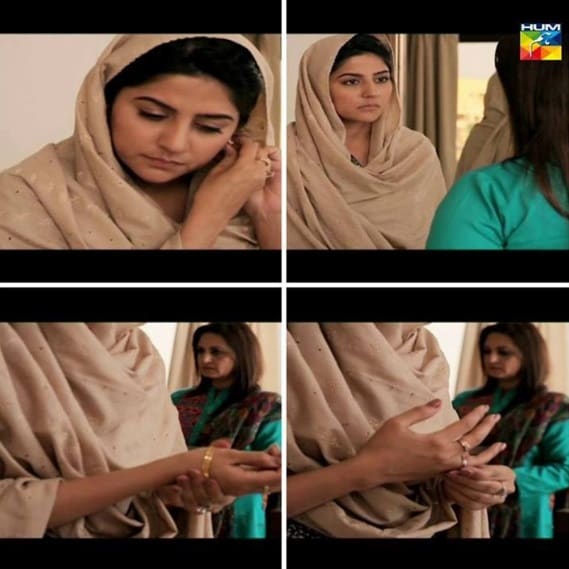 The conversation between Adnan and Kiran was one of the many insightful and well thought-out conversations in today's episode. This particular scene was brilliantly executed as well. Sanam Baloch is an extremely gifted actress; I can't help but fall in love with every single expression over and over again. Her timing is absolutely flawless, she is undoubtedly a natural. The question Kiran asks Adnan was very ironic..
" Adnan tumhei mujh se hamdardi nahi hai?" Adnan's expressions and the brief pause that followed said so much more than any words could. Kiran has no idea that what Adnan feels for her is much more than just compassion because Adnan will never tell her! Kiran's dialogue about how it is alright with everyone if a girl suffers the pain of an abusive marriage but everyone thinks its wrong to get a divorce was spot on. I really like Kiran's character, she is a very wise girl who knows that she has to look out for herself. She is brave enough to stand up for her rights and does not succumb to all the pressure.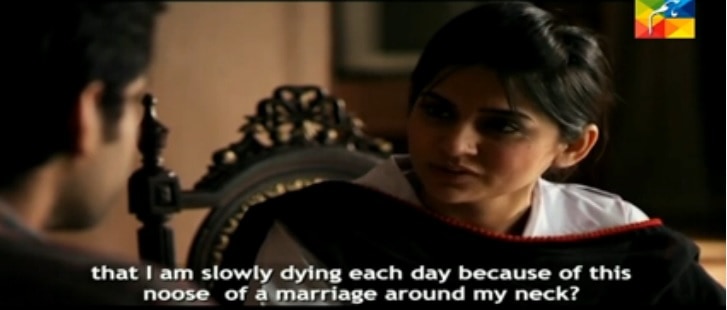 The conversation between Kiran and Shaista was extremely touching and thought provoking. I personally know people who always give the reference of the Quran when it comes to marital abuse but like Kiran pointed out they forget that the Quran has also put a lot of responsibility on the shoulders of men. And a man's responsibility solely isn't to provide a woman with shelter and basic necessities but to give her respect as well. This was another scene which was beautifully written; every single word made perfect sense.
Jo deen biwi ko shohar ka libas kehta hai vo us libas ko cheerne pharne ka kesa keh sakta haii?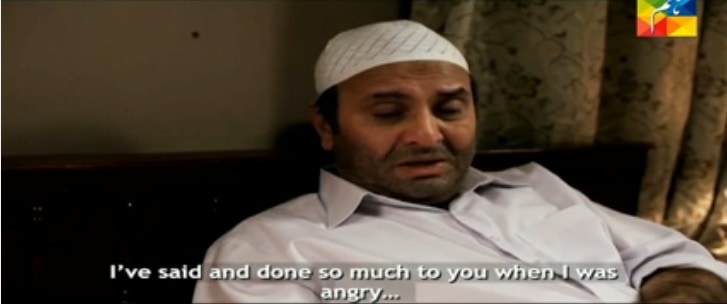 Thanks to his daughter, after so many years Jamal has realized how wrong he was. He thought, like Sikandar, that being a husband meant that you could treat your wife whichever way you desired but he knows better now. The way Jamal took a stand for his daughter was also very touching.
Tonight's episode was extremely poignant, it was filled with conversations that were heartrending and the superb direction added to the beauty of all the scenes. This episode in particular seemed to be a labor of love; I must appreciate the superb direction by Aabis Raza, I am sure we will get to see much more creativity from him in the future too. Umera Ahmed has touched a very sensitive topic in a very intelligent way, giving us all a lot to ponder upon. She has shown the difference between the old thinking and the new one splendidly. Young people aren't always wrong and the older one are not always right and there is always time to start afresh – to make new rules.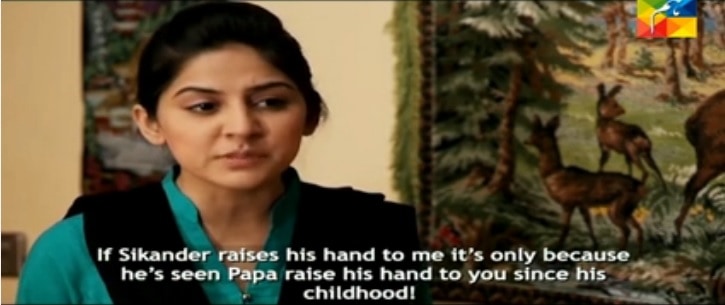 The preview of the next episode showed that Shaista will leave no stone unturned to get Sikandar and Kiran divorced. Will Sikandar get married to Arzoo? Will their married life be the same as that of Kiran and Sikandar? Whose side will Shaista take then? There is obviously no hope for Sikandar and Kiran now.
Did you watch this latest installment. Please share your views about it and most importantly please share your favorite dialogues from tonight's episode.
Fatima Awan