One of the most reviving serials which Geo TV is now offering to its viewers is 'Aasmano Par Likha' which has conquered the hearts of the Pakistani audience with the first few episodes. The drama is a perfect example of what we have been listening that a good picture is a result of the most difficult combination of colors every created.
The drama which goes on air on Geo TV every Wednesday at prime time comes under the production of 'A&B Productions' and is been directed by Mohsin Mirza. The cast of the drama includes some veteran actors like Shehryar Munawar, Sajal Ali, Saba Faisal Saba, Hameed and Mehmood Akhtar. It was recently in one of the newspapers that the director of the drama serial stated about the difficulties the team of Aasmano Par Likha has encountered so far during its shoot in a rented house.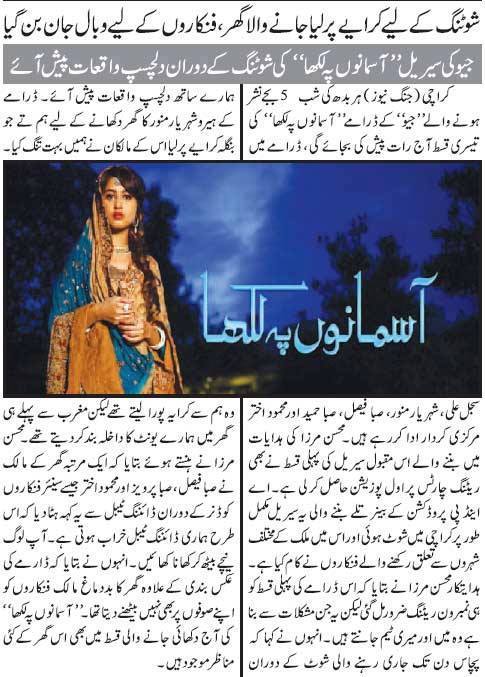 He said that the house they rented to show as Shehryar  Munawar's house on screen, was a real trouble for them as the owners of the location treated the team pretty harsh though the producer was paying as per the contract signed. Mirza further disclosed that the owners didn't permit them to shoot after dusk (that is, After Maghrib) which was nowhere mentioned in the clause. Moreover, showing no signs of respect, he once asked seniors actors including Saba Hameed and Saba Faisal to leave their dining table while they were having their lunch, and told them to have it on the floor.
The same house will be shown in the upcoming episodes of the said drama serial. It is therefore true that levels of perfection which are been shown on screen, do not reveal one percent of the tough time which the team goes through during the shoot.
Share your views about the news please. Do you think it is decent to treat the senior celebrities this way even when the contract is been signed of having no claims on the house during the shoot?
Blessings,
Nida Zaidi