Award Shows have been gaining much more popularity among the masses and the channels. Over the years, different channels and even brands organize their own award shows. Each year there are more categories than the previous year. This year there were even social media awards. Through public voting online, people also get a chance to choose their favorite actors and actresses in different categories. There are a few well-known Pakistani actors who have more than once spoken against these award shows. The majority of them have spoken against these shows because they do not think that they are authentic, others think that they are always badly organized. All of these actors openly talked about how rigged these shows are and why they would much rather not attend them.
Here is a list of Pakistani actors who spoke against award shows. Watch what they had to say!
Noman Ijaz
There was a time when Noman Ijaz did not give interviews at all. Now, all of a sudden, he is seen giving more and more interviews. He can easily be termed as someone who is completely unfiltered in these interviews. Noman Ijaz has been nominated for the top awards in the country more than once and he has won these awards multiple times too. It was only recently that he started attended award shows. In two of his interviews, he spoke against these shows because he believes there is no set criterion for nomination or picking the winner. In fact, he feels that sometimes these award shows actually have a negative impact when the deserving candidate does not get to win. He also does not like that a lot of times celebrities much younger and less experienced than the person getting the award are asked to hand it over. Noman Ijaz shared that in his opinion the love an actor gets from people is the real award, these award shows mean nothing to him.
Faiza Hasan
Faiza Hasan has recently given many interviews but most often her discussions are focused on her work. When she was a guest on Ahsan Khan's show, she shared that she did not like going on award shows. When asked why that was the case, she shared that she got nominated recently and was invited to the show. When she went there, the organizers present there could not recognize her. When she finally found her allotted seat, someone else was sitting on it. She does not like how these shows are organized. According to her the people who organize these shows do not give their guests respect and do not make proper arrangements to welcome and accommodate them. Another time, she was nominated on social media but she never even got a call from the organizers. It is definitely shocking just how badly organized these shows are and what the actors have to go through.
Saba Qamar
Saba Qamar is another one of those celebrities who always speak what is on their mind. When Saba Qamar was nominated in the 2017 Lux Style Awards, she refused to accept this nomination and did not go to the ceremony. While talking to Express Tribune, She said, "Although I am nominated for three different plays, I will not be attending the LSAs as a protest. They never bothered to honor me during the past 12 years and now that I have the Bollywood stamp, everyone is acknowledging me all of a sudden."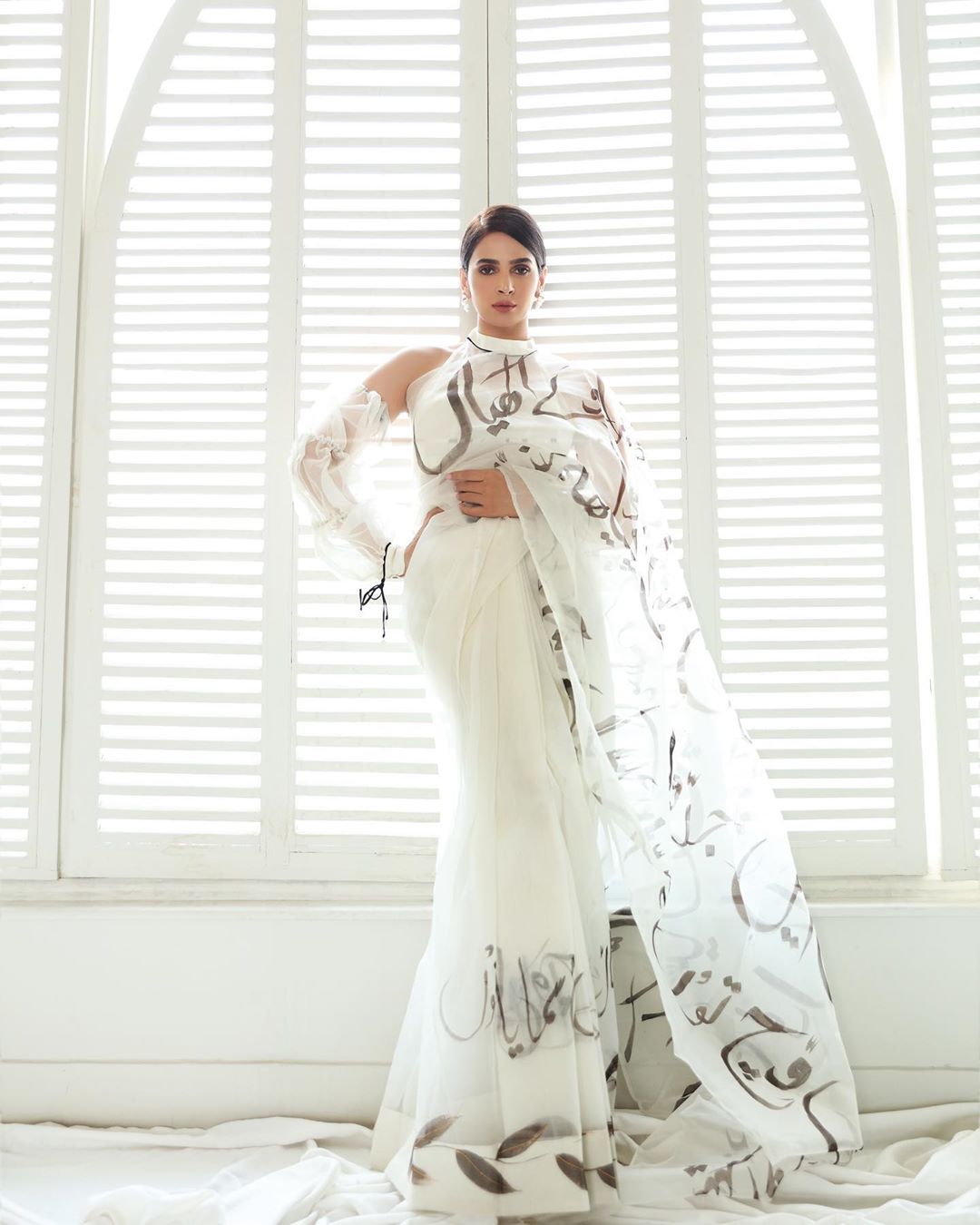 She went on to say, "I have been working in the Pakistani entertainment industry since 2004 and no brand or award show has ever approached me in all this time. Now that I have come back from India, every brand and every award show is running after me. It's almost as if they just noticed my presence." Saba Qamar also questioned the authenticity of the nominations in her own way and it is clear that she is not a big fan of the system of nominations.
Shamoon Abbasi
Shamoon Abbasi's reasons for not liking the award shows and not wanting to be a part of them are completely different. He shared his opinion when he was talking to Ahsan Khan on his show. He said that when you are nominated, it is a special night for you but not everyone present on the award functions is happy for you. Shamoon feels that the overall atmosphere of these shows is affected due to the jealousy and judgmental nature of many of the co-stars. Apart from that, he also agreed with Faiza Hassan that the award shows are never organized properly which can also be really frustrating.
Badar Khalil
Everyone knows what Badar Khalil went through when she was asked to get up from her seat and sit somewhere else because Sultana Siddiqui wanted Fawad Khan to occupy her seat. This turned into a big controversy and public supported Badar Khalil. She openly talked about the treatment meted out to her on the HUM Awards function and decided to quit acting altogether. In a recent interview as well she talked about how hurt she was by all this and she went on to say that awards mean nothing if you cannot give respect to the person, you are giving an award to.
Mohsin Abbas Haider
Mohsin Abbas Haider showed his discontentment with the nominations system when his drama Meri Gurya was not nominated in a single category in the Lux Style Awards. He is another one of those actors who in a way pointed out the flawed system of nominations. Although his song was nominated in the best song category, he thought that his drama also deserved nominations. He went on to criticize Lux Style Awards for its lack of quality because surely in his opinion if quality mattered to them, Meri Gurya wouldn't have been ignored this way.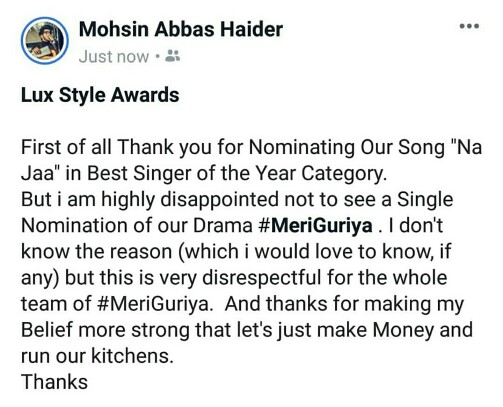 Even designers and singers have often talked about how badly organized award shows are. It seems like most of these shows are meant to please a handful of big wigs and even some of the best and most veteran actors are not given the respect they deserve.