Pakistani actresses nowadays share private details of their lives with their fans. Expecting a baby is definitely the most private period of any actress. While some actresses kept their pregnancies a secret right till the end, there are others who shared the good news with their fans in their own way. The fans are always happy to hear such news. It is also becoming common for these celebrities to carry their pregnancy in style! These actresses have shown that you can look great even when you are carrying a baby and pregnancy does not have to limit the way you carry or style your way. The husbands and even the friends have also been such an important part of their journey. The first baby is always really special for every parent and sharing these moments with their fans makes these moments even more special.
Here is a list of those Pakistani actresses who are expecting their first baby:
Sarah Khan
Sarah Khan is one of those most popular Pakistani actresses right now who are ready to welcome their first child into the world. Sarah's journey so far has been exciting for her and for her fans.
Breaking The News
Sarah Khan is known for her decent public persona just as much as she is for her acting. Even though Sarah Khan is a private person in the sense that she does not have a lot of friends in the industry, she was very generous while sharing the good news with her fans. Her husband Falak Shabbir shared this news with the fans on social media by sharing a picture and a caption which made it clear that the couple was expecting their first child.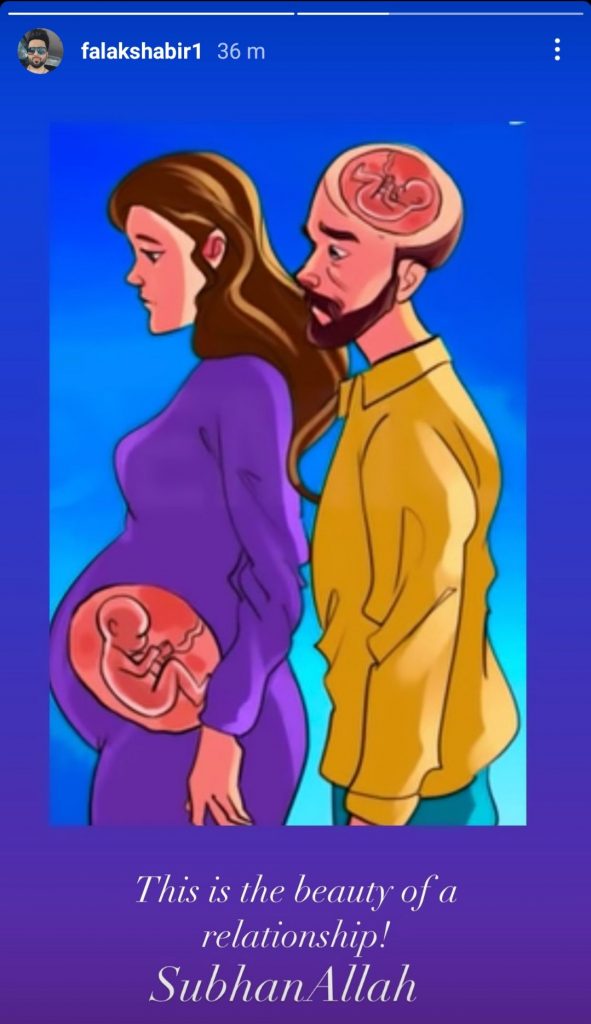 Sarah and Falak both shared how they felt immediately after they found out that they were going to be parents. They quoted Holy verses from the Quran and their journey so far has focused on the miraculous journey of becoming parents.
Sarah Khan's Pregnancy Pictures
Sarah Khan has been known for sharing every little detail from her married life ever since she tied the knot. She has often shared that she does so to inspire other men, in particular, to love their wives in the same way her husband loves her. Therefore, Sarah Khan also did not hold back while sharing the pregnancy pictures with her fans. In these cute pictures, Sarah Khan was glowing and she requested her fans to remember her in their prayers.
Sarah Khan's Latest Style
Apart from these pictures in which Sarah Khan announced her pregnancy and request fans for prayers, her style so far due to her pregnancy has been casual. She has been seen wearing loose kurtas or frock-styled tops which help her carry off a style that does not show her growing belly. Before Sarah Khan preferred wearing Western wear but now she has changed her style to suit the needs of her changing body.
Iqra Aziz
Iqra Aziz is another top Pakistani actress who has lately been seen in some of the most popular dramas. Although Iqra and Yasir were quite open while sharing pictures of their outings when they were dating, they kept the pregnancy news secret for a long time!
Sharing The Good News
Iqra and Yasir shared the good news with their fans when Iqra was only two months away from welcoming her first child! Even though they were active on social media, Iqra had been giving interviews as well, they made sure everything was planned in such a way that their fans truly were pleasantly surprised by the news. The couple announced that they were expecting the baby to arrive in July 2021 when they hosted a traditional baby shower that was attended by close friends and family members. Iqra also thanked her husband for putting up with her mood swings and for looking after her.

Iqra Aziz Pregnancy Pictures
Iqra Aziz looked extremely beautiful on her godh bharai rasm when she was seen wearing a traditional purple dress. Fahad Hussyn designed this beautiful dress for her and her dupatta had more than 100 dua embroidered on it. Fans loved the fact that Iqra and Yasir kept this affair so traditional and waited for the right moment to announce the news.
Iqra Aziz Style In Pregnancy
Later on, also, Iqra Aziz kept on sharing pictures in gorgeous dresses from time to time. She has kept her style traditional. Through all the different styles she has carried, she had shown her fans and followers that you can pull off the most beautiful looks even when you are full-term pregnant.

Saniya Shamshad
Saniya Shamshad has been away from the television screens for a while but she makes sure that she keeps her fans posted through her social media handles. She got married in July 2019 and since then she has continuously been posting pictures with her husband on social media.
Revealing The Big News
Just like Iqra Aziz, Saniya also timed sharing her big news in such a way that she was really close to bringing her baby into the world. She did so through a photoshoot which showed just how happy the couple was with the news. She is also expecting to deliver her baby in July 2021. When she shared the good news, she posted,
"We have been keeping a little secret and it's finally time to share it with the world.
Allah has always been kind to us and blessed us in ways that are beyond comprehension. Nothing can be more real than experiencing the creation of life in you. We thank Allah for blessing us with this life-changing gift.
Please do remember us in your prayers. ❤️🙏
JULY 2021."
Saniya Shamshad Pregnancy Pictures
Saniya Shamshad made sure that before she officially announced her pregnancy, she posted no such pictures which revealed that she was expecting. Once she made the announcement with this particular photoshoot, she still kept on posting pictured from her pre-pregnancy days. This was the most talked-about photoshoot because just like Iqra's pregnancy, this one was also a complete surprise for the fans.
Saniya Shamshad Style During Her Pregnancy
Saniya has been enjoying doing these cute photo shoots with her husband ever since she revealed her pregnancy. Apart from such shoots, she does not post casual pictures of herself while she is pregnant. Even when she posts such pictures, she makes sure that her baby bump does not show. We loved this photoshoot which once again showed how easily a woman can carry a desi outfit in style when she is pregnant.
Sadia Ghaffar
Sadia Ghaffar also got married last year and her friends from the showbiz industry were right there by her side when she got married. Sadia Ghaffar was last seen in the drama serial Aisi Hei Tanhai and her performance was liked by the viewers.
A Different Announcement
Unlike all the other actresses, Sadia did not share the good news with her fans herself. Her best friend from the industry, Saboor Aly shared the good news with everyone. She posted a cute picture with Sadia with the caption,
"Can't wait to meet the mini you and share the most precious bond of love !! I am going to be the favourite khala! 👶🏻"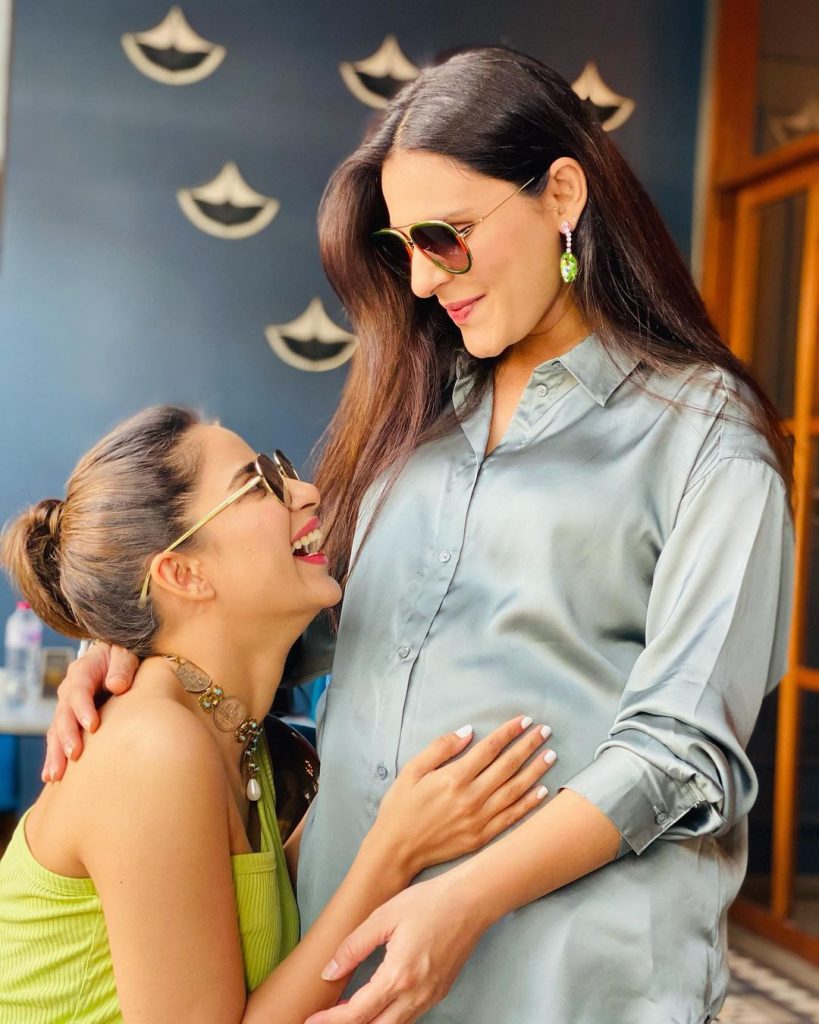 Sadia Ghaffar Pregnancy Pictures
Sadia Ghaffar has also been quite generous while sharing pictures of her baby bump. She has also shared with her fans that she feels more comfortable in her skin than ever. She has kept her style more casual, unlike the first three actresses who chose to wear formal dresses and have proper photoshoots. Here are some beautiful pictures of Sadia Ghaffar in which she is seen flaunting her baby bump.
It is so good to see all these actresses carrying their pregnancies with such style and grace. What do you think? Share your views.