We had a popular culture of rock and pop musical bands in Pakistan. From late 80s and rising to peak in early 90s but it seems as if this culture has died down. We had great musical bands like Vital Signs, Junoon, Awaz, Fuzon, Noori, Jal etc. Some of the bands split while the intensity of others died down.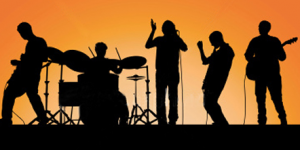 Today we see and listen more of solo performances from the music artists. The main reason behind the downfall of this musical band culture are the difference among the singers of the bands and there inter conflicts. Jal & Awaz had such a split and some other bands too. Very few of the many bands
didn't maintain its intensity because of their other commitments. We can recall how much "Strings" was popular but we are not having much from them now.
There used to be a number of live musical band concerts which were very popular among the youngster and college/university going students. Even some families also used to enjoy these type of concerts which were held in large numbers throughout the year but we can hardly see these group performances now. The social media is also not giving enough boost to the new bands and also our media too is not paying heed to new comers in this area. We must recognize the energy of the new comers to get this lost culture back in our society as it is not only a great source of entertainment but also it will provide an opportunity to the new comers to showcase their talents.
Moreover, another positive side of having musical bands back in our society is that they can act as peace ambassadors of Pakistan on international level. Many musical bands presented the soft side of Pakistan in international arena via showcasing their talents in international concerts, in past. "Strings", "Fuzon" and "Noori" are some popular names among such bands. We must realize that internationally the image of Pakistan has been greatly damaged by the association of Terrorism, because of this our dear Pakistani fellows are suffering. In such a situation, what needed is, to restore the true image of Pakistan and that is only possible when we are going to be the ambassadors of peace and love. We must revive the musical band's culture back in our society so that we can help our country to reveal its real face to the world which has been wrongly covered with the dust of terrorism
In the era when our bands were doing well in abroad, we did feel a great recognition for them. They not only earned good name for their own selves but also for their own dear country, Pakistan. By saying so, I do not by any mean claim that our solo singers are not doing good work. They are also doing great. Singers like Hadiqa Kiyani, Shehzad Roy etc are not only performing to get the lost image of Pakistan back but also they are appointed as the Peace Ambassadors. Hadiqa is the Peace Ambassador in U.N. and Shehzad Roy has also earned an esteemed name on International level. This kind of respect was also stolen by our musical bands which are no longer present. We should try to get them back in our society. This is not only necessary for our entertainment alone but also for the country.
Rock, Pop, Jazz. We miss them all. We miss the enthusiasm of Junoon and their popular patriotic songs, we miss the vibe of Jal and the energy of Awaz. We need them back. We need new energy. We need new musical bands that can infuse our culture back with vibrancy & spark
What do you think, Do we need the musical bands back or not ? Do let us know your opinion on this and don't forget to vote the article