There were times when love was considered to be the most enduring vehemence. We have example of people who never stepped back from jeopardizing their lives for the beloved and many laid their lives as well. But the table has turned now; love has become the most flimsy notion. It's a casual practice to fall in love with someone spend some good time with them and then separate your paths and they name it "Break Up".
An example of this modern era's "Love" came into scrutiny when a boy posted an interesting story about his ex-girlfriend.
There is a group on facebook where boys shares their stories that how girls betrayed them. A legend took the platform and shared his riotous yet sad story. It went viral and spread like wildfire.
The boy shared that he met a girl and obviously fell in love with her after some chit chat on facebook. The boy went crazy before that girl even he bribed (from the money he stole from his house) someone in educational system so that she cleared her exam. As the girls told him while crying that she is cannot pass economics exam.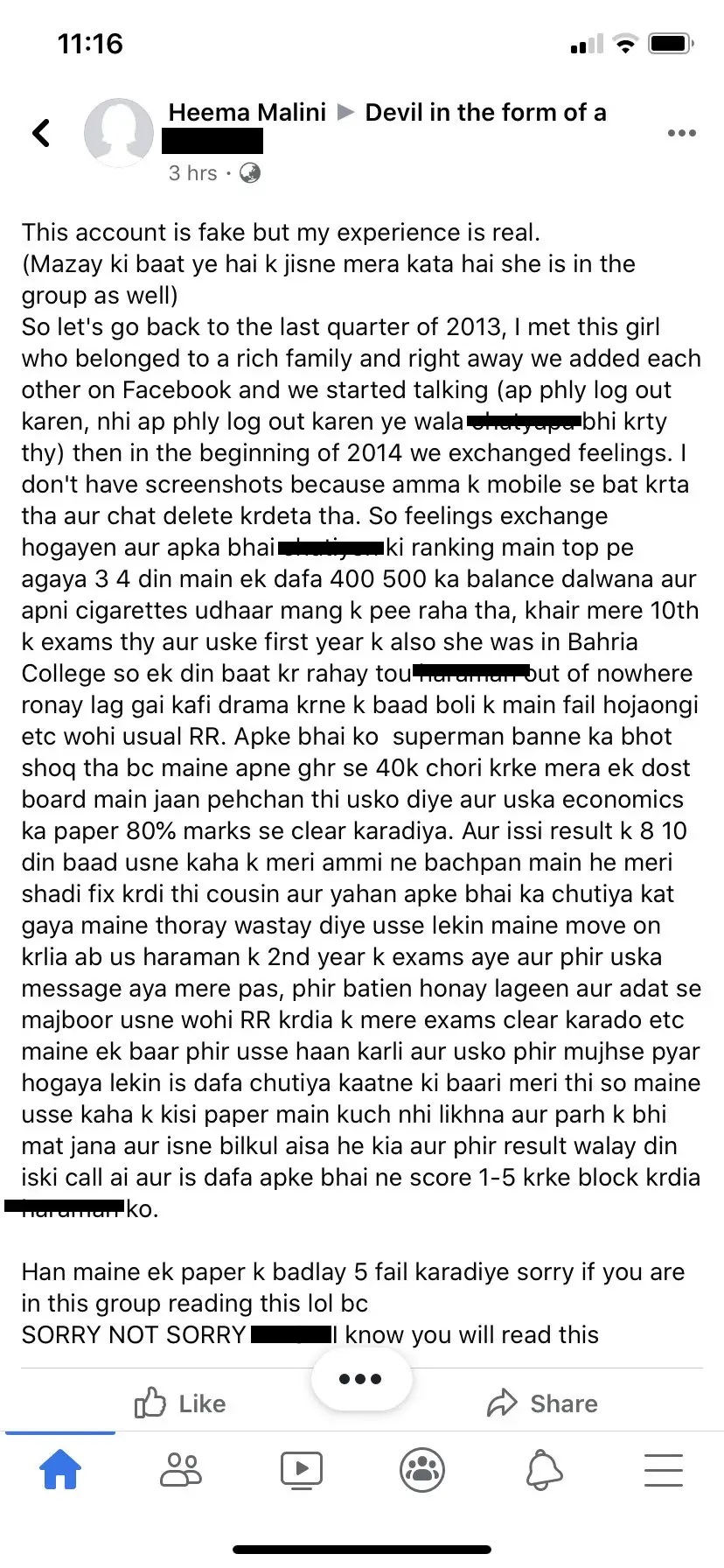 Later on the girl excused from the guy that she couldn't be with him anymore as she is engaged to someone from childhood.
But the girl again contacted the boy and asked him for help again, as she wasn't prepared for the exams. This time it was the turn of boy and he decided to take revenge so the boy agreed to help her. He asked the girl to leave 5 papers empty and obviously the girl exactly did the same considering the past experience but the guy's plans were different this time, he didn't do any think for the girl. She consequently failed in 5 subjects. When the girl called him on result day he blocked her.
Well everyone is literally loveing this kind of redress. There are memes regarding this story everywhere and people are calling him genius and are convinced that this is the best revenge story one has ever heard.
What's your take on it? Did you also like the revenge story of this boy? Share your thoughts in comments section!