Most Pakistani celebrities pay a lot of attention to their wardrobe. That is why they are considered style icons. There are so many ladies out there who get inspired by these celebrities' sense of style. That is the reason why many leading designers choose these celebrities to promote their creative designs. Even with the COVID restrictions, most people are not holding back on celebrations. Therefore, the formal wear collections at the start of this year were just as many as any other year.
Pakistanis are particularly choosy when it comes to formal wear. Pakistani designers who design such formal wear outfits make sure that they cater to a vast range of customers. Some women like their formal wear heavy while others would much rather wear something that does not have a lot of embellishments. Most of the women prefer wearing something more formal when they are attending weddings.
Here is the perfect list of formal wear in 2021, all the women out there can draw some inspiration from the designs these Pakistani celebrities were seen wearing.
Sonya Hussyn In Heavily Embellished Outfits
Sonya Hussyn's sense of style has greatly evolved over the years. She also carries every outfit she wears with the utmost confidence. All the ladies out there cannot only get inspiration for formal dresses from the outfits Sonya Hussyn was seen wearing for a recent photoshoot but they can also learn a thing or two about carrying such outfits. Sonya Hussyn wore this beautiful orange dress for a photoshoot. This is definitely a tricky color but Sonya shows how it can be worn with the perfect make-up and styling.
Sonya Hussyn also wore this stunning saree which has the kind of design which can actually be easily copied by someone who does not want to spend a big amount of money on formal wear. No one carries a saree like Sonya which is why it looks even better on her. Once again, Sonya experimented with a color that many women don't feel comfortable wearing. She shows that it is good to step out of your comfort zone and experiment with different colors and designs.
Ayeza Khan In Intricately Designed Formal Wear
Ayeza Khan is a designer favorite; she is constantly seen endorsing different brands. She looks beautiful no matter what she wears and she makes sure that her styling and make-up in every single photoshoot is entirely different. Nowadays many women prefer to wear heavy dresses, especially at their relatives' weddings, therefore, this outfit could be perfect for all such women out there. This grand outfit has been designed by Sheeba Kapadia who is considered one of the best designers in bridal and formal wear. This is also the kind of outfit which can be worn by the bride herself on her valima. Ayeza Khan's styling is also on point therefore anyone out there who wants to draw inspiration from her looks would find it really easy to copy the styling in particular.
Sarah Khan & Ayesha Omar In Deep Black Formal Outfit
Sarah Khan is another Pakistani celebrity who has been seen in many beautiful outfits over the years. When it comes to wearing Eastern wear, she is definitely at the top of her game. She wore this subtle yet vibrant which was designed in detail with tilla work and many embellishments. The designer Maryam Hussain also used different kinds of materials to give this outfit a more formal look. The final look is pure genius and Sarah Khan is definitely looking radiant wearing this dress which also has a royal feel to it.
Ayesha Omar also wore the same outfit for the designer since she was the one who was the face of this collection. The photographer captured all the detailing on the dress and therefore it is easier to see in these photographs just how much effort the designer has put into crafting this piece.
Neha Rajpoot In Faiza Saqlain's Beautiful Creations
Neha Rajpoot is one of the leading models of the Pakistani fashion industry and she is often seen in formal wear photo shoots. A recent photoshoot of hers was for the leading designer Faiza Saqlain who is a celebrities' favorite. Although all the dresses from this collection were beautiful, these two outfits caught our attention more than others especially because of the color combinations. This bright yellow outfit is perfect for mehndi and mayo functions. 2021 is all about experimenting with colors that women most often shy away from. This is the ideal outfit for starting wedding festivities with a bang!
This mustard green chiffon pishwas from Faiza Saqlain's formal collection is particularly beautiful because of the dupatta shawl that would be perfect for winter wear. The designer who is known for her cuts and designs has once again created a masterpiece which we are sure many women would be interested in wearing.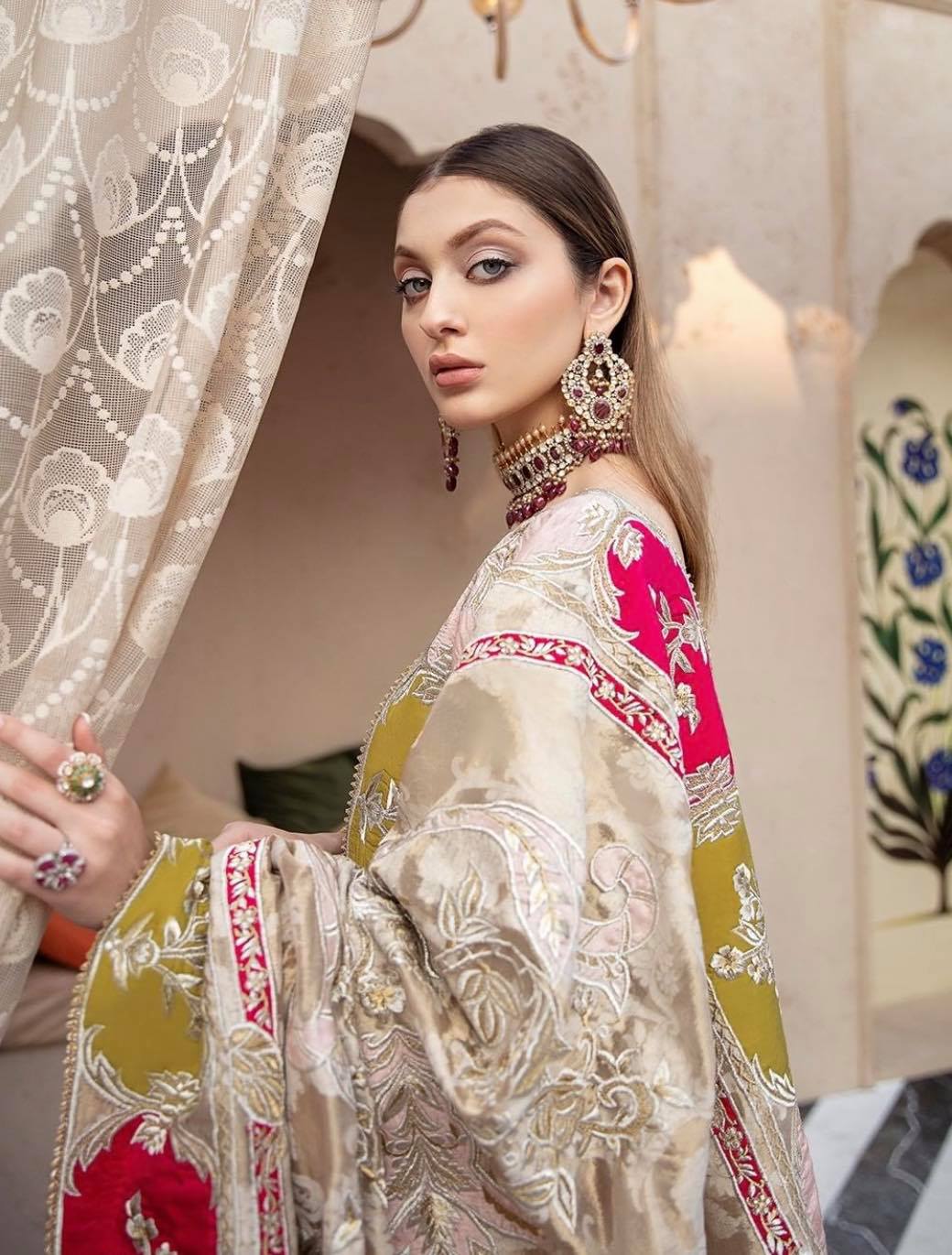 Anmol Baloch In Traditional and Trendy Formal Wear
Anmol Baloch recently posted beautiful pictures in a traditional and trendy formal wear outfit. Although this outfit was in a single color, the way it was designed made it look appealing. Anmol Baloch's accessories definitely added to the beauty of the look she was seen sporting. This is the kind of outfit that would be perfect for an evening wedding function. It has enough going for it to pass as one of the best formal outfits we saw celebrities wearing this month. If you're thinking that a light color is not meant for evening functions then think again because at the end of the day it is all about how well the outfit is designed and the way it is accessorized.
Which one of these dresses do you think is perfect for formal occasions especially for weddings? Silver, grey, and white have definitely been designers' favorites at the beginning of 2021. Also, there are designers who are enjoying playing with bold color palettes to get the perfect outfit ready for all those women who like to dress up in such colors. All these formal outfits have their own beauty and they give so many different options to women this wedding season.