Women should celebrate their womanhood every day, and even more so on International Women's Day. Women's Day is celebrated on 8th March since 1911 and serves as a reminder of the battles fought by women in the political, economic and social spheres for their gender. To celebrate women, a number of celebrities, both male and female, have taken to social media with messages of support. This year, we have compiled a list of celebrities who are playing their part in reminding us of the importance of International Women's Day and reminding us about the issues women face.
This year Sarwat Gillani wished all the amazing women she knew on her Instagram. "May your strength and courage always prevail," she wrote.
Actor Maira Khan reposted a video from Hollywood actor Taraji P Henson for Women's Day. The video includes a speech made by Angela Basset speaking about the experiences of Black women but the message was universal: women are more than enough.
Ayesha Omer wished all the ladies on women's day. "Hellooooo all you awesome ladies, and a very happy International Women's Day to all of you! I've always tried to surround myself with women who have overcome and surpassed all the challenges that they faced. Each and every one of them owes their success to their inner strength, which comes from good mental and physical health, and a proactive and healthy lifestyle", she wrote.
Minal Khan supports sisterhood this Women's Day.
Cricketer Shoaib Malik wished all women and said he hopes they have happiness, love and success, because they deserve everything.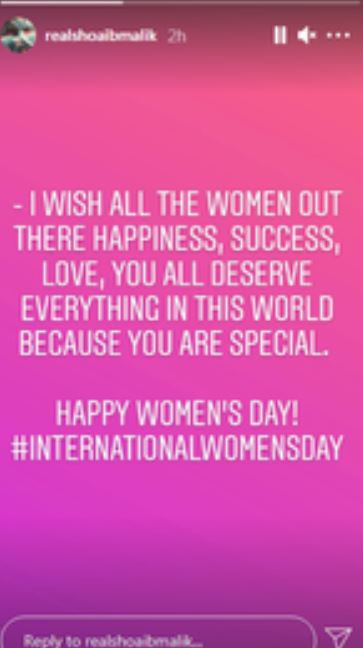 Hadiqa Kiani shared some adorable pictures with her co-stars mentioning "It is an absolute pleasure to have worked with such strong, courageous and powerful women throughout my time life and especially during my time on the set of Raqeeb Se. Happy International Women's day to each and every one of you who is out there trying to make the world a more just place for all genders."
Osman Khalid Butt took to Twitter to wish women happy Women's Day, especially the ones at the Aurat March.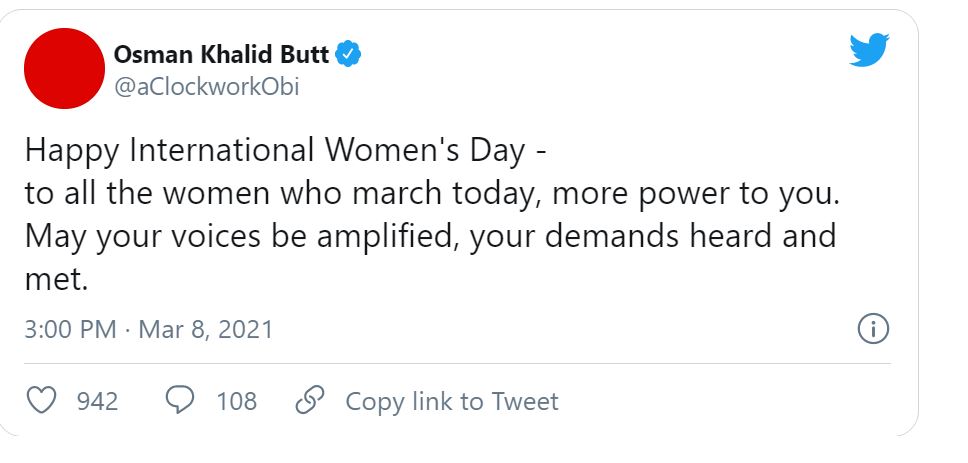 Ahsan Khan sharing an inspirational video of two of his female fans wrote "Women today are unstoppable. Whether it is engineering, medicine, media, defence, sports, finance, technology or arts, it is difficult to find a field where they have not set their foothold. Along with excelling in the professional arena, let's not forget how a woman also balances her personal life and nurtures a family. A progressive woman is an inspiration for the society. Loved meeting these amazing girls."
Junaid Khan taking to his Instagram account wrote "A salute to all the women who make a difference in our lives. Who not only support us, love us, nurture us but also lead the way."
Noor Bukhari wished a very happy Women's Day to all the women's out there. "Happy women's day to all the beautiful and special ladies in my life. You all are very special to me and taught me different things. I'm blessed to have you in my life. Happy Women's Day.
I want to thank you all for being a part of my life, supporting me, loving me unconditionally. More power to you ladies."
Rabia Butt shared some adorable pictures of all the women's out there who play an important role in her life.
Syed Bushra Iqbal wished every women a very happy Women's Day, saying "challenges make you discover things about yourself thay you never really knew. There's nothing we can't do. Happy Women's Day."