All those people out there who work can relate to those days when you are so tired that you just want to doze off at the workplace. While most people have calculated working hours and don't have the option to do so, Pakistani celebrities have such hectic routine and odd working hours that very often they do not even get the time to get proper sleep when they are busy shooting for a project. Most of the shootings are done at night time and the working hours can sometimes be longer than anticipated. Pakistani celebrities like other celebrities in the world work hard to get their projects wrapped up on time which is why there are a lot of celebrities who end up taking a nap on the sets of their shoots. Another reason for this is that they have to wait for long hours for their turn, so it gives them enough free time to take a power nap. Many celebrities have often talked about how important these naps are for them and they have also shared how this sleep deprivation can sometimes lead to sleeping in the most odd of moments and places.
Mahira Khan on the sets of Sadqay Tumhare and during promotions
Mahira Khan posted her picture on social media few years back in which she took a power nap while getting her make-up done. She was so tired that when she closed her eyes to get her make-up done, she actually dozed off for a while. Even such moments of dozing off for a few minutes sometimes give her the energy she needs in order to revitalize herself.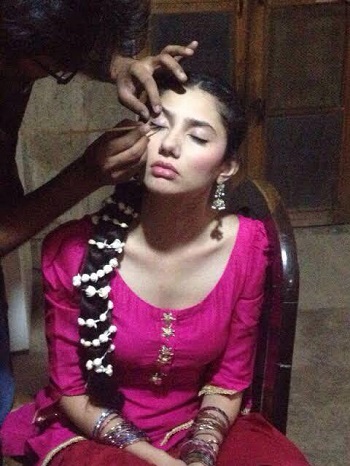 Mahira Khan's make-up artist Babar Zaheer, who is also her good friend, made this video of her while she took a power nap during the promotions of Superstar. Making a film and then promoting it on different forums can be exhausting which is why even though Mahira Khan was in the middle of these promotions, she slept on the couch. Mahira Khan's co-workers also call her Mazdoor Khan because once she starts working on a project, she works really hard and would do anything at all that needs to be done in order to assist her team.
Sajal Ali's cutest picture
Whoever took this picture certainly gave Sajal Ali's fans a really cute picture of hers to fall in love with. Sajal Ali posted this picture of her sleeping on the sets with the caption "mission accomplished. Now my sleep will be revived." This has to be the cutest picture of any celebrity sleeping during a shoot. Even though Sajal is wearing a heavily embroidered dress but that did not stop her from catching up on her sleep by taking a much-needed power nap.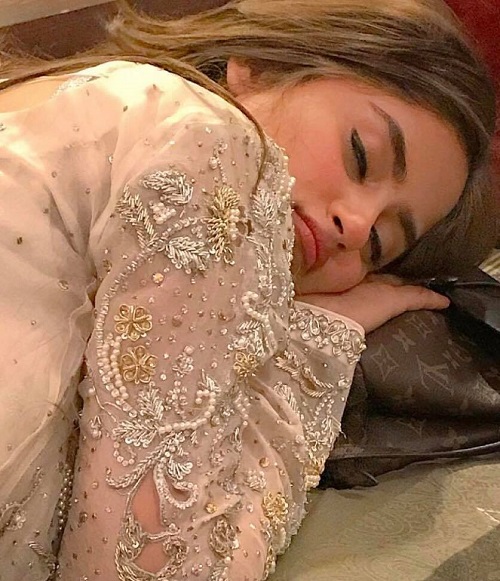 Hira Mani's secret to success
Hira Mani posted this picture last month from the sets of her upcoming play. The caption with this picture was "achi performance se perhle eik power nap zakhti zaroori hoti hei." So, now we know the secret behind Hira Mani's good performances, the naps she takes in between her scenes. In a recent interview Hira Mani also told the host that she does not require a lot of sleep to function well. She said that she is completely capable of sleeping anywhere at all for a little while and these power naps give her a lot of energy. This picture was taken by Hira Mani's stylist who thought that she looked really cute so this moment needed to be captured.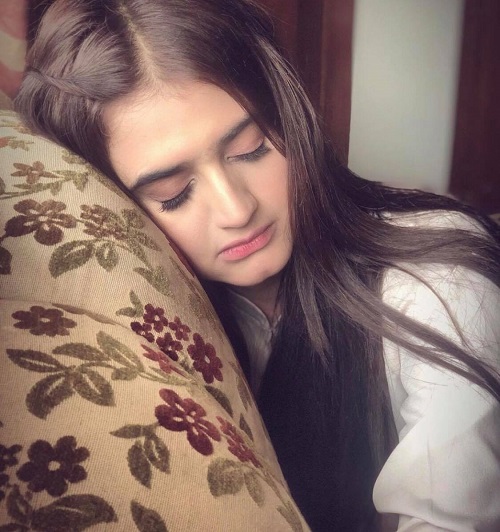 Mehwish Hayat and director Nadeem Baig on the sets of Dillagi
Dillagi was one of the most popular and liked drama serials in which Mehwish Hayat played the lead and Nadeem Baig directed it. Mehwish Hayat and the team worked day and night to complete this project in time. Shooting in a cold weather can sometimes be even more tiring than shooting in summers. Mehwish Hayat posted this picture from the sets of Dillagi which was taken by Humayun Saeed. Nadeem Baig and Mehwish Hayat both dozed off while the next scene was getting ready. This picture says a great deal about how sleep deprived these celebrities can be at times and how much hard work goes into making the dramas. Mehwish Hayat wrote that she was sure that these long working hours and sleepless night will eventually pay off. This picture was taken while they were shooting in Hyderabad. Humayun Saeed in his interviews very often praised Mehwish Hayat for her stamina and her ability to go on working without any breaks. It looks like these power naps must help Mehwish Hayat a lot.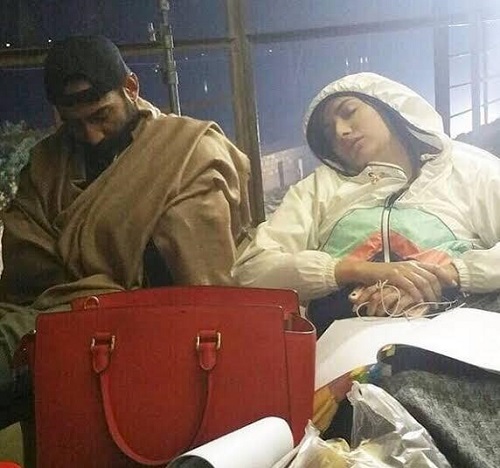 Noor Khan Caught Sleeping on Sets
"Caught sleeping on sets" – this was the caption which Noor Khan posted with her picture which was taken by one of her fellow co-stars on the sets of her drama. Noor Khan is snuggling comfortably on a sofa and only someone who is in dire need of a nap can sleep like this. We are sure many people out there can relate to such a mood on a cold day in particular.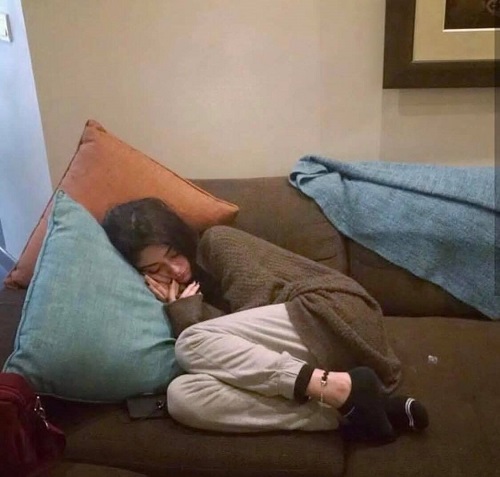 Mawra Hocane's Cape Town shooting days
When Mawra Hocane was busy shooting for Na Maloom Afraad 2 she posted many pictures in which she was either sleeping on sets or had a swollen face because of lack of sleep. Mawra Hocane posted this picture and wrote, "I'm trying to find my way back, there's no day off for Heroes. And even when I am tired, "go" is the only word I know!! It's on again!!!" Mawra Hocane also posted that she had already been working for 22 hours and still the shooting had not ended yet she felt so good about it because she loved her work.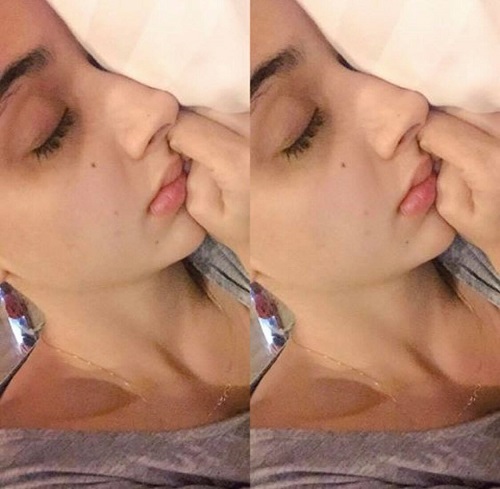 Faysal Qureshi's power nap
Like many other celebrities Faysal Qureshi too has been captured on camera taking naps in between scenes. It looks like Faysal Qureshi was in deep sleep when someone took this picture.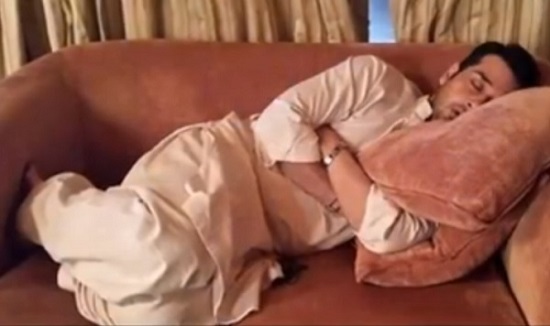 Kubra Khan also posted many videos of Bilal Ashraf sleeping in the most awkward positions while she was shooting with him but those videos are not available any more and Bilal is happy about that!
Which one of these pictures do you think is the cutest? We are pretty sure next time you feel sleepy at work, you will be reminded of these celebrities. Do share your views in the comments section.