Pakistani drama industry has been ruling the hearts of the viewers for decades. Pakistani dramas have a huge fanbase in India and those who have always loved the sound of beautiful Urdu language have always enjoyed watching Pakistani content. The popularity of Pakistani dramas is unparalleled because it elaborates the realities of life and struggles of regular people in such a manner that it makes it very easy for people to relate to what is being shown, irrespective of the sides of the border they are at.
The arts and cultural exchange is always good for countries because it easily shows people the societal norms and values of the country. It also promotes a different image of the country and allows people an insight into Pakistan and the lives of Pakistani people. Over the years, Pakistani drama-makers have succeeded in making a name for themselves, they have come up with one good script after another which has impressed the viewers and left an impact. Pakistani dramas are highly appreciated and widely watched all over Pakistan, but now with the ease of online uploads, the viewership has transcended the borders and citizens of India are always seen appreciating Pakistani dramas and content as well.
This puts a lot more responsibility on the shoulders of Pakistani writers and drama makers to come up with better and different subjects, concepts and stories in order to continue to impress the vast number of viewers who look forward to the quality content. Pakistani drama writers have proved their mettle by coming up with such scripts that are relevant to Pakistani dynamics, however over the years, there have also been some of those drama-makers who have resorted to an easy way out and have straight away copied the content from Bollywood movies to turn them into a Pakistani drama.
There are a handful of concepts which are tweaked in order to come up with a story, whereas the baseline remains the same. This is why at times some parts of different dramas and stories end up being similar to other dramas or movies. However, when everything ends up looking similar, it turns out to be a blatant case of copying and plagiarism. One fails to understand that at this stage where Pakistani drama industry is growing, making a name for itself and is touching new levels of success with each passing project, why do the drama-makers feel the need to copy or lift the ideas from Bollywood movies – that too which have been widely viewed by the vast majority of the Indian as well as Pakistani audiences.
Here are those Pakistani dramas which are inspired from Bollywood movies:
Noor ul Ain
Noor ul Ain aired in 2018 on ARY Digital. This drama was written by Edison Idrees Masih and it did not take the viewers a lot of time to figure out that the entire story, main theme as well as the characters were lifted from Bollywood's superhit movie Saathiya, released in 2003. What shocked the Pakistani viewers the most were the big names that were associated with this project. Names like Sarmad Khoosat, Imran Abbas, Sajal Aly, Marina Khan – one failed to understand why did they all agree to do a project which was a copy of Bollywood movie Saathiya?
Saathiya's story was different and relevant to the youngsters who fall hard in love, this is why it was a superhit movie of the time. The story of the movie was such that it was fit to be shown within the span of 2 – 3 hours but to turn it into a 24 week saga, with the character of Noor ul Ain as plain as ceiling and as emotionless as a rubber duck did not do the viewers any favor. The writer tried to give it a Pakistani drama touch by adding a character of negative chachi who brainfeeds Noor ul Ain to get married behind her parent's back but that also did not cover up the fact that it was a copy. This is the reason this drama, despite the dream team, did not make an impact.

Dil Banjara
Dil Banjara was written by Faiza Iftikhar and aired on Hum TV in 2016. Dil Banjara's entire story was a copy of Bollywood's Blockbuster Dilwale Dulhaniya Le Jayeinge which was released in 1995. Story of a girl who belongs to a conservative background but goes on a trip abroad, meets a guy, falls in love with him despite being engaged and eventually after all the obstacles and hardships that stand in their way, she eventually gets married to him. The writer tried to add another angle by showing that the guy too had commitments to his cousin who loved him and got paralyzed in an accident but it was just a side track which did not conceal the striking resemblance of Dil Banjara's story to Dilwale Dulhaniya Le Jayeinge.

Cheekh
Cheekh was written by Zanjabeel Asim Shah and aired on ARY Digital in 2019. Cheekh drama did well in terms of popularity in Pakistan but as the promos started releasing, it did not take people a lot of time to figure out that the story of this drama was lifted from Bollywood's classic Damini which was released in 1993. Damini was a blockbuster movie of its time and left such an impact that the viewers still remembered it and knew the entire theme of Cheekh was copied.
It was a story of the struggles Damini goes through when she challenges the powerful and files a case charging their son of raping the member of the house staff. In Cheekh, the Pakistani version, it was a friend who wages a war against her brother in law for harassing and killing her best friend, although there was no rape case in this drama. Cheekh's star cast ended up contributing a lot towards its success and the drama ended on a high note, but to this day, the fact remains that the story was not an original idea and was very much copied from Bollywood movies.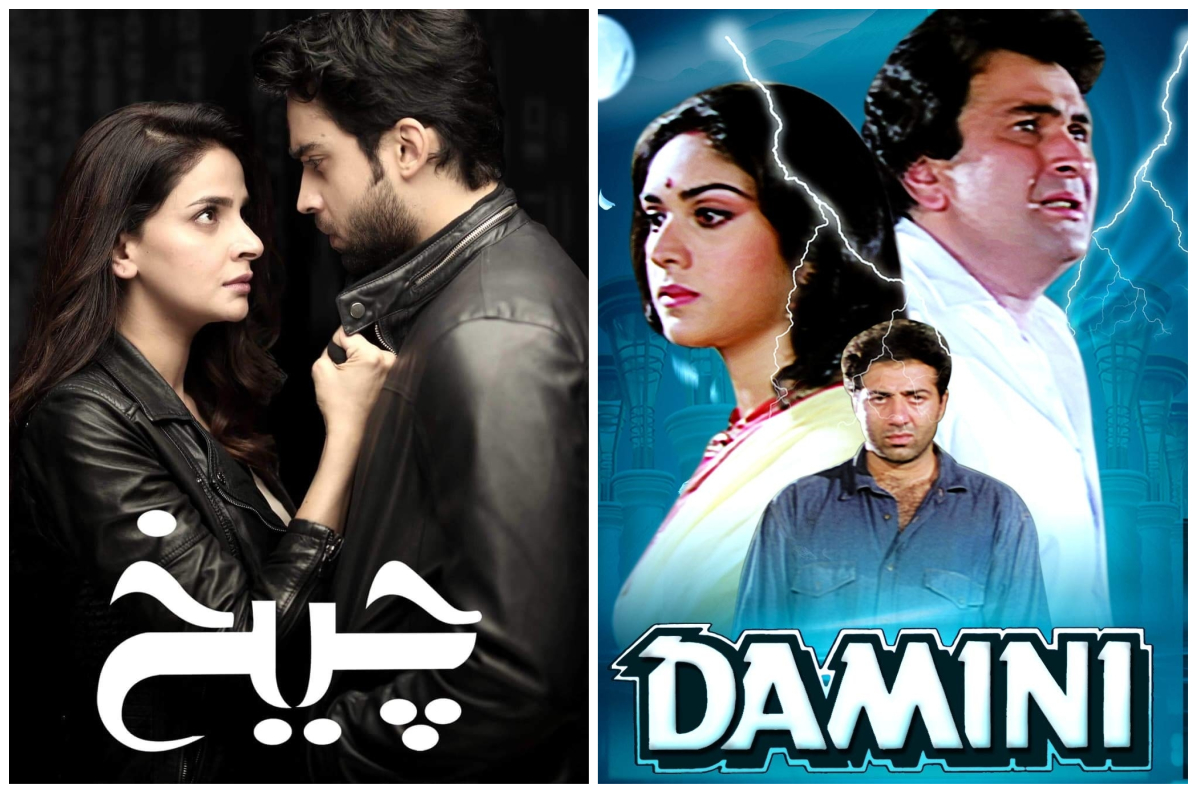 Mohabbat Tujhe Alvida
Mohabbat Tujhe Alivda has been written by Abdul Khaliq Khan and is going to air on Hum TV on June 15, 2020. Although this drama has not even started but the promos have been enough for the viewers to see that it is a blatant copy of Bollywood's superhit movie Judaai which was released in 1997. Judaai was a star-studded movie with a very different theme where a wife makes a deal with a girl to get her married to her husband for a hefty amount of money.
Judaai has been widely watched and liked by both Indian and Pakistani audiences, therefore to come up with a dramatized version of the movie after so many years is still a bad idea. In the promos alone, it is evident that not only the story is a copy but Sonya Hussyn herself is trying to copy the antics of Sri Devi who played the role of Anil Kapoor's first wife in Judaai. Mansha Pasha is playing the role of Urmila Matondkar and Zahid Ahmed of course is Anil Kapoor in this copied version of the story.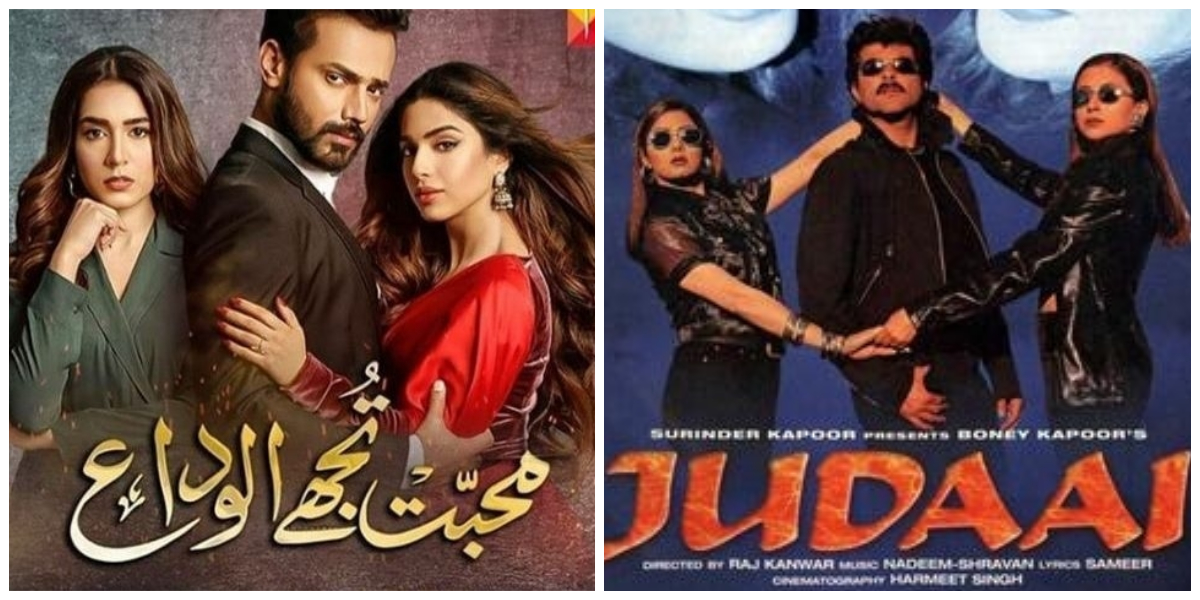 Izteraab
Izteraab drama was written by Amna Mufti and aired on Hum TV in 2014. It was a copy of Bollywood's movie We Are Family which was released in 2010. The story of this drama revolves around a terminally ill mother of two and because of the current situation, the man of the house gets married so that the step mother can look after his children and family after the wife passes away. We Are Family itself was a copy of Hollywood movie Step mother but in that drama, the man introduces his girlfriend to the family. In Pakistani drama, the supposedly helpless man finds himself getting attracted to the young girl who cooks delicious food and gets married to her behind her wife's back. Eventually things work out in his favor because the first wife gives in. The drama did not attain much popularity but got known for being a copy of a Bollywood movie.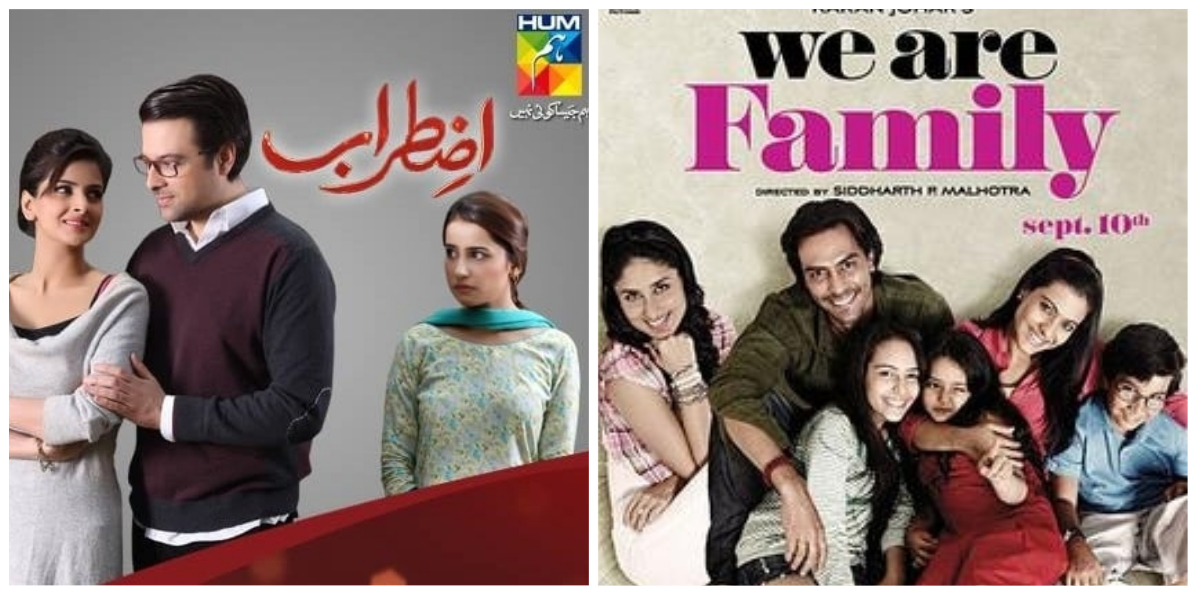 Koi Nahi Apna
Koi Nahi Apna aired on ARY Digital in 2014. It was a story of an unhappy wife who eventually takes separation from her husband and leaves the daughter with the father. That's when the entire angle of a single father kicks in. This entire concept of Koi Nahi Apna was a copy of Bollywood's Akele Hum Akele Tum, which was released in 1995. The only difference was that in the drama, the couple had a girl, whereas in the Indian movie, Amir Khan takes care of his son single-handedly. The drama as well as the movie ends on the note of the couple reconciling and living happily ever after.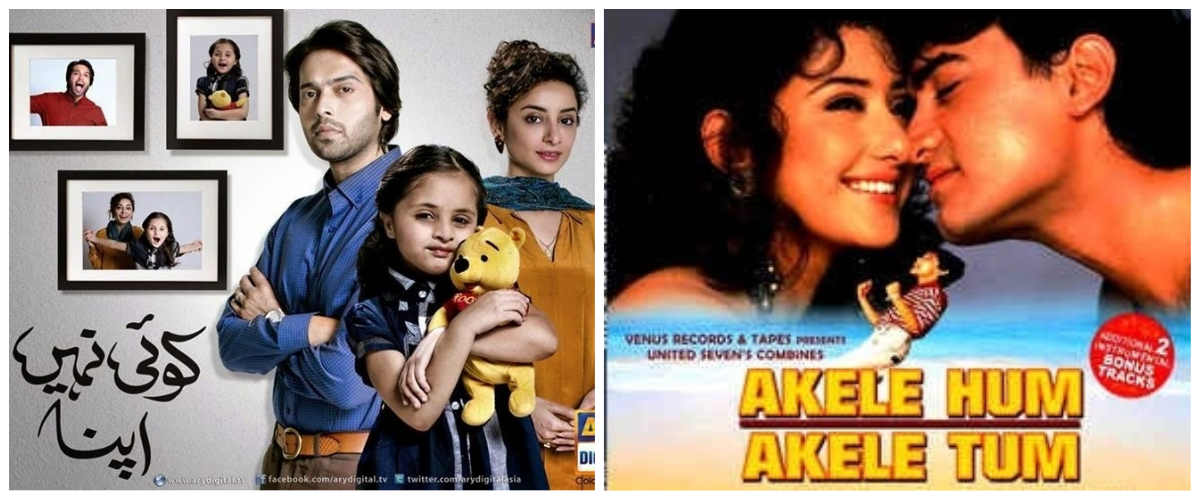 These are the Pakistani dramas the stories of which have been copied by Bollywood movies. Do you think Pakistani drama writers should take inspiration from Bollywood movies or should steer away from blatant copying and plagiarism? Does it help the Pakistani drama industry grow in any way? Feel free to share your opinion in the comment section below.