Pakistani's Grill Rishi Kapoor For Hateful Comments & You'd Want To Join Them!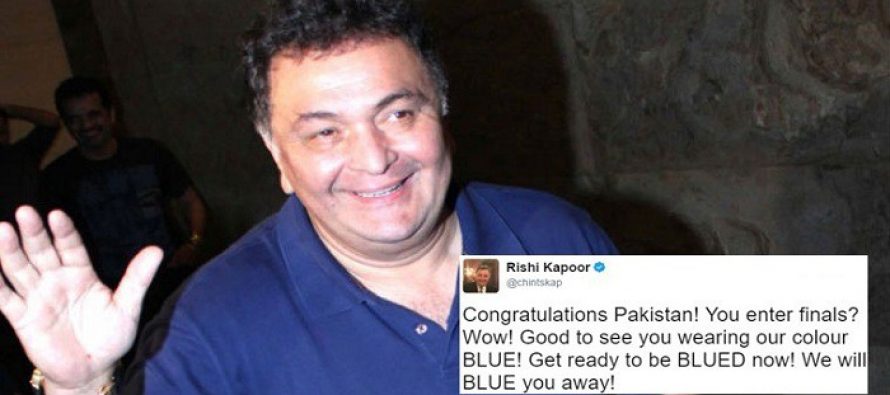 They yet again proved to be the most unpredictable team in the history of world cricket by doing what nobody had expected them to do! They beat England in England in the semi-finals of the Champions Trophy 2017.
In case you missed it, which I'm sure you didn't, Rishi Kapoor took a dig at Pakistan.
He took to Twitter and wrote, "Get ready to be BLUED now! We will BLUE you away!" he tweeted after congratulating the team on the win, got trolled by Pakistani cricket fans in return.
Congratulations Pakistan! You enter finals? Wow! Good to see you wearing our colour BLUE! Get ready to be BLUED now! We will BLUE you away!

— Rishi Kapoor (@chintskap) June 14, 2017
After making headlines for sending abusive direct messages to a woman, the yesteryear actor is at it again and this time with the 'Mango People' of Pakistan. Pakistanis are finally giving an ultimate shut up call by curtly replying to the man.
Chacha pehle Bangladesh say tou jeet jaao. Warna pura green hi na hojaye dono taraf say. ?? https://t.co/6XdxVwtpMA

— Asim Azhar (@AsimAzharr) June 14, 2017
We love you too, we have common ancestors and we remember that

— Vineet Kalia (@vineetkalia) June 15, 2017
We like you sir,but we love green,see you and your blue in the ground , really i am proud to be a pakistani.

— miqal waheed (@MiqalW) June 14, 2017
Huzoor pehlay hamaray sath khailnay kay liyay qualify toe kar lein. Phir baat karein gey! Kaheen Inglistan wala haal na ho jaye apka bhi!

— Adeel Hashmi (@AdeelHashmi3) June 15, 2017
on sunday india will sing!

hum per yeah kisne HAARA rang daala
SARFRAZ ne humein paker ke…..dhoo dala…..haan dhoo dala

— Umer Arif (@DrUmarif) June 14, 2017
I'd flush this tweet into the toilet but there aren't many of those in India ?

— jm8 (@Raaderer8) June 14, 2017
As Batman says … Wait for it.

Sir jeeeeee

— Omair Alavi (@omair78) June 14, 2017
Baap pehlay jaata hay rishi saab. Ham pohanch gaiyee. Keep coming.

— Saliha Wahaj (@SalihaWahaj) June 14, 2017
Rishi Kapoor spelled backwards is roopak ihsir which makes no sense, exactly like your tweet. https://t.co/32JlBXf1np

— Fatima Ali Shah (@FatimaAliShahs) June 14, 2017
Uski Chinta Aap Mat Karo Bhaijaan… Aap Sirf Dusra TV Kharidne Ka Jugad Karo ??

— Jitu Ninama (@JituNinama) June 14, 2017
on sunday india will sing!

hum per yeah kisne HAARA rang daala
SARFRAZ ne humein paker ke…..dhoo dala…..haan dhoo dala

— Umer Arif (@DrUmarif) June 14, 2017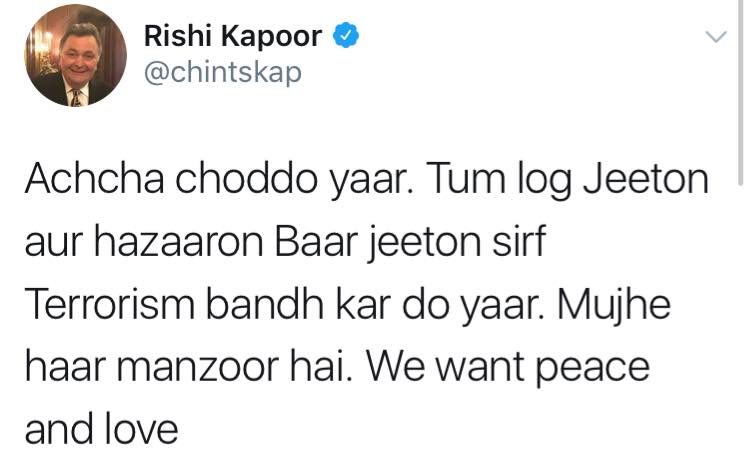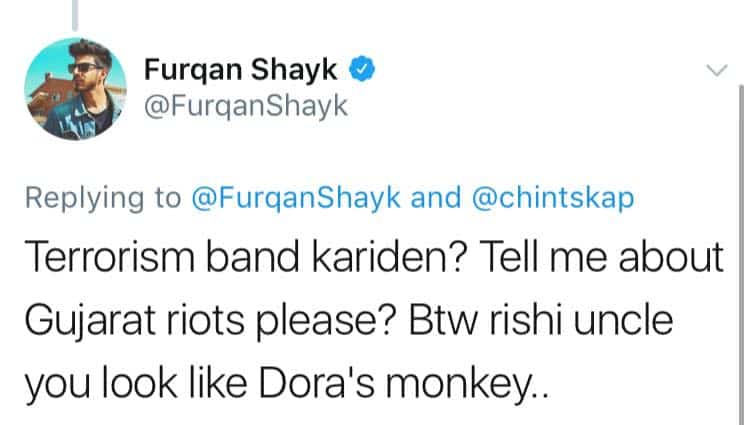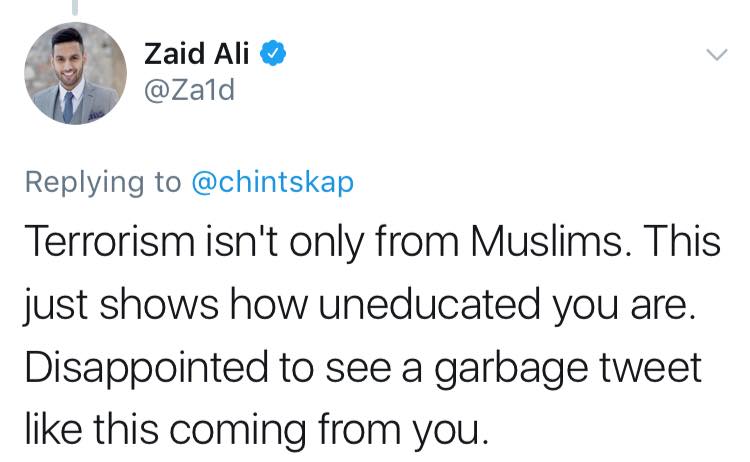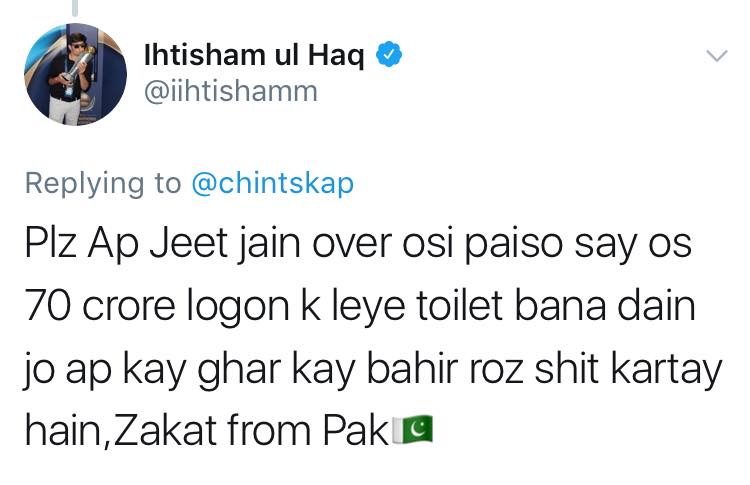 ---