Bridal Couture Week is one of the biggest events of Pakistan's Fashion Industry who had been thriving since the past decade or so. It is a platform where different designers showcase their talents within a span of 3 days and the audiences get to see the most inquisitive designs and the most beautiful bridal collections from the top names of the fashion industry. This year, there were about 18 designers including two Indian designers who showcased their collection in the Pantene Bridal Couture Week 2013.
Bridal Couture Week 2013 was a star studded event as we got to see different celebrities modeling for a variety of designers. From morning show hosts like Nida Yasir, Shahista Wahidi to celebrities like Urwa and Mawra Howcane, Fahad Mustafa, Zhalay Sarhadi, Hina Dilapazeer, Aijaz Aslam, Faisal Qureshi, Noor, Mahwish Hayat, Hina Bayat, Madiha Iftikhar, Ayeza Khan, Ahsan Khan, Sana and loads more walked the ramp. Mohib Mirza and Amina Sheikh gave a spectacular dance performance choreographed by the Body Beat Productions. And the famous band Fuzon also gave a spectacular performance to add more charm to the evening.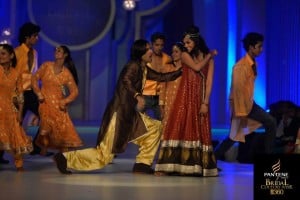 Here are a few designers who left the audiences in awe of their collections:
Day 1 started off with Zainab Chottani who is one of the big names of the fashion industry and specializes in producing unique, trendy and high quality bridal dresses. Her collection has been showcased in various fashion shows; nationally and internationally in cities like London, Manchester, New York and Dubai. She showcased her collections on the 20th of April in Bridal Couture Week 2013 and her dressed were worn by models and actresses like Mehreen Syed, Shaishta Wahidi, Nida Yasir, Mawra and Urwa Hocane, Zhalay Sarhadi, Fahad Mustafa and many more. Her collection consisted of the combination of different shades of pink, whites and blues. The delicate ivory and cream Lehngas with trimmings of fuchsia and pastels looked heavenly. Nadia Hussain wore a modern cut Maroon trailing outfit while Mehreen walked the ramp with Abbas Jafferi and wore a beautiful coral Lehnga.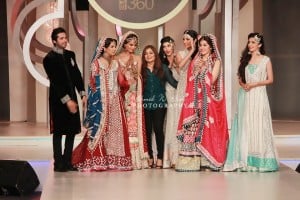 Next in line is Saim Ali's collection which consisted of beautiful gota borders and shorter flayered layered shirts over bell bottom palazzo pants. Shaista Wahidi and Hamza Ali Abbasi walked the stage together to showcase the collection. Other celebrities who also walked the ramp for her collection were Noor, Jia Ali, Fouzia Aman and Amina Ilyas.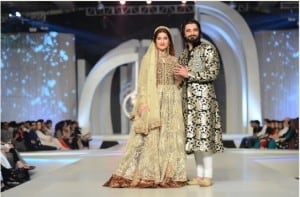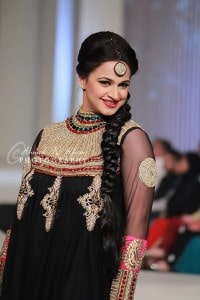 Zaheer Abbas's collection was another collection that took everyone's breath away. His show stopper was none other than the beautiful Humaima Malik who looked absolutely spectacular in a beautiful Red Kamdani Lehenga. Zaheer Abbas took the finest materials to make these beautiful outfits and the golden embroidered Lehngas were appealing to the eye.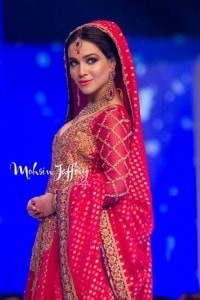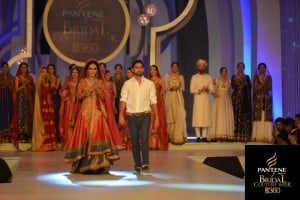 Day 2 of the Bridal Couture Week started off with Lajwanti's male and female collection, boasting brilliant combinations and tasteful designs. She was followed by Madiha Noman who caught the audience's attention with her theatrical opening performed by Ayeza Khan who was seen showcasing a beautiful olive green bridal dress with a frill embroidered border.
'Teena by Hina Butt's' eclectic collections for males and females included gowns, palazzos and churidars for women and sherwanis and kurtas for men. Her first collection managed to capture everyone's eye and her collection was an instant hit! The 2nd day ended by Indian designers Anjali and Arjun Kapoor on a dramatic note with extremely bling and ornate gowns and saris.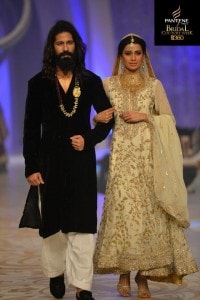 On the 3rd day, Sana Abbas opened the show with her elegant bridal line in pastel colors and striking combinations. Her showstopper was Mahwish Hayat who looked extraordinarily beautiful in a rust colored Lehnga. Sana Abbas is specialized in Prêt, Haute Couture and Bridal wears and her bridal dresses were made of the finest fabrics with quality cuts and intricate embroideries. Other models who donned her dresses were Ayyan, Nadia Hussain, Zeba Ali and Sana Sarfaraz. Then came Nadya Mistry who showcased an ultra-modern and funky bridal line and her dresses were modeled by stars like Madiha Iftikhar and Adnan Shah. Mifrah Gul followed with her impressive and sophisticated bridal collection. Her showstoppers were Faisal Qureshi, Aijaz Aslam and Amber Khan.
Deepak Parwani showcased his beautiful male and female ethnic bridal collection. His showstoppers were none other than Wasim Akram and Zeba Bakhtiar. He was followed by the works of 14 Haute Couturiers – Imran Rajput, Deepak and Fahad, Tabassum Mughal, Arsalan Iqbal, Ishtiaq Afzal, Nida Khurram, Nadaa Saleem, Obaid Sheikh, Wahaj Moiz, Ruby Shakeel, Uzma Baber, Naureen Arbab, Mussarat Bushra and Vasim Asghar. The outfits of Wahaj M. Khan were donned by Sana Fakhir and Ahsan Khan.
After this Body Beats Productions again came in to perform, much to everyone's delight. This time the performance featured Hasan Rizvi, Anoushay Ashraf, Kiran Khan, Sohai Ali Abro, Tipu Sharif, Sarwat Gilani, Javed Sheikh and Komal Rizvi. The evening came to a grand close with HSY's male and female gloriously worked bridal collection. His collection consisted of mostly dark colored outfits that stood out. The show finally ended with an electronic fireworks display.
This was one of the best events of 2013 so far and will be etched in the memory of the audiences till we get to see another glamorous week next year which will be even better than this years event!
Mariam Shafiq