There is good news for all the foreign drama haters out there who have been against the airing of foreign shows since the very first day. PEMRA has recently announced that there will be an increased tax on foreign content to protect the local industry from foreign competition. It is about time they took this step to protect our prospering industry from foreign competition.

The trend of foreign shows started with the channel Urdu 1 which started airing Turkish and Indian shows. After the stupendous success of Ishq Mamnu, various other Pakistani channels also started airing Turkish shows. Even now a very famous Turkish show Fatima Gul is being aired on Urdu 1 which has received a remarkable response from audiences. Other Turkish shows include Fareb, Fariha, Bewafaai, Noor that airs on different Pakistani channels like Geo TV, Express and Urdu 1. The sad part is that the story did not end here and Indian shows also started airing on different Pakistani channels on prime slots which irked the viewers to no end. Many celebrities like Faisal Qureshi, Samina Peerzada, Shahood Alvi, Aijaz Aslam, Saba Hameed and many others have been seen voicing their protest against the airing of foreign content on various channels. Other than that there are many Indian shows like Qubool Hai, Badde Ache Lagte Hai, Sapne Suhane Ladakpan Ke, Anamika, Hitler Didi that airs on the channel Express and Geo TV. Recently Hum TV also aired the promos of a Turkish show which shocked and disappointed the audiences. What will be the future of all these shows now?
Following Urdu 1's lead, Geo has recently launched a new channel Geo Kahani which features Indian, Turkish and Pakistani content. Urdu 1 followed by Geo and Express air the largest number of foreign shows and the increased tax will not be good for them as this might reduce their profit margin by a huge amount. Geo Kahani and Urdu 1 which airs almost 90% foreign content will be in big trouble now!
There are mixed views about the new policy to increase taxes. Here are a few comments posted by various people on Facebook: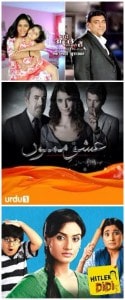 "Now that is a big step to protect our culture, this tax should increase every year"
"They were buying them cheap now they will have to spend money. I hope this tax is strictly enforced"
"Stupid decision, you can't restrict the right of people to entertainment, they will watch what they like…"
"The sad part is that that tax generated will not be used to support and promote our industry…. sorry for being pessimistic but that is how it works"
"But why to promote foreign dramas on Pakistani channels? Our industry is full of talent! Fine you can't restrict anybody choices if they want to see these shows but it is better if they enjoy through other sources of course. Not acceptable on Pakistani channels!"
"Thank God! Something very much needed & a sensible decision"
"No worries our channel owners are filthy rich, they will pay or they will bribe the authorities and will air those crap!"
"So happy to hear that but let's see to what extent this policy is implemented"
"Are you kidding! How would it stop them? It is a TV channel and would happily pay the government"
I personally think this is a major step towards discouraging foreign content shown on local channels. If this new policy is effectively implemented then it may reduce the amount of foreign content on different channels. The complete removal of such foreign shows may take a while as there are some loyal viewers of foreign content.
So what do you guys think about this new policy? Will it reduce the amount of foreign content aired on different Pakistani channels?
Mariam Shafiq