The Manchester attack, that took place on Monday following a pop concert by singer Ariana Grande has shaken the World. The blast killed as many as 19 persons, while 59 were injured.
People from all over the World condemned the attack and when it comes to Hamza Ali Abbasi, we all know how blunt he is. Never shying away from sharing his stance on political or religious matters, he continues to voice his opinion on social media.
He took to Twitter and shared his condolences.
#Manchester pic.twitter.com/mCwtNUl0KI

— Hamza Ali Abbasi (@iamhamzaabbasi) May 23, 2017
However, Twitterati thinks that Hamza probably failed to share his thoughts in the correct manner during the time of tragedy and bashed him for the same.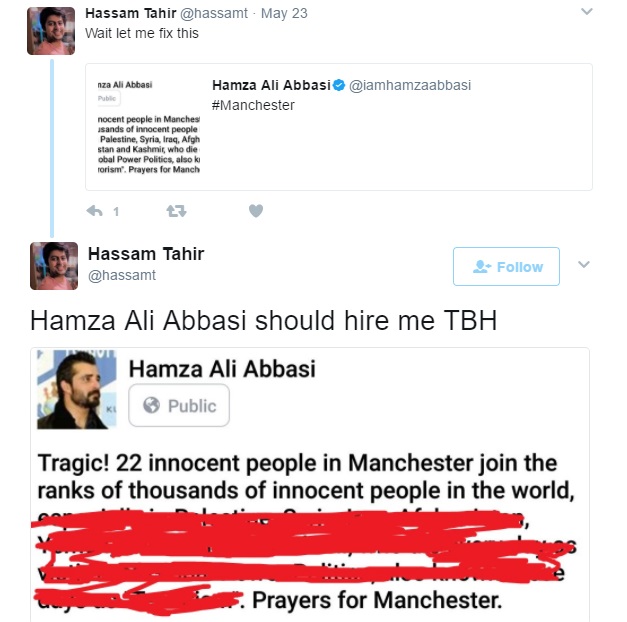 @iamhamzaabbasi this would have sufficed pic.twitter.com/7vUe2mvc9h

— Maryam (@maryamful) May 23, 2017
@iamhamzaabbasi That's the problem brother….you always keep justifying the terror attack rather than thinking of some solution to the root cause.

— Sudhanshu (@5udhan5hu) May 23, 2017
@iamhamzaabbasi جلدی مڑ آئے اور اگلے چوک سے ہو کے جنگ عظیم کے مرحومین بھی شامل کر لیتے۔۔۔

— Salman Haider (@salmanhydr) May 23, 2017
*River floods a village in Pakistan*

Hamza Ali Abbasi: My heart goes out to all the villagers and also to the victims during Noah's time.

— Omer (@omerwahaj) May 24, 2017
It must take at least a dozen generations of cousin marriages to reach the mental level where you agree with Hamza Ali Abbasi

— zebra (@weebot) May 23, 2017
It must take at least a dozen generations of cousin marriages to reach the mental level where you agree with Hamza Ali Abbasi

— zebra (@weebot) May 23, 2017
hamza ali abbasi IS a pretty awful person to have at ANY PLACE https://t.co/q43mE7lM4w

— haleema (@haleemaaabbasi) May 23, 2017
@iamhamzaabbasi Zaher lagta ha ye insan mujhe.
Logon ka zehan kharab kar raha ha

What kind of status you had given??

— Tayyaba Tahir (@TayyabaTahir3) May 24, 2017
@iamhamzaabbasi Someone perfectly said about him:
Hamza acting chor ka politician ban gya ha
And I must say: 2 kashityon ka sawar dubty hain #PoliticalActor

— Tayyaba Tahir (@TayyabaTahir3) May 24, 2017