8 P.M. is considered the prime slot for Television Industry and popular shows on all channels like ARY digital, HUM TV, Geo TV and others airs popular shows at this time and they give tough competition to each other. Audiences leave all their work and sit in front of their television as the clock strikes 8. Each channel puts their best show in this slot to keep ahead of competition and win the TRP race. Shows which fail to gain TRP's are moved from the prime slot to some other slot and this has happened very frequently from time to time on different channels. This can get irritating for viewers at times when their show is shifted from one slot to the other as it gets hard for them to keep track. Here is a list of shows that are at constant competition with each other in this prime time slot.
MONDAY:
ARY Digital airs Main Guneghar Nahi on Mondays who is in tough competition with Hum TV's new show Rehaai and Nanhi from Geo TV. Rehaai and Nanhi are new and yet to get a proper response from the audiences while Main Guneghar Nahi has been running for quite a while and recently scored good numbers on the TRP charts.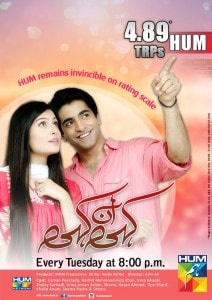 TUESDAY:
Hum TV airs Kahi Ankahi on Tuesdays which is in tough competition with ARY's Parchaiyan and Geo Tv's Ghaoo. Kahi Ankahi has created an audience for itself because of the chemistry between the leads and has attracted many youngsters and managed to take the 4th spot with a TRP of 4.89 while Parchaiyaan is a show with a different concept and is slowly gaining popularity and it took the 6th spot in the latest TRP ratings. Ghaoo has not managed to gain enough numbers to come in the top 10 yet.
WEDNESDAY:
Ary digital airs Kaala Jaadu season 2 which is in competition with Hum Tv's new show Tanhaii and Geo Tv's Meri Dulari. All these three shows are relatively new and have yet to impress the audiences! Kaala Jaadu, however, seems like an instant flop!
THURSDAY:
ARY Digital airs the show Silvatein in the 8 pm time slot whereas Hum Tv and Geo Tv airs the new show Jiya Na Jaye and Mirat Ul Uroos respectively. Silvatein has managed to gain a lot of attention from the audiences due to its interesting story while Jiya Na Jaye is new and it will take time for them to make place in the viewers' hearts. Mirat Ul Uroos has become an instant hit and is in neck to neck competition with Silvatien. The latest TRP showed both of them in the 10th spot!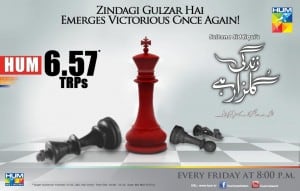 FRIDAY:
We have the most popular and hyped show of the year Zindagi Gulzar Hai airing on Hum TV on Fridays while ARY Digital airs Daagh which ended this week and Geo TV is airing the new show Virasaat. It is difficult for any other channel to beat Zindagi Gulzar Hai since it is the most watched show of recent times with a TRP of 6.57. Daagh was a powerful show but no match for Zindagi Gulzar Hai. Let's see how much competition Virasaat will give to Zindagi Gulzar Hai since it is still in its initial stages. But I doubt it will affect Zindagi Gulzar Hai's TRP at all.
SATURDAY:
We see Dil-e-Muzter, the most anticipated show of this year on Hum TV on Saturdays at 8 p.m. This show has managed to gain a lot of popularity in a very short time. The show that is in competition with Dil-e-Muzter is Kaash Aisa Ho which airs on ARY Digital. We see Virasaat again on Saturdays on Geo TV. Currently, we can see competition between Dil-e-Muzter which scored the 5th spot and Kaash Aisa Ho which scored a 9th spot. Virasaat has not proved a threat yet but let's see how viewers take this new show and whether it manages to gain popularity as the other two shows.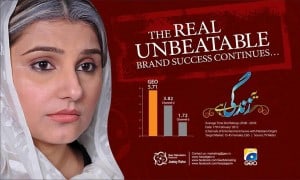 SUNDAY:
We see competition between Hum TV's Humnasheen and ARY's Siskiyaan on Sundays. Geo TV airs the long running show Yeh Zindagi Hai on the Sunday prime slot. This show should just end already! Siskiyaan has regular viewers as it has been a while since it went on air while Humnasheen is yet to gain loyal viewers but Yeh Zindagi Hai beats them both by coming in the 2nd position after Zindagi Gulzar Hai in the latest ratings! I wonder how?
Channels have come up with different strategies to cope up with the competition like Geo aired some of its shows at 8:30 instead of 8:00 and recently, they showed Viraasat's episode without any break to attract the viewers. Geo TV has established a trend and I am sure other channels will follow the same strategy very soon to be competitive.
Mariam Shafiq