There are many artists in Pakistan who have given most part of their lives to the entertainment industry, Qaiser Naqvi is one of such actors who dedicated 50 years of her life to the industry. She started her career from an advertisement and later was seen in many hit dramas in some important roles.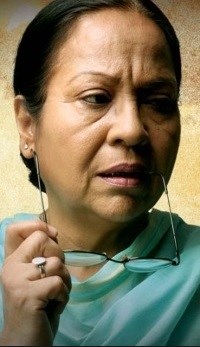 Javeria Saud did a very wonderful thing by inviting Qaiser Naqvi to her show "Satrangi" today. Javeria Saud shared with her viewers that Qaiser Naqvi was suffering from some ailment which mainly affected her legs which the doctors were unable to diagnose. She also said that although Qaiser Naqvi had given so many years to the entertainment industry but she never got a single award. The seasoned actress was unable to continue acting which was her passion because of her health. Qaiser Naqvi said that she took her acting very seriously and she wanted to start acting so her fans should pray for her speedy recovery. She also shared her experience with top doctors and hospitals which wasn't very good. She said that the doctors charge huge amounts but they do not even give the patient more than 2 or 3 minutes of their time. She said that she had been to all the best hospitals but they were unable to diagnose her problem.
Rubina Ashraf who recently worked with Qaiser Naqvi as a director for drama serial Shikwa said that Qaiser Naqvi's memory was remarkable. Rubina Ashraf also said that the clarity in her voice made her an outstanding actress who was naturally gifted.
We wish Qaiser Naqvi a very speedy recovery so that she can be back to doing what she loves very soon.