The demand of Qawwals and Naat Khawwan is relatively high these days due to live transmission of channels and private events. Which among them is most highly paid is revealed in a press report by Urdu Daily Dunya which is also posted here.
As per report the highly paid Qawwals are as below based on the charges of one event
1- Rahat Fateh Ali Khan (35 laakh )
2- Amjad Farid Saabri (10 laakh)
3- Rizwan Moazzam (8 laakh)
4- Sher Miandad, Asif Santo (5 laakh)
5- Ustaad Mehar Ali (3 laakh)
6- Sikandar Mianda (2 laakh)
7- Nazir Ejaz (1 – 1.5 laakh)
8- Faiz Miandad, Faiz Ali, Akhtar Sharif, Tabrez Miandad, Haidar Hassan, Kashif Nazir (50K – 1 laakh)
Naat Khawwan
1- Awais Raza Qaadri (1 laakh – 1,25laakh)
2- Abdur Rauf  Rufi(70K – 80k)
3- Fasihuddin Suherwardi (60k – 70k)
4- Shehbaz Qamar, Qaari Shahid (40K-50K)
5-Ahmed Raza Qaadri, Hafiz Noor Sultan, Shehzad Madni (20k – 25k)
6- Syed Manzoorul Konain, Mehboob Ahmed Hamdani, Marghoob Ahmed Hamdani, Jamshed Azam Chishti, Irshad Chishti, Abid Rauf Qaadri, Rafeeq Zia, Akhtar Hussain Qureshi, Yousaf Memon and others usually adjust their demand as per financial situation of organizer.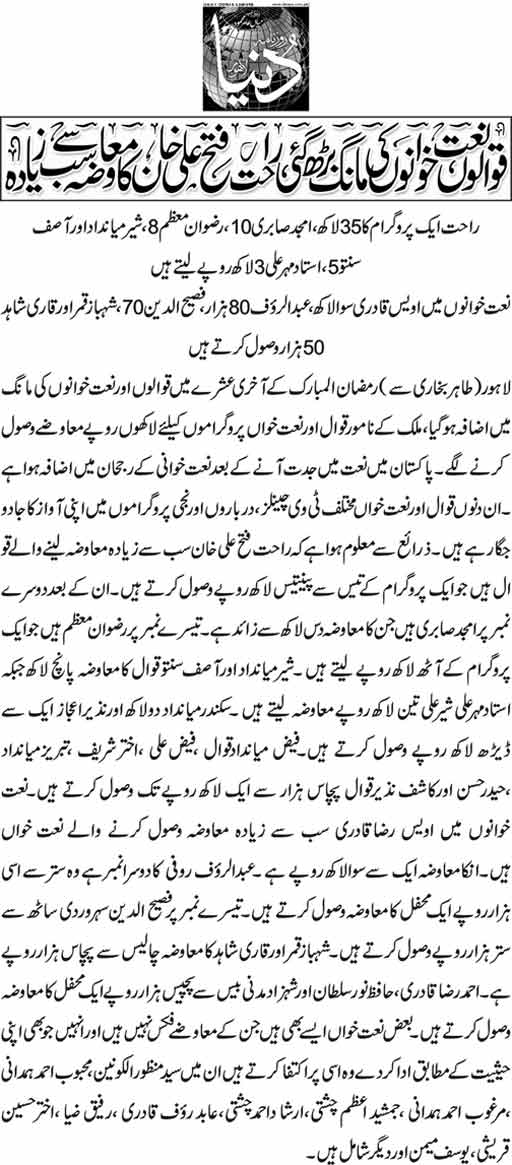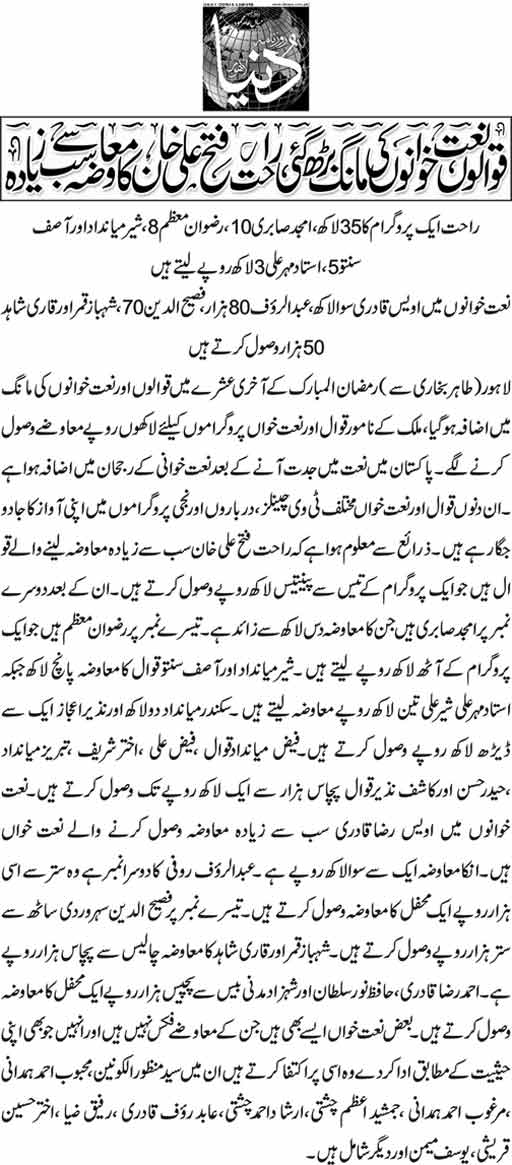 Source: http://e.dunya.com.pk/detail.php?date=2014-07-21&edition=LHR&id=1185506_90435952
http://e.dunya.com.pk/index.php?e_name=LHR&edate=2014-07-21&page=9
Rashid Nazir Ali