QMobile's new Tvc created quite a buzz on social media right from the moment when Kareena was signed for it. It is the biggest budget ad ever made in the advertising history of Pakistan, most of it clearly went into Kareena Kapoor's pocket and rest was wasted on her attire and styling. This biggest budget Tvc however is a disappointed in every regard. I will not comment on the cell phone, it is purely about the advertisement, its budget and outcome.
It's not that I'm against Kareena Kapoor but honestly any leading Pakistani model or actress could have done way better job than her. Kareena charges quite a sum for international brand ads, for this advertisement she had to travels abroad since it was shot in Thailand for which there were additional charges. All in all Kareena charged 14 million INR roughly equal to more than 2 crore PKR. On the other hand production team for the advertisement was called from New York.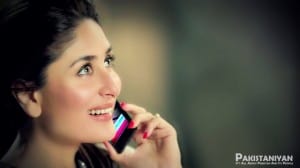 I understand Q-Mobile is not a Pakistani company and for them its not mandatory to take Pakistani models but still… There are few reasons why a Pakistani celeb could have been more suitable:
1- She obviously got the biggest chunk out of the budget and any Pakistani celeb would've cost trifle as compared to her.
2- Pakistani beauties like Mahira Khan, Mehreen Raheel or Ayyan are not only regal beauties they are equally stylish and trendy and would have carried any of the styles gracefully and elegantly, their record of working in Tvcs speaks itself.
3- Kareena Kapoor seems like she is overacting a bit in the ad, even the expressions are mismatched at some places. Pakistani Showbiz have countless actresses could have worked better with genuine expressions.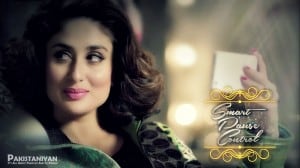 Apart from that none of her clothes or hairstyles is appealing or maybe my aesthetic sense starts hibernating when this ad comes on air. The black/purple gown and the white/green/black blazer or whatever it is are particularly hideous. She looks comparatively better in the last part attired in black with fairly better hairstyle too but who can carry red lipstick than our very own MK?? And the way Kareena utters "I Noir, do you?" is out and out annoying. The CEO of Qmobile stated the reason behind her casting was her huge fan following in Pakistan. Taking in account the budget, international model and production team, this ad is a disappointment.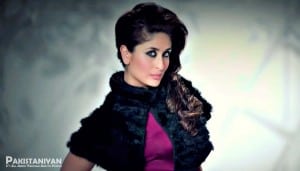 Faiza Cheema