After a tumultuous week of having her private videos leaked and the world gathering together to either shun her or lend her support, actress cum singer Rabi Pirzada has made an announcement.
Rabi took to her Twitter to state that she had decided to leave showbiz for good and that she sought forgiveness from her creator.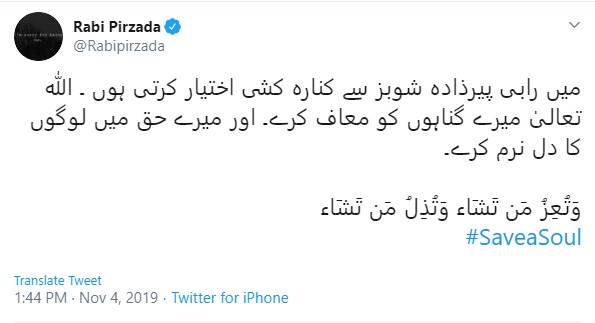 "I, Rabi Pirzada am quitting showbiz. May Allah forgive my sins. And soften the hearts of people in my favour," she tweeted with verse from the Quran that states it is up to Allah to give respect or  abase any being.
Earlier Rabi lodged a complaint with the Federal Investigation Agency over the leaked video that had gone viral on social media. Rabi had also sought help from Cyber Crime Cell stating that her videos had gone viral from her smart phone that she had sold some time ago. A complaint was also registered against the person Rabi had sold her phone to.
Over the span of 15 years where Rabi launched her career as a singer and continued as an actor alongside, she has had a number of controversies to her name. Sometimes its posing with a live cobra or featuring them in her song, sometimes its a blunt comment on ISPR and even posting pictures with bombs on a jacket.
On Twitter, people are now sharing all sorts of reactions to the announcement Rabi made.
Some people are supporting her decision to quit showbiz and wishing her strength, happiness and ease.



However, some people also urged Rabi to not surrender to the pressure and to stand her ground.