Raees: Twitterati Reacted Over The Ban!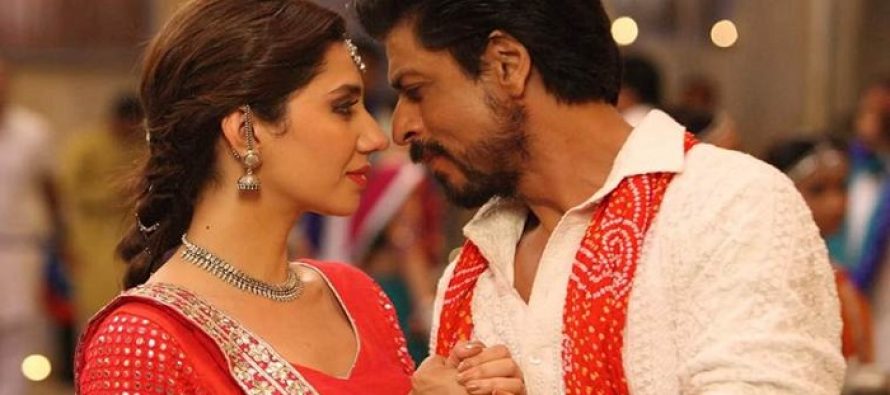 Mahira Khan's debut film Raees released globally after being embroiled in many controversies and is minting some good collections all over the world. While the fans of Mahira were waiting for the film to release, something unfortunate happened as the Central Censor Board banned the screening of Raees in Pakistan.
This is was surely not welcomed by the director of Raees.
#raeesbanned in Pakistan ??? Outraged !! Dumbfounded!!

— rahul dholakia (@rahuldholakia) February 6, 2017
Recently, Shah Rukh and his team had a press conference in which Mahira joined them through video call. She said that Pakistani fans are waiting for the movie to be released in Pakistan. But the current news has disappointed the well wishers for sure. Many of them have taken the issue to social media and posted their reaction on Twitter. Take a look at the tweets here: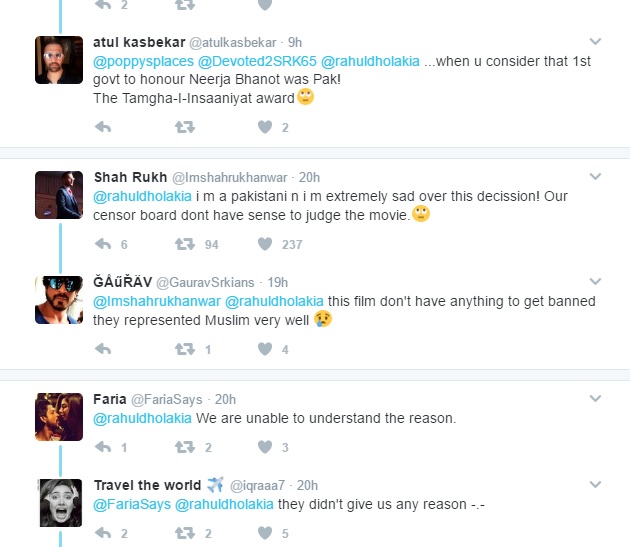 #MahiraKhan banned in india&her movie #Raees is banned in Pakistan.Yeh kiya ho raha hai?Politics has overtaken entertainment @TheMahiraKhan

— shahmah (@shahmah_k) February 7, 2017
this makes me feel devastated. What has this girl done in her life to deserve this crap.. #MahiraKhan pic.twitter.com/D65F7IeMQl

— ☄ (@thegoldenmeteor) February 7, 2017
#raees #mahirakhan whts wrong with pak censor Movie mein Islam nazar ata hai unko Wht abt those groups who r portraying Muslims as terorists

— Saifk (@skhann20155) February 7, 2017
So #RaeesBanned in Pakistan. I feel bad for Mahira. its her film, her people, her country. Wonder if its Hollywood movie will it be ban?

— Hafizah (@Bly_Leo) February 7, 2017
#MahiraKhan becomes the worst victim of politics between India and Pakistan.. I guess it was better if she wouldn't have done #Raees..

— Imran Khan (@imran_vk) February 7, 2017
Feel extremely disappointed for #MahiraKhan & #SRK on hearing #Raees has been banned in PK – they didn't deserve this…

— Pebbles Fish (@chintuandbunty) February 6, 2017
#Pakistan shld lift the ban frm #Raees 2 suprt @TheMahiraKhan – rising national star honrd by @iamsrk . #ShahRukhKhan #mahirakhan

— BridgeCommunications (@SNaeemUddin) February 6, 2017
#Raees got banned in #Pakistan, may be because a Muslim cannot be a bootlegger or as romantic as #ShahRukhKhan! #PakistaniLogic #RaeesBan

— Zeeshan Mahmood (@zeeshaandaar) February 6, 2017
Dear #MahiraKhan you are banned in #India your film #Raees is banned in #Pakistan !!!! Maybe you should think about changing occupation. ??

— Mansi Bhabhi? (@mansi_bhabhi) February 7, 2017
Censor board! there is no difference between you and Donald Trump . #RIH @iamsrk @TheMahiraKhan #Raees #RaeesBanned

— Adnan Rajput (@Pr1ncejerry) February 7, 2017
---