Hamza Ali Abbasi and Naimal Khawar are under the radar ever since the news of their marriage has become public. In the age of social media, everyone feels entitled to share their opinions on everything that they come across on the internet. Celebrities especially in general are always targeted for everything they share, be it related to their personal or professional lives.  Every single actor or actress goes through the scrutiny of the audience who know them and watch their work in dramas or films. Being a celebrity does come with the territory, where some people respect your line of work, others always have a thing or two to say about it therefore, Hamza and Naimal are not being treated any differently.
Hamza Ali Abbasi's Facebook Explanation and Its Consequences:
Hamza Ali Abbasi and Naimal Khawar's wedding news became public yesterday. This came as a surprise to everyone but just when everyone was trying hard to find out more details about Hamza and Naima's courtship, Hamza Ali Abbasi put everyone's speculations to rest by sharing his stance and thought process behind this important decision of his life, on Facebook. Hamza Ali Abbasi explained that he and Naimal were friends for 2 years and he has been doing the best he can to find and walk on the right path. Hamza spoke in detail about all the things that convinced him to propose Naimal and how she, not only respected but accepted his perspective. Hamza and Naimal are getting married in a small intimate ceremony on August 25th, followed by a reception on the 26th of August, 2019.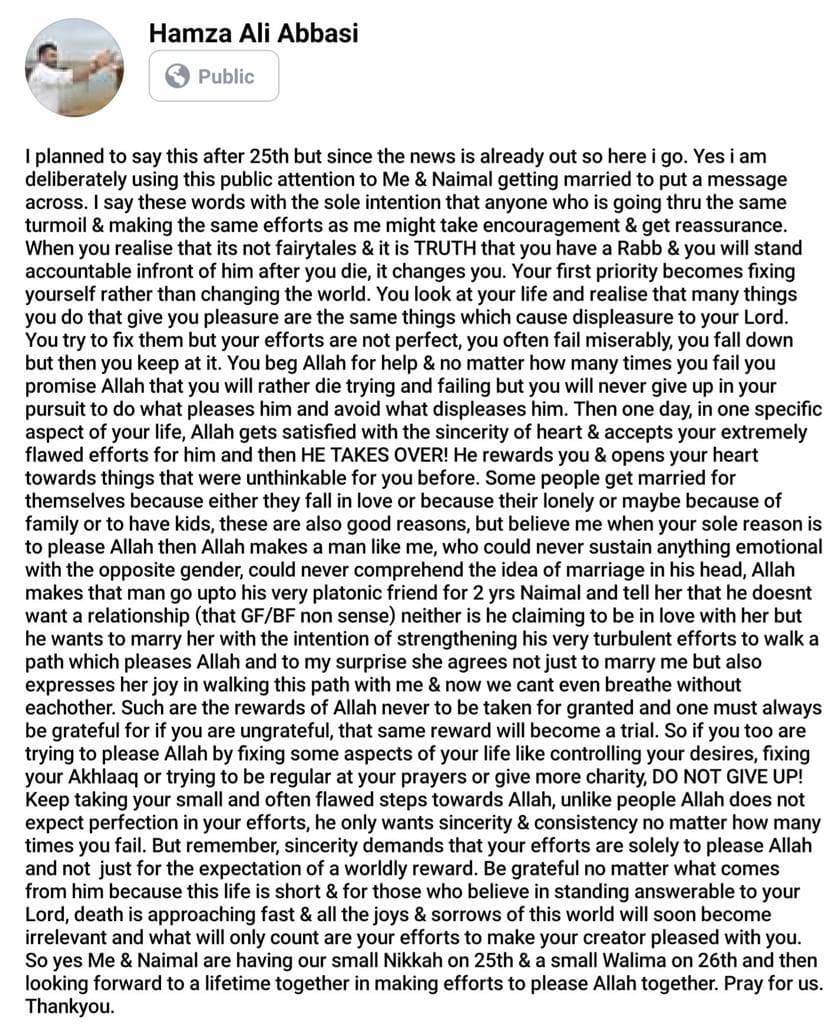 Hamza Ali Abbasi's post about his marriage and his reasons behind his decision is being scrutinized and everyone feels the need to share their opinion about it. Where a lot of fans, followers and colleagues are showering Hamza and Naimal with well wishes, there are a lot of people who are mocking his ideology and stance on this relationship. People are finding it hard to accept that Hamza is just getting married for the sole reason of pleasing Allah, in fact they find it an eager attempt to show how religiously and morally superior he is. Hamza Ali Abbasi has called out a negative attention on him and Naimal and not everyone is too pleased with his reasons. A lot of people feel Hamza is not doing the right thing by getting married to Naimal because he has no feelings for her. Every single celebrity gets judged and mocked and sadly, Hamza Naimal's wedding has not been spared either.
Here's what is being said about Hamza's Explanation and his marriage to Naimal:
For some, Hamza talking about religion has rubbed them the wrong way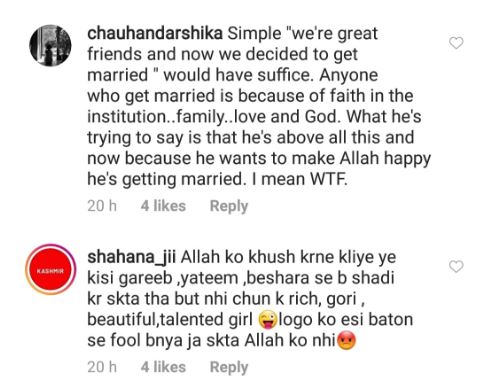 The Memes:

Some can't stop judging Naimal Khawar's Makeup and Filters:
People Are Not Happy With The Way Hamza Proposed:

People also compared Hamza and Naimal to Iqra and Yasir:
Amidst the judgmental notions, there are also some people have nothing but good things to say about this marriage:
What are your thoughts about it? Do you feel people are being too judgmental or they are right in sharing their opinions about everything related to Hamza Ali Abbasi and Naimal Khawar's wedding? Share your say.