Many celebrities have been visiting Waseem Badami's Har Lamha Purjosh this year and we have seen many revelations and stories from them. Recently Sadia Imam stirred a lot f controversy as she said that she has penned down the lyrics of Rahat Fateh Ali Khan famous songs Jiya Dhadak Dhada and Zindagi Ye Safar Main Hai.
Right now the credits for the songs can be found to have been given to other people. She said that she just gave the lyrics to Rahat as he is a friend and it was o his ethical values that he should have given the credit to her when the songs made big.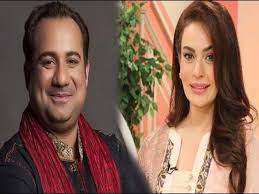 RFAK who has just been honoured by the Oxford University is being celebrated by the whole nation on the milestone. His management was contacted by Express Tribune and they had this to say:
"It is in bad taste that when the whole world is celebrating Khan Saheb's Doctorate from Oxford University, Ms. Imam would bring up something like this, that too after so many years, Even if she still claims that she is the brain behind penning the songs then she is more than welcome to present any proof, confirming the same."
Well, let's see if Sadia Imam wants to pursue it as a legal case or will she let it go like she said she had in the show!