The newspapers, websites and social networking sites are full of rumors that Hamayun Saeed is taking very keen interest in the newcomer Ushna Shah and Ushna is reciprocating Hamayun's feelings too. There was news in the newspaper few days back thatHamayun Saeed made a special appearance at the Bashar Momin launch. After the first episode of "Bashar Momin" went on air, people criticized actress Ushna Shah saying that Ushna would have been a much better actress if she had taken interest in her acting instead of the actor.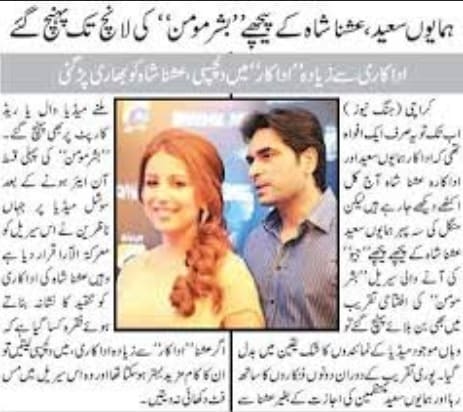 Ushna Shah said that her picture with Hamayun Saeed at the launch was photo shopped. This picture started the rumor so Ushna felt it was important to clarify her position.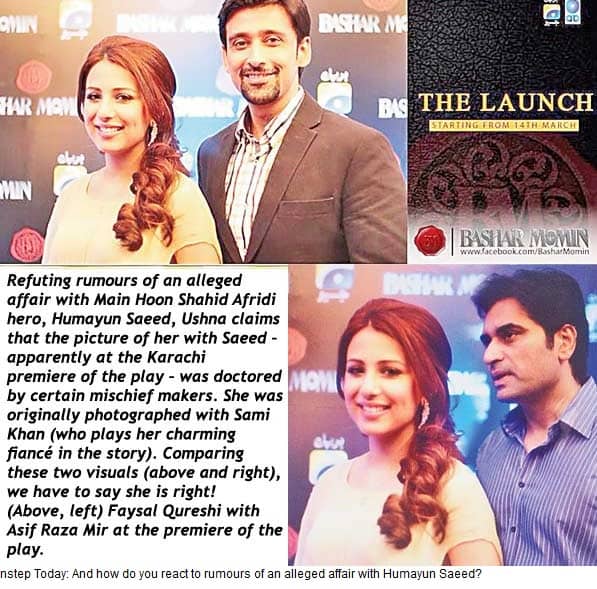 Hamayun Saeed also said in one of the Morning Shows that people have a bad habit of creating these rumors about him whenever he gets his picture taken with someone. In other words he did accept that they got a picture take together.
The A & B Facebook page stated that the director and Faysal Qureshi were surprised to see Hamayun Saeed on the occasion of the Bashar Momin launch. Ushna Shah said in an interview that when the rumors started, she talked to Hamayun Saeed's wife about it to avoid misunderstandings. She also said that Hamayun Saeed's daughter designed her wardrobe for Bashar Momin and she has great respect for her.