In a recent Press meeting the super star Salman Khan supported the Pakistani actors and regarding the ban of Pakistani celebrities Salman said,  "Pakistani artistes are just artistes and not terrorists. Art and terrorism should not be mixed. Ideal situation should have been that of peace. But, now a reaction to an action has happened. It was a proper action as they were terrorists. But still in this day and age, I think if we lived in peace and harmony it would have been better for everyone and especially for common people".
In reaction to Salmans comments the Shiv Sena leader said  "Salman should migrate to Pakistan".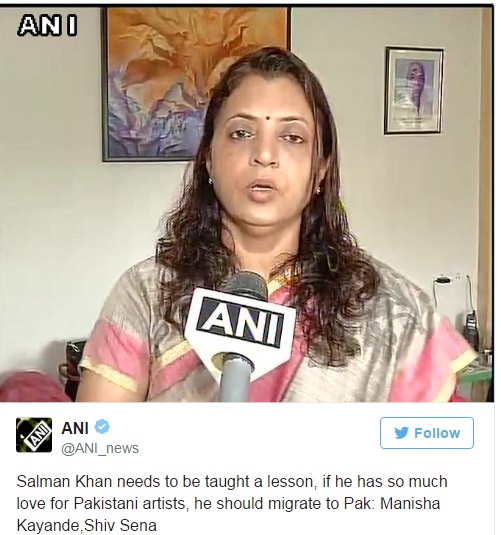 Another leader of MNS Shalini Thackeray  said, "Film stars should understand the sentiments of the people under the current circumstances. People are very angry and actors like Salman Khan should respect them. If Pakistani artistes do not condemn the wrongdoings of their country, why can our film stars not respect the Indian sentiment. Bollywood is not bigger than the country."
It seems not only Shiv Sena is offended with Salman Khan comments but many others have a look at these tweets.