LUX organized a live chat with Sanam Saeed, popularly known as Kashaf of Zindaagi Gulzar Hai. Fans were posting questions on LUX's Facebook Page and Sanam Saeed was replying to all the questions by responding to them on the page. Dressed in a floral top with white pants and completely without makeup, she looked simple yet elegant in her attire. Fans asked many questions relating to her shows and even her personal life and she responded to as many questions as she could in the span of an hour. Many fans were seen complimenting her and her brilliant performance in her shows and she humbly thanked each one of them.
Here are a few questions that her fans asked and what she replied:
What are your Birth Date and Star Sign?
2nd February and Aquarius
28
5'8 and a half
Blue and Daal Chawal
Travelling, swimming, singing, playing with children
Can you tell us about where you got your education from?
Bayview, Lecole and BNU in Lahore.
When are you planning to get married?
Soon…
What are your upcoming projects?
Kadurat will air in May-June. Other than that I am doing alot of theater plays
What is your role in Kadurat?
I have a negative, psychotic type of role in Kadurat.
Share your experience working with Fawad Khan? Any funny incident that happened behind the camera
It was great working with Fawad. We kept on laughing during the lines and that made us laugh all the time.
Pick one; Cricket or football?
Neither
Have you shifted to Karachi permanently or will go back to Lahore?
You never know…
In real life, are you as simple as Kashaf?
I am very much like her but much positive.
Do you plan to join the big screen? We need talent in out film industry
Slowly I will make my way there.
Have you received any offers from Lollywood?
No not yet
Are you on any social networking website? Facebook or Twitter?
No I am not on any social networking website. I do not get any time.
No I do not.
Can you please give a slight hint on how Kashaf will be the 'Knight In Shining Armour' for Zaroon?
There is no need for that. Zindagi Gulzar Hogi end mein!
What is the secret behind your thick black hair? Any tips?
Genes are the reason. Use blow dry and straightner as minimal as possible.
Who is your inspiration in this industry?
Sarmat Khoosat and Haissam Hussain. I became Haissam's fan after watching Dastaan.
Who are your favorite actor and actress in Pakistani Drama Industry?
Saba Qamar and Nouman Ijaz
Who do you find a good actor from the newcomers in the industry?
Sajjal Ali.
Who are your favorite actor and actress from Bollywood?
Tabu and Farhan Khan
What do you enjoy more; serious roles or comedy? What is easier for you? Singing or acting?
I would like to do more comedy. It has been a long time since I did it last. And acting is the only thing that I know.
What is your dream in life? What is your dream character as an actor?
       A role that changes the way people think, that really inspires to make a change in their lives. Movies have that affect and I hope I will have similar effect on people with my roles.
Do you like theater more or do you like to do dramas on TV?
I love to do stage shows more.
How do you find Fawad Khan? How was the experience of working with him?
He is sweet and I enjoyed working with him. He is a very talented actor. Our acting supported each other and he brings out the best in a person.
What was your first impression when you met Fawad Khan?
That he is a complete gentleman
When Zindagi Gulzar Hai was shot, Humsafar was at its peek. Did you feel a bit inferior to Fawad at that time?
Amazingly, I did not have any such feelings. As much as it would surprise people, I was pretty confident.
Did you enjoy shooting for Zindagi Gulzar Hai?
Shooting for Zindagi Gulzar Hai was a fun experience.
How do you and Fawad Khan produce such an outstanding chemistry together?
We just became our character… Its called acting!
How many episodes of Zindagi Gulzar Hai are left?
4
How do you feel about the success of Zindagi Gulzar Hai?
It has been really humbling. I am glad girls have been able to relate to Kashaf. That was the point of taking up the role of Kashaf.
Do you prefer acting or modeling?
Acting. I have given up modeling now.
How did you enter acting and showbiz world?
I have been doing stage shows for a long time.
Who is your favorite costar so far?
Sarwat Gillani. I worked with her in Tarang's Telefilm "Dil Mera Dhadkan Teri"
Zindagi Gulzar Hai or Mera Naseeb?
Mera Naseeb
Not many people know that you did backing vocals in one of the Coke Studio session. How was your experience and do you have any plans of coming into music industry?
It was an amazing experience. If I manage to organize myself and my time, maybe then I will do something in music
Was singing just a part time thing for you, or are you really passionate about it?
It was only a part time thing. But I wish it was more than that.
Is Kashaf your favorite role till now? What do you like about her?
All my roles are my favorite. What I like about her is that her story is everybody's story
What is the secret of your success?
Honesty, hardwork and passion!
Would you like to go to India like all other actors?
If there is an opportunity, why not! Its not about India, its about the project being offered.
Which performance do you think is your best so far?
My role of 'Bibi" from Talkhiyaan was really dear to me.
Now we now a whole lot more about Sanam Saeed and I think it was a wonderful initiative taken by LUX. Also, a lucky fan of Sanam Saeed also got a chance to meet her!
A few pictures of her chat session has been posted below:
And last but not the least, Sanam Saeed's autograph for all her fans!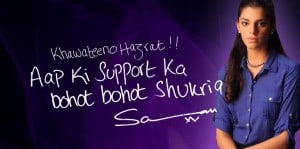 Mariam Shafiq