Nadia Jamil and Sania Saeed are outstanding actresses. They are well loved actresses who started their career from stage. They started their acting careers at a very early age. Their love for stage never left them. They have not performed on stage together for fifteen years. Now, very soon they will be seen together in the stage play "Lorilei". The play will be in Urdu and English.
The play is about a mother whose six year old gets murdered. She forgives her son's murderer. The play is supposed to be very emotional. The main focus of the play is to show the cruelty of the death penalty.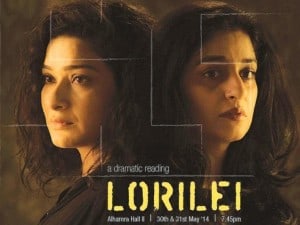 Nadia Jamil spoke to express tribune saying,
"The process has been so cathartic, because if someone hurt a child I loved, I would want to kill them… You realize that killing a murderer will not lessen murderers in society, you will still have that fear breading, yet more violence."
This is what Sania Saeed said about the difference between theater and television,
"You have more creative control when you're doing theater, and something like this would never be done on television. This kind of commitment or oneness with what I am saying, the kind of psychological alliance is something I find in theatre and not in television, that's why we keep coming back to it."
They hope to take this play to other cities of Pakistan too.