Mona Lisa, that's how we first knew her, is all busy with her busy schedules in India after her first major movie Murder 3. Mona has had been seen in Pakistani dramas previously where her acting didn't go unnoticed. Starting her career as Rabia in 'Rabia Zinda Rahegi', she was quick to portray a similar role like that of Indian Kashish where she kept on marrying one after another in the drama. The drama did not only boosted ARY's TRPs' but also provided a doorway to success to Mona.
The actress will now be seen in an upcoming Pakistani film 'Saltanat', which is directed by Syed Faisal Bukhari whereas the production has been done by Aslam Bbhatti. What makes this project different this time is its cast which comprises of A-class celebrities of Pakistan while some of the Indian faces will too be seen in the film.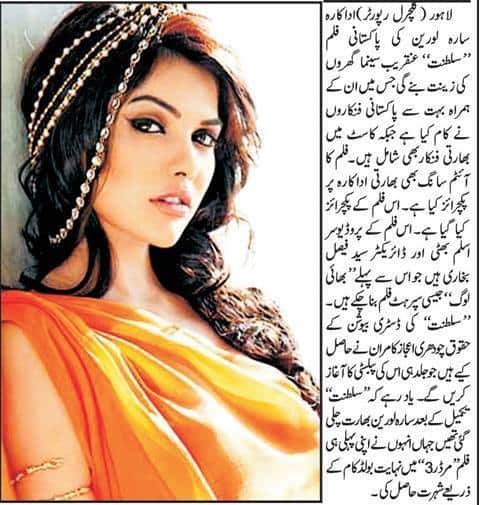 The movie is now at its final stage and will soon hit the theatres in 2014. Sara left Pakistan after the completion of this film for India.
Let us now see how far the film goes and how much appreciation Sara will earn from her own people.
All for now,
Wishes,
Nida Zaidi