The release of Indian films is challenged in Lahore court since last year. First famous TV anchor Mubashar Lucman  filed a petition in Lahore high court to give a verdict on screening of smuggled Indian films n Pakistan, in November 2013. Mubashar Lucman was also supported by group of lollywood director/producers headed by Syed Noor and Aslam Daar. The issue was in court, when Mubashar Lucman and Syed Noor reached an out of court settlement with the distributors of Indian films in Pakistan.
In December 2013, Mubashar Lucman withdrawn its petition citing that the issue is settled where Indian film distributors have agreed to give priority prime time slot in cinemas to a Pakistani films if there is any direct conflict with an Indian film. The distributors also agreed to make a welfare fund, where they donate 1 percent of revenue earned from screening of Indian films. The proposed welfare fund will be used for betterment of Pakistani films. Syed Noor also supported Mubashar Lucman in this regard. However the other group of lollywood producer headed by Aslam Daar refused to accept any agreement and filed another petition in Lahore High court in January 2014. The matter is subdued in court, but court has not issued any clear order on the status of screening indian films.
However the federal government has issued a ban on screening of new indian films till a final verdict is issued by court. The order was issued in the last week of January 2014. Due to this many distributors who have already invested millions in purchasing the rights of Indian films and cinema owners are citing financial difficulties and tough times in near future.
The last Indian film released in Pakistani cinemas was 'Jai Ho' on 24th January 2014. Since then no new film is released, the film planned to release in this course were 'Hassi To Phansi' on 7th February 2014 and 'Ghunday' on 14th February 2014.
Full content of news from Urdu Daily Jehan Pakistan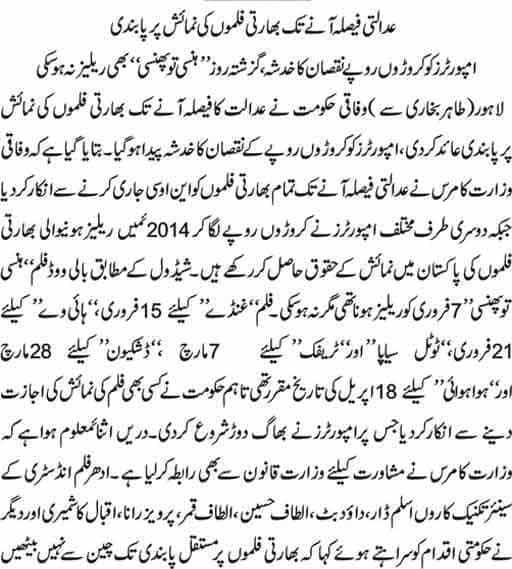 Rashid Nazir Ali