Actor, director Shaan Shahid, who is known for his die-hard patriotism has spoken about PM's latest strategy to release Indian films in Pakistan. Shaan has always put Pakistan before his own career and has denied many offers from Bollywood till date. He even had public spats with other celebrities over working in Bollywood. He has always shown his concern towards the exchange of talent between India and Pakistan and is yet again standing by our country's industry.
For those who don't know Prime Minister Nawaz Sharif recently formed a committee to ensure the release of Indian films in Pakistan. Shaan took to Facebook and requested PM to make similar strategies to promote Pakistani films in India.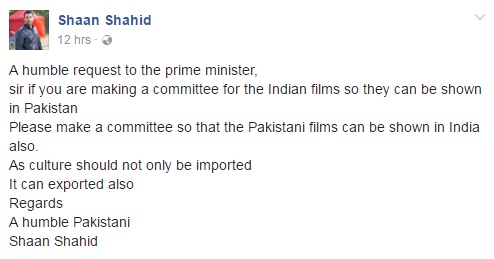 Shaan believes that similar measures should be taken to release Pakistani films across the border and his humble request is justified.
India's ban on Pakistani artists has been ongoing since the URI attacks which resulted in Pakistan banning Indian films, though the self imposed ban on Indian films was already lifted a while back!