A stunning turner of hardball, young and enthusiastic leg spinner Shadab burst onto the collective consciousness of cricket during PSL season 2016/ 2017. Since then, Shadab Khan is making Pakistan proud by serving its cricket team.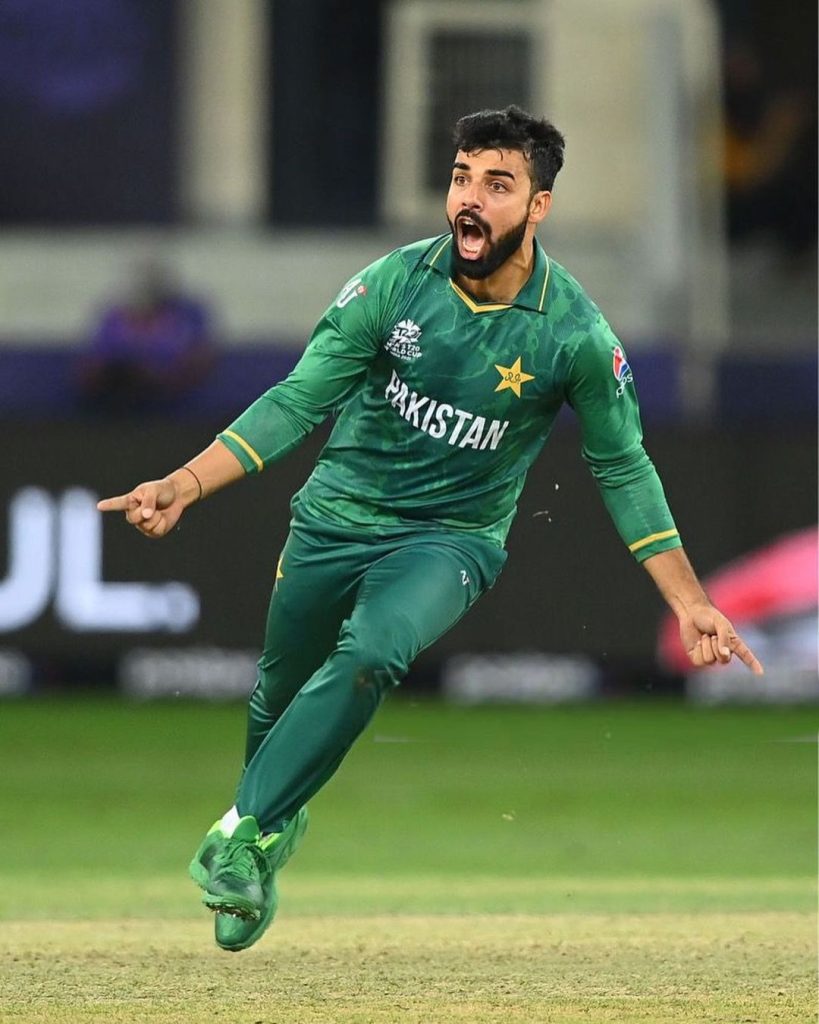 The Pakistani cricket team won many hearts in this T20 World Cup because of their stellar performance. During the T20 World Cup matches, audience spotted Shadab Khan's female look alike in the crowd. One of the netizen posted it on Twitter to see if others found the resemblance uncanny or not and fellow netizens surely did!
How do i unsee this???? 😭😭😭 pic.twitter.com/XXo5tcm0Kz

— iqra (@crackheadenerji) November 14, 2021
Here we have gathered some hilarious reactions from the public on Shadab Khan's female version, let's have a look!
Dhaniya Podina? https://t.co/DFDuVa19Zh

— Fatemahhhhh 🦋 (@Emahlicious) November 14, 2021
Why i like the female version more 😶

— 𝑴𝑨𝑹𝑰𝑨 𝑱𝑨𝑵 𝑨𝑭𝑹𝑰𝑫𝑰 (@Dr_Maria_Jones) November 14, 2021
SHADAB SHABANA https://t.co/ONdxN6UsoW

— Tehreeeem (@Tahreeeem11) November 14, 2021
My sister really thought that was his sister sitting there. 😂😂😂 https://t.co/UqjqREy3L6

— Sal || 🇵🇰 (@Serene_Sarcasm) November 14, 2021
Suna ta har insan k 6 hamshakal hotay hain dunya ma . Wo opposite gender bi ho sakty ha ye ab pata chala.

— Zaryab Khan (@Zaryab09) November 15, 2021
Shadab and shadaba😭😭😭😭 https://t.co/6Out8XB6Lt

— zoha. (@anything4sajal) November 14, 2021
OMG!
Shadab is her filter copy😱#T20WorldCupFinal #AUSvNZ https://t.co/JTVBOHnTya

— π (@deepwaters29) November 14, 2021
she looks more like shadab than shadab himself https://t.co/ZoDQriDQQ6

— sad saggy scrotum (@01234f6789) November 14, 2021
Shadab found his soulmate, all the girls should stop simping now https://t.co/TTvQtkwVYO

— أحمد (@ahmadablee) November 14, 2021
It's even more crazy how their teeth are having same shape https://t.co/IAh8ZQIthK

— Cookie | LQ 🇵🇰🇵🇸 (@cookiexcremee) November 14, 2021