Dhoop Ki Deewar is an upcoming web series that has been shot for Indian platforms ZEE5 staring famous Pakistani celebrity couple Ahad Raza Mir and Sajal Aly. The story has been written by the ace scriptwriter of Pakistan's entertainment Umera Ahmad and the project has been directed by Haseeb Hassan. Other than Ahad Raza Mir and Sajal Aly the star cast of the web series includes Zaib Rehman, Savera Nadeem, Samiya Mumtaz, Samina Ahmed, Manzar Sehbai in prominent roles. The story throws shades on the Indo-Pak conflict and portrays that how peace is better than war.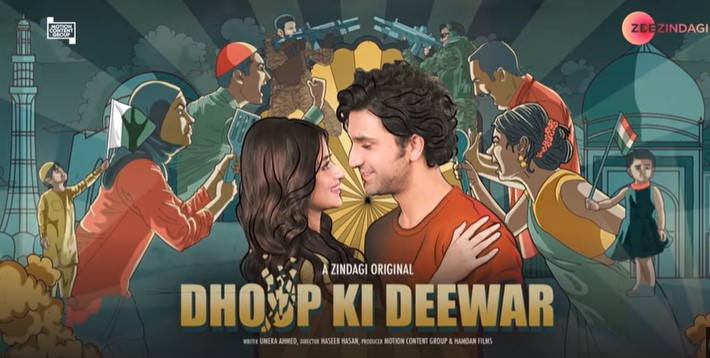 The story writer Umera Ahmed has recently shared a detailed note about the upcoming web series and addressed all objections and misconceptions regarding Dhoop ki Deewar.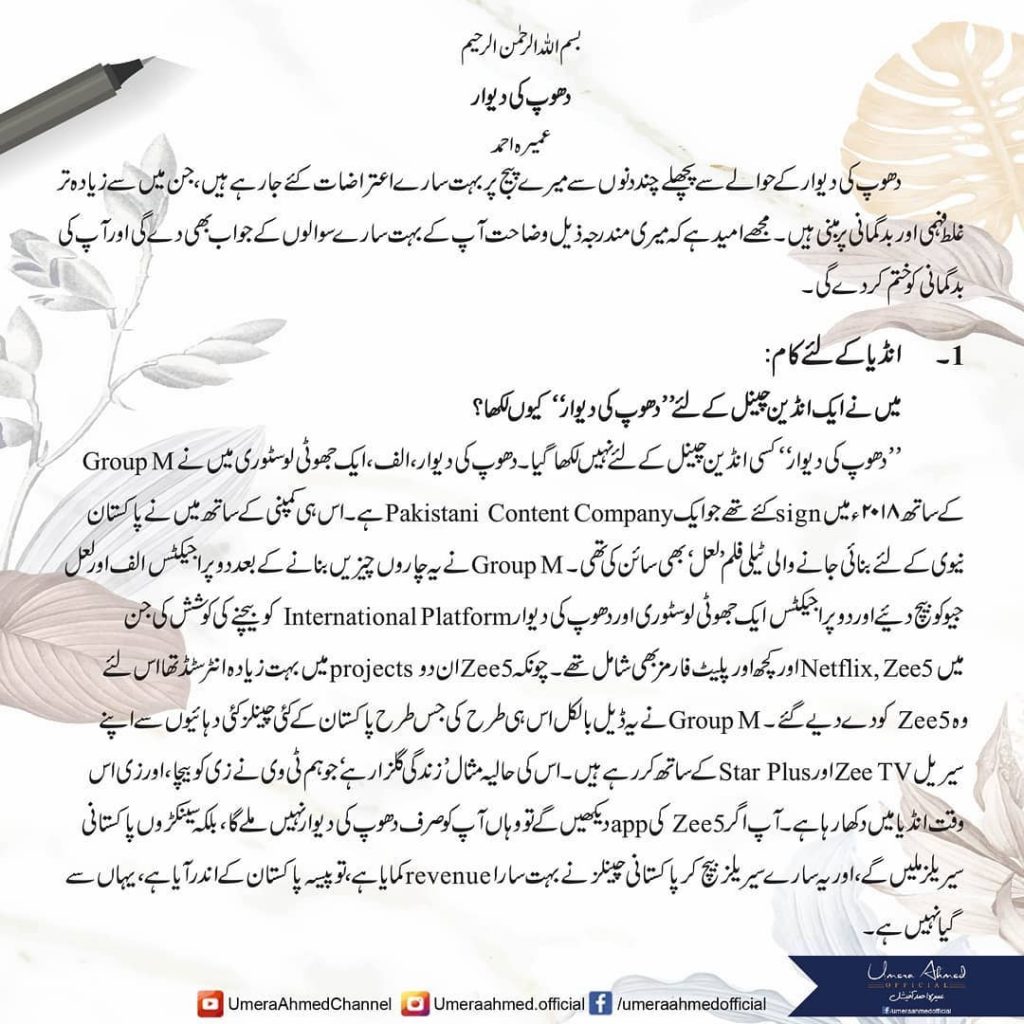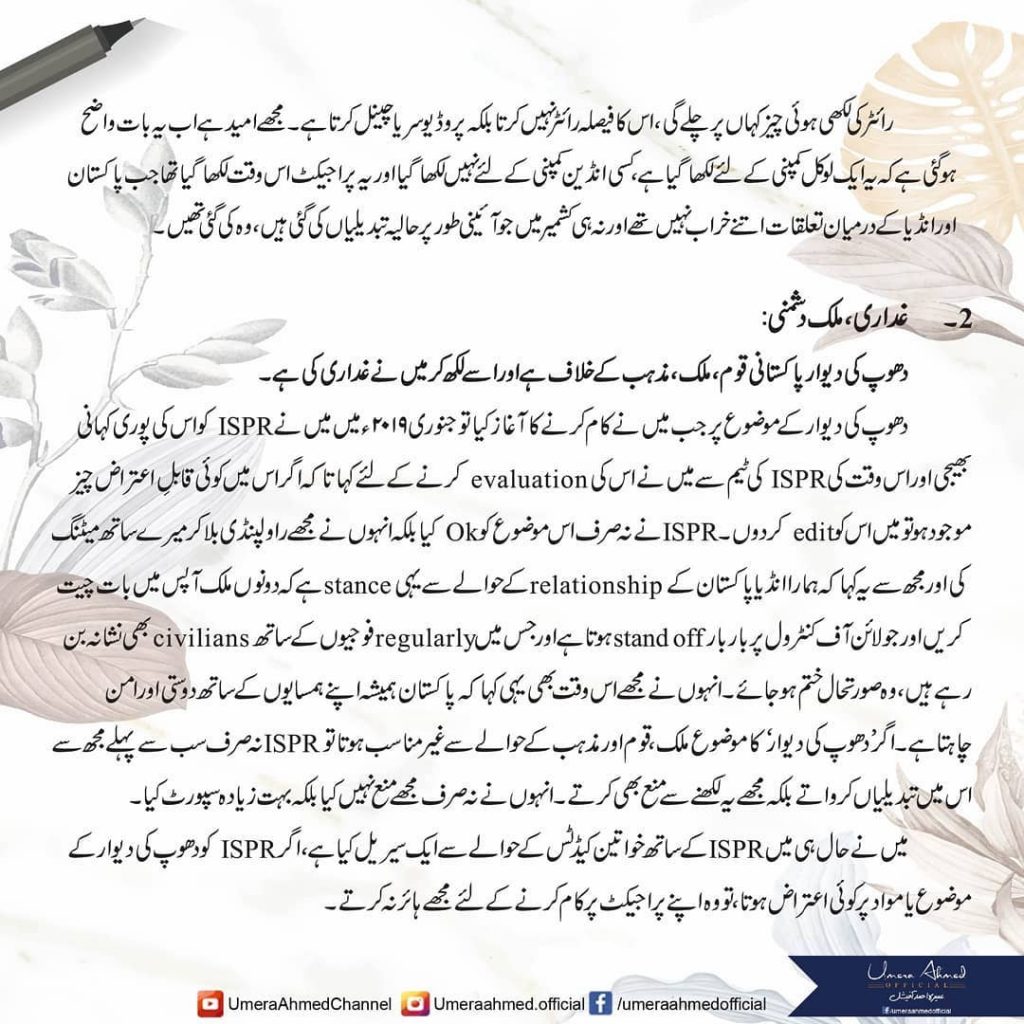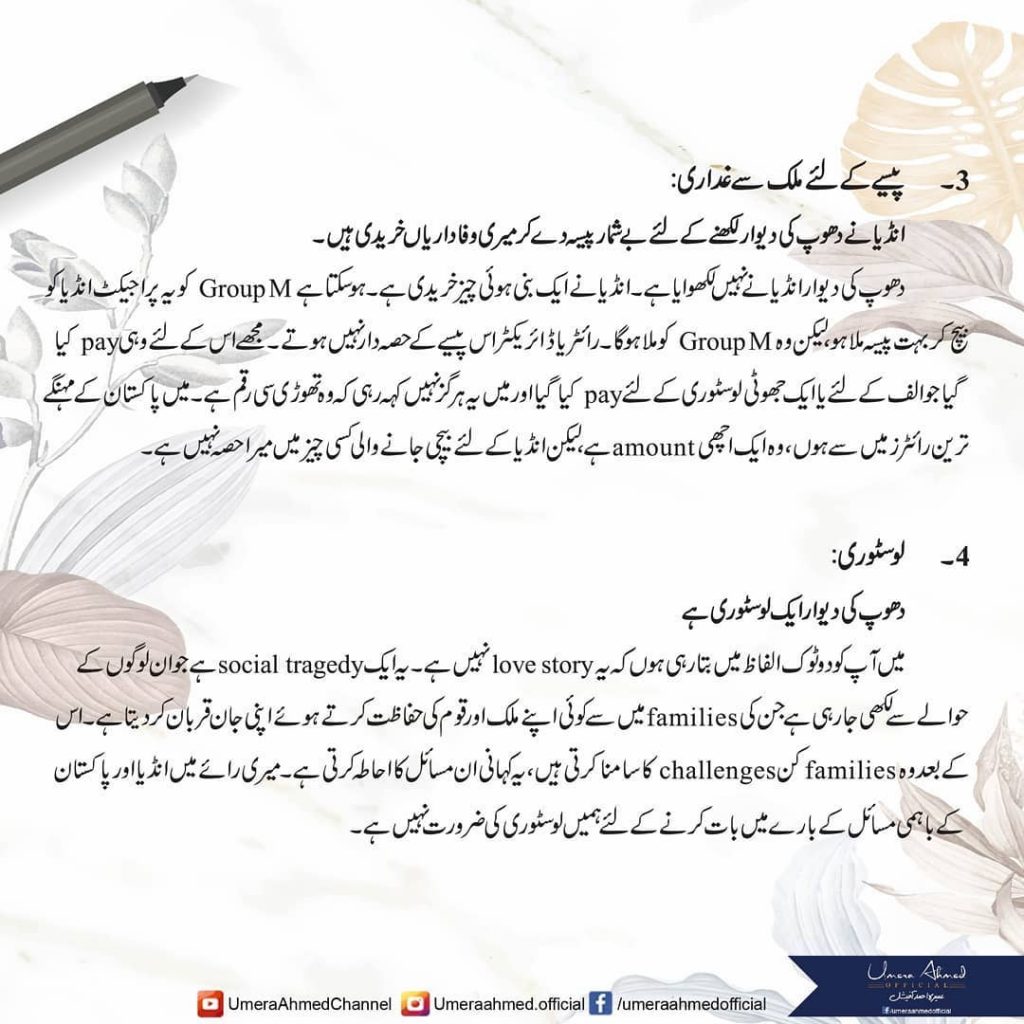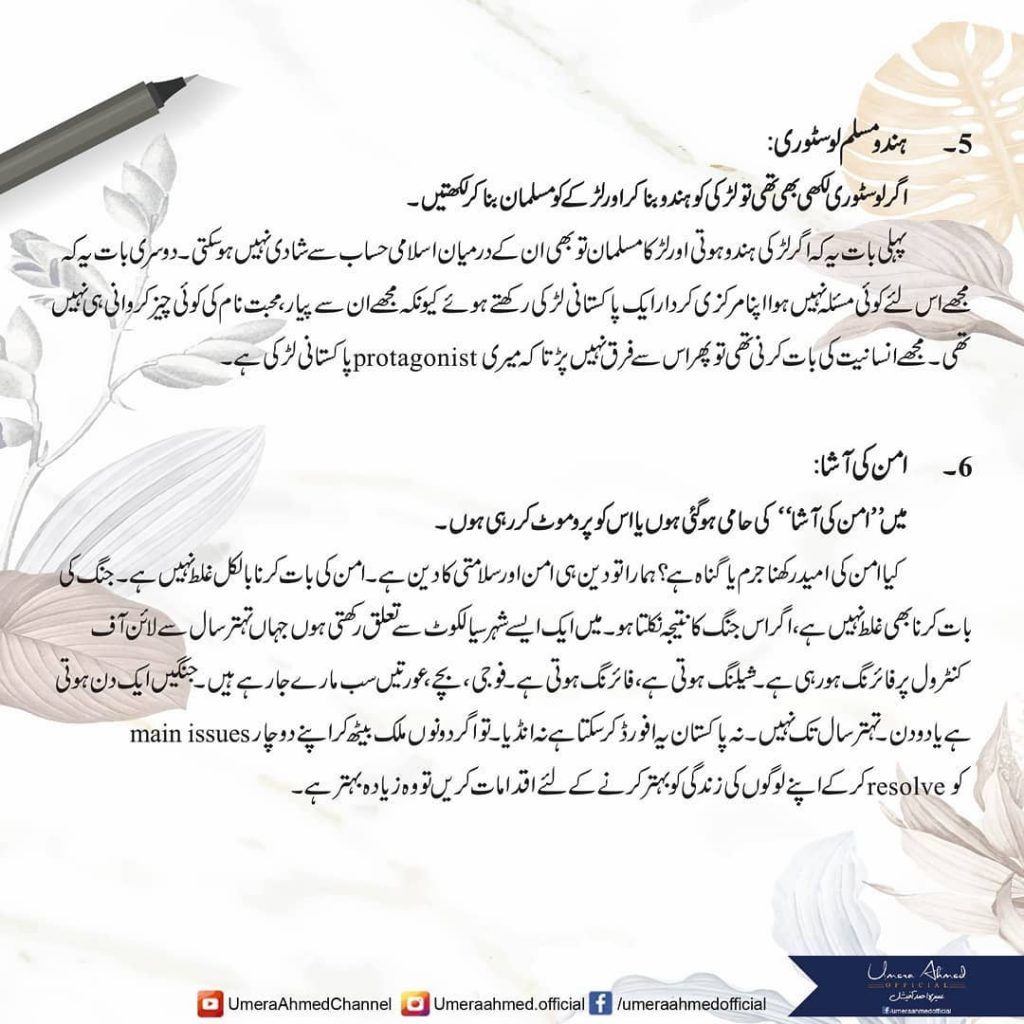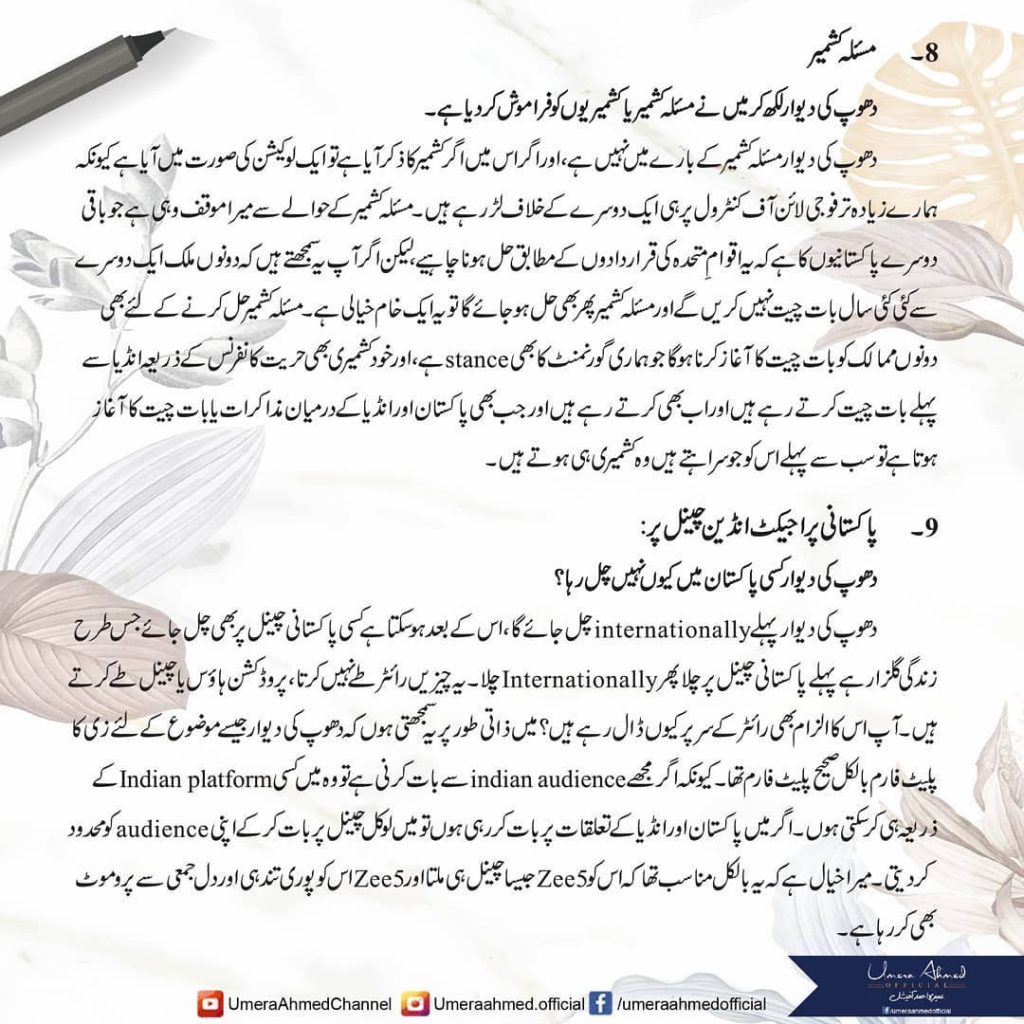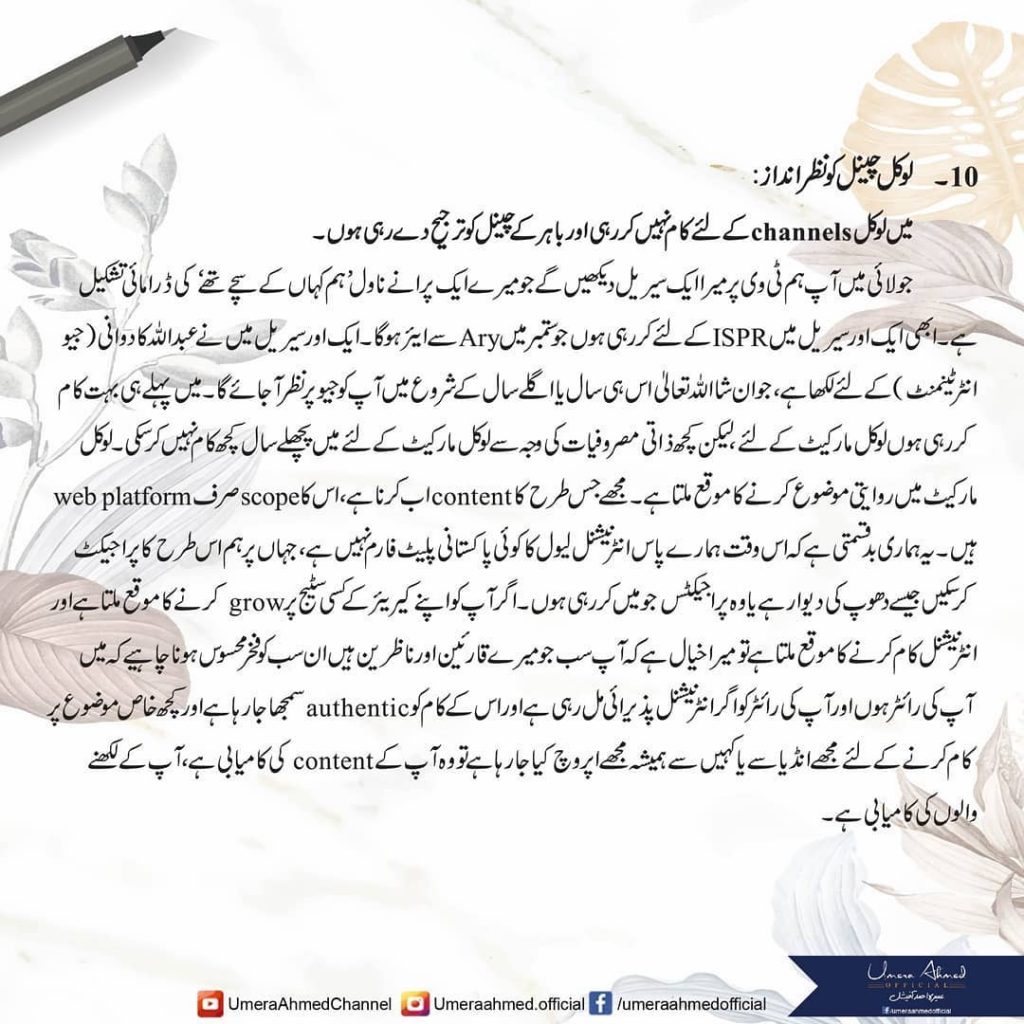 As soon as the writer addressed all the misconceptions about the story, a social media movement followed by the hashtag #BanDhoopKiDeewar was started on Twitter. The Hashtag #BanDhoopKiDeewar is now trending on Twitter. Let's have a look at some tweets by the netizens demanding the ban on the upcoming web series Dhoop Ki Deewar.
Is there anyone who can explain me what is this Trending and whats the actual story behind this? 🙄🙄#BanDhoopKiDeewar pic.twitter.com/ntJFOZWyOd

— Rakshanda Hashir (@RakyKor) June 18, 2021
True, Saw the details about #DhoopKiDeewar, & I am appalled to see that they have trivialized the #Kashmir issue as a mere love story.
Its much more bigger than a mere romance story.
Our Kashmiri & Army Shaheeds deserve better than being trivialized like this.#BanDhoopKiDeewar https://t.co/vn97lH3pJy

— Haad Akmal (@AkmalHaad) June 18, 2021
Every time Talks b/w #Pakistan & #india starts, films or dramas are made depicting Love b/w a 🇵🇰 boy & Indian girl or vice versa but this time around,the tradition has been compromised as in a recent 🇵🇰🇮🇳 love story a girl is from Pak & this is hurting our egos.#BanDhoopKiDeewar pic.twitter.com/UuGH5ssU0Z

— logicSpecie (@Herodotus0304) June 18, 2021
Umaira Ahmed can only write stupid love stories for immoral dramas of Geo & Hum TV. It's beyond her scope to create opinion on #Kashmir issue. No need to take her too serious, specially in military & foreign affairs.#BanDhoopKiDeewar #dhoopkidewaar

— Abdul Rehman Tiwana (@GCAbdulRehman) June 18, 2021
If the story of a drama can end the enmity and bring peace, then why did our elders gave so many sacrifices for the independence of Muslims. No one can beat the wisdom of Quid-e-Azam who struggled for us. #BanDhoopKiDeewar

— Ayesha (@newsreader1288) June 18, 2021
Not only is this series dispacable for showing Kashmiri resistance as Terrorism, it also shits onto Indian Muslims struggle against Hîndús who fantasize rāping Muslim woman by showing a Muslim girl and Hîndú guy love story. #BanDhoopKiDeewar

— Shahid (@Shahid86023249) June 18, 2021
After banning all Indian movies which showed a Muslim man and a Hindu girl love story we have decided to make such things #BanDhoopKiDeewar

— Imran Alhtar (@AlhtarImran) June 18, 2021
If the story is against IDEOLOGY OF PAKISTAN then why did Sajal Aly and Ahad Raza Mir opted for this drama?#BanDhoopKiDeewar

— Javerya (@Jia_theWinner) June 18, 2021
Came here after watching the trailer of Dhoop Ki Deewar, the daughter of a Pakistani army officer (Sajjal) & the son of an Indian army officer (Ahad) were against one another but they ended up falling in love. What's wrong in the story? Why #BanDhoopKiDeewar ?

— ᴛᴀʟʜᴀ (@TrulyTalha) June 18, 2021
The idea to depicting a love story by using Kashmir as a motto is totally pathetic…Such anti-state content should be banned without a second thought..#BanDhoopKiDeewar pic.twitter.com/1NspZNMzIZ

— Hashim Kamal (@hashimkamal465) June 18, 2021
There can be thousands of stories on which drama series can be made why the drama story which is hurting the sentiments of millions of Pakistani
We disagree #BanDhoopKiDeewar
#BanDhoopKiDeewar

— Proud Pakistani🇵🇰 (@tbushra24) June 18, 2021
#BanDhoopKiDeewar in Pakistan, its cast, story writer, producer and facilitator should be asked who gave them right to defame thousands of Pakistani and kashmiri shaheeds.

— Taha طہ (@Taahaa_) June 18, 2021