Brothers and sisters are one's best friends and the relationship shared by them is so beautiful so lovely and the time they spend together at parents house, they make sure to make the best of it. Whenever we fight, mom reminds us a time will come we'll be separated. ?
But unfortunately some sibling character in dramas are so boring so annoying and so unreal that I wonder who shares such a relationship with his siblings!
Amjad's sister in "Dhani"
The background of Amjad's family is such that they joke about marriage and all, I get it, but this character is so boring. I mean her fixation with her bhabi-to-be and how she teases her brother talking about Dhani all the time, like she hasn't got anything else to do. Alright, maybe it depends on the type of person you are talking about and maybe such siblings do exist but I don't find it real how she only has one topic to talk about ie. her brother's wedding. Yeah, sometimes we too banter about marriage and all (very rarely though) but there's something in her attitude I can't relate to. I don't find their banters amusing nor do I smile on those. In short, I don't find anything amusing about her character.
Zony's youngest sister in "Aks"
And I hate it when there are useless characters in dramas. She had no purpose in the whole drama other than saying "Zony baji ye, Zohra baji wo" in a monotonous tone and getting engaged to one person after other. She was the scapegoat of her family. I think it was also because of her acting that I could never like her. I wish they had given her a purpose in that drama and enough things to do there. If not, there was no need keeping her in the drama. If nothing else they could have shown her relationship with sisters in a "realistic" manner.
Qudsia's sisters in "Asmanon Par Likha"
Asmanon Par Likha was an entertaining drama but heroine's useless annoying sisters saying boring things and asking stupid questions with no acting skills were so boring to watch. "Nahinnnn! Ab kia ho ga?" "Log kia kahen ge?" "Api darwaza to kholen!" Shedding tears and sobbing in a filmy/dramatic way and expressing worry over, what we can say, small and stupid things! Their acting and dialogues were of such a quality that no one could sympathize with them ulta hansi hi ati thi LOL even when something serious happened to their family. ?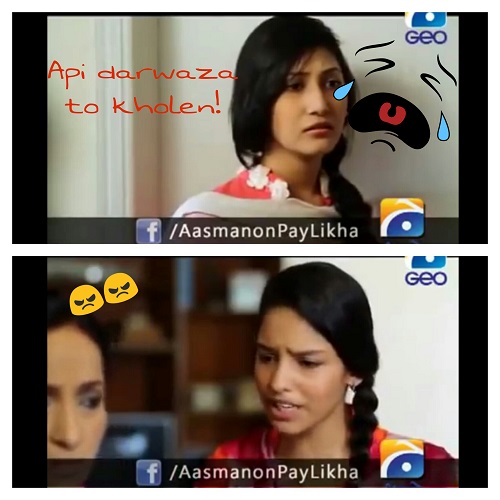 Jawaid's sisters in "Khoat"
I only watched 6 or 7 pisodes of this drama and then left watching it because of its clichéd storyline. The sisters' scenes in particular were really very boring! The acting of those actors especially that playing the elder sister was perfectly fine but the dialogues they had to offer and the attitude of their characters towards the brother and his fiancée was simply boring! They too were fixated with their brother's wedding and the bhabi-to-be, also with the jahez she was expected to bring with her. "Ab hamare pass fridge ho ga" "Aur TV bhi!" Han han as if you're presently living in a cave! Again, I'm not sure if it happens or not and I don't know what do sisters say or do when there brothers are about to get married, maybe it depends on the type of person you are talking about and maybe some sisters do say things like that and these characters and their dialogues are reality based, but I found it boring to say the least.
These and many other sibling characters in our dramas tend to annoy us either with their acting or stupid jokes and dialogues.
Where we have such characters, we also have some amazing, positive and "reality based" sibling characters such as
Sara and Zaroon in "Zindagi Gulzar Hai"
They were just like how we siblings are. They supported each other in tough times like we do, they bantered just like we do, Zaroon wiped Sara's tears like a good brother and understood her problems like is expected from any brother! Sara too supported his decision of getting married to Kashaf. Everything about their relationship be it mutual understanding, cooperation and support, the joyful moments spent together, their banters everything was so good and so real! The on screen chemistry between Ayesha Omer and Fawad Khan also contributed to making it one of the best sibling relationship on screen!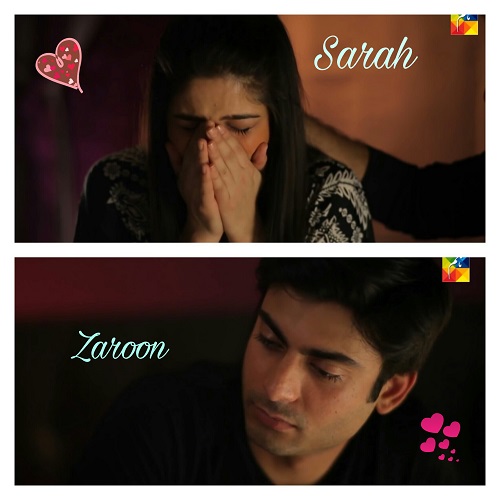 Dhani and Shani in "Dhani"
Sisters are your best friends! They can talk for hours and hours without getting bored, especially at night. They know about each and every thing happening in your life, they give you the best of advice when they feel the need to, they make the best of plans together without others knowing it. They sleep together, eat together and enjoy together. Sister defends you when you're being bullied by any other of your siblings especially brothers. A girl's happiness is incomplete without her sister's presence. They make the best of memories together. And that's exactly how the relationship between Dhani and Shani is shown to be in Dhani. Two naughty chulbuli sisters whose happiness and grief are mutual. I mean it's so nice and so real. #SistersGoals ?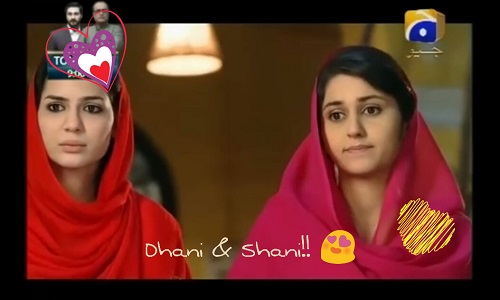 Hammad and Ibad in "Khuda Aur Mohabbat"
I was watching the second episode of Khuda Aur Mohabbat and was hugely impressed with the relationship they showed between Hammad and Ibad. I mean, I don't know why but the things I they said to each other (not those stupid marriage-related not-so-funny jokes siblings tell in dramas) and the level of friendship they had where nevertheless the younger brother could be sensed showing respect to the elder one made these characters look real. I think the acting of the actors playing Hammad and Ibad also made it easy for me to enjoy their scenes. I know the sort of relationship brothers share and the type of things they say to each other and based on that, I can say with certainty that their relationship is 100% realistic, relatable and fun to watch. Well done Hammad and Ibad! ?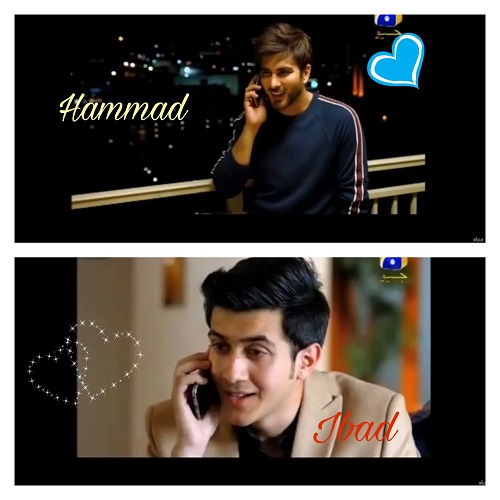 Maliha and Junaid in "Daam"
I liked drama serial Daam because of the fact that they showed reality based and close to life characters and established their relationship with each other too in a realistic manner. Maliha and Junaid were two siblings and the best of the best friends. In the first half of the drama we saw the sort of relationship they shared and the ups and downs of their relationship as the drama progressed were brilliantly written and portrayed on screen. It's the brilliance of Maliha and Junaid's characters  that even though I haven't gone through all that was shown but was able to understand what happens and how you feel when your sibling ruins your life for his own selfish reasons. Again, they made the most of the time they spent together at parents house. Talking at night for hours and hours, going out to eat ice cream together, shopping together, bantering, having fun together and what not!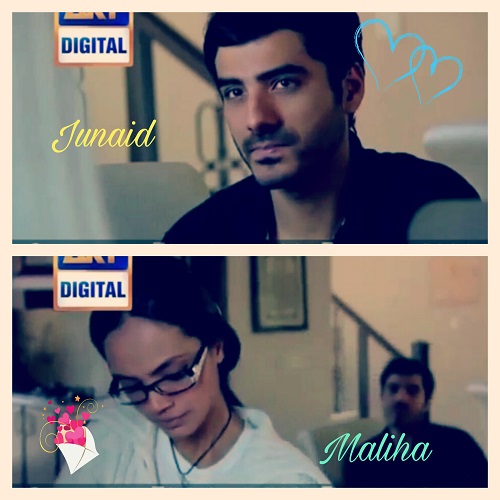 These were my choices for this article, share yours.
Thanks for reading!
Sidra Hasan