Sharmeen Obaid Chinoy and Andy Schocken's documentary "Song of Lahore" is appreciated and acknowledged by the audience in Pittsburgh, Pennsylvania.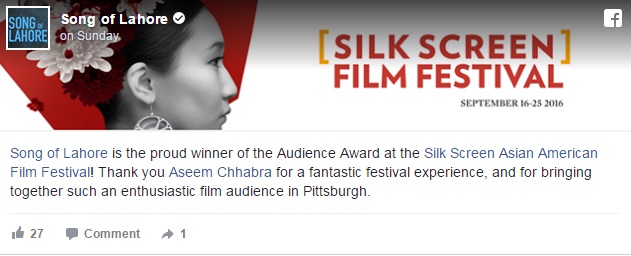 The film was shown at the Silk Screen Asian American Film Festival which is organised by the Silk Screen organisation that seeks to increase awareness about the Asian arts. The film has won the Audience Award at the 11th Silk Screen Asian American Film Festival. Previously the song of Lahore has also won the audience choice award at the London Indian Film Festival. It premiered at the Tribeca Film Festival in 2015, where it was nominated in the Best Documentary Feature category.
The film is about the Sachal Jazz Ensemble, a group of classical and their  innovative album of classical music took them into the global spotlight. The ensemble is made up of musicians who had previously given up on the art, but were again united by Izzat Majeed. Song of Lahore tells their journey.