Ever since his latest single "Angel" was released Taher Shah has been getting attention from all the leading channels in Pakistan. Everyone wants to talk to him about his songs and most importantly about the sort of reactions he gets from majority of the public. Waseem Badami invited Taher Shah to his show and among other things he talked to him about Twinkle Khanna's tweet. This is the tweet he was talking about: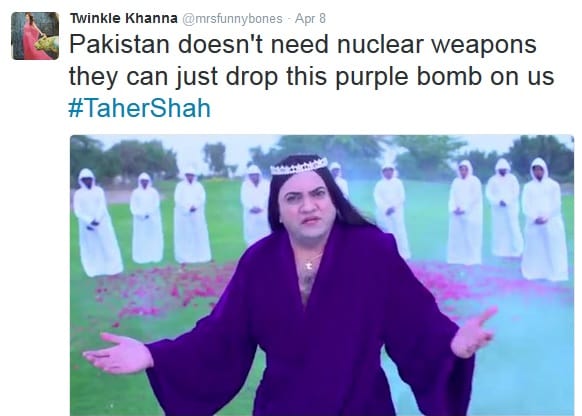 Taher Shah had a very cool-minded attitude in the entire interview. He made sure he did not give any blunt statements and was very diplomatic. He said that he was not aware of this tweet. He also said that people had the right to express their opinion. Waseem Badami asked him how he felt about being referred to as a "purple bomb". His reply was that it was because of the outfit he was wearing, nothing more and nothing less!!
Taher Shah was also invited by Samaa on their show. While interviewing him the hosts asked him why he had never commented about Aamir Liaquat's insulting attitude towards him in his Ramzan show. He once again gave a very tolerant reply. He said,
"Many people have said to me that I haven't talked about what happened and why I was silent about it. Well, I think silence itself is a befitting reply. The entire purpose behind making this song "Angel" was to inspire people to value fellow human beings. It gives the message of love and respect."
He also said that he did not let criticism stop him from doing what he wanted to do. He said,
"Criticism should be taken positively and one should learn from it."
Taher Shah also said that the biggest surprise in his video was the little kid in it. He wanted to show his little baby boy to the world through the video. He refused to comment on who the lady in the video was.