An upcoming film 'Saladin' is set to shake the entertainment industry. The teaser which released recently proves that it's not like any typical one but promises to be different and extremely interesting.
The film will be based on a Muslim ruler Salahuddin Ayyubi who was the first sultan of Egypt and Syria and the founder of the Ayyubid Dynasty. The movie is set to highlight the ruler's compassion, generosity, military skills and most of all immense respect for all even during a period of hatred and religious fanaticism.
The teaser was shot entirely in Lahore and looks amazing. Umar Agha, a film graduate from Columbia University, is behind this concept and researched a lot to discover the legend Saladin (Salah ad-Din Yusuf ibn Ayyub). The teaser has already created buzz in Hollywood and there have been positive responses coming up. The team of 'Saladin' needs funds to continue their project and create a proper feature film.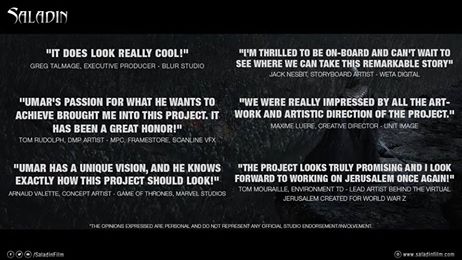 We hope the team gets the funding it requires because we just can't wait to see more of these impressive visuals.