There were some major controversies in the year 2014 that literally changed the course of the careers of some celebrities. Some celebrities took these controversies in their stride and came out stronger but others were not given much choice! There were stars who landed in these controversies purely because of bad luck and there are others who relied on controversies to get attention from the public. There are also many stars who do not really care what people think so they continue doing what they think is right without giving any kind of explanation to people. Sometimes a person's own actions do not generate controversies but they are simply dragged into them, many celebrities were dragged into such matters because of people they had worked with or associated with.
Here are the biggest controversies of 2014 according to the timeline.
Shamoon Abbasi Excluded From Waar 2
Shamoon Abbasi had a major role to play in Waar but when the casting of sequel of the film was finalized, he was left out of it. This was a shocking discovery for Shamoon's fans as well as for himself. Shamoon openly shared his discontent with the decision because according to him he gave Waar his best therefore he deserved to be part of this next project too.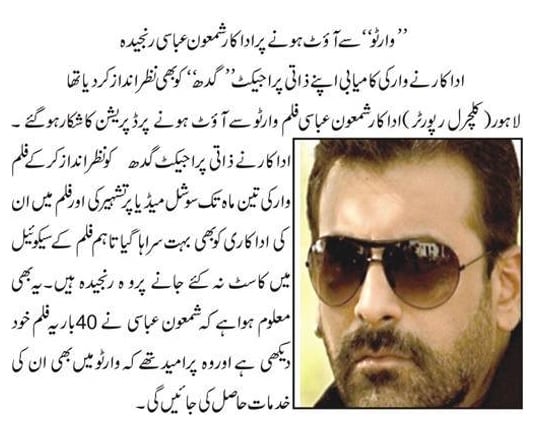 This year did not start well for Shamoon but he bounced back soon enough and was seen busy working on his film "Gidh".
Veena Malik's Facebook And Twitter Account Hacked
When controversial pictures and videos of Veena Malik were leaked out everyone thought that this was another publicity stunt from an actress who was desperate for attention. Veena Malik was already married when this controversy took place and she declared that her Digital Marketing Manager Parashant hacked her facebook and twitter account. Veena Malik also said that her husband was going to stand by her and this was not going to have any effect on her marriage.
Meera's MMS Video
Meera's MMS video was criticized by many people because it crossed all lines of decency. Mubashar Luqman invited Meera and her husband to his show to clarify their position. Meera gave a very feeble argument that these videos were fake. Mubashar Luqman on the other hand thought that this was a publicity stunt from Meera because she was not getting enough attention from people.
Hamza Ali Abbasi And Saba Qamar's Affair
People started talking about Hamza Ali Abbasi's and Saba Qamar's affair when some pictures in which both of them appeared to be very close to each other surfaced on the internet.
Later on a post on Saba Qamar's official facebook page in which she said that she loved Hamza left no reason to doubt that there was something between them. Hamza denied these stories and Saba stayed quite. Many months later when she was invited as a guest on HUM TV's talk show she narrated a completely different story about the post. She also said she did not need to explain herself to anyone.
Maria Meer's Rejection From Pakistan Idol
When Maria Meer was not selected as a contestant in Pakistan Idol many people thought that this was not a fair decision. Maria Meer gained popularity among people because of this and later on Amanat Ali decided to take her under his wings. Both of them came out with the song "Naina Lage". After this song people were even more convinced that the decision of the judges was wrong.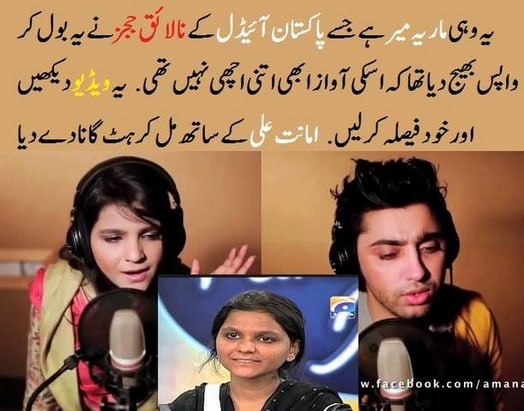 Maria Meer and Amanat Ali made many television appearances together. In one of the Morning Shows Amanat Ali said that he did not want to put the judges down and also said that Maria was not good at live singing, she needed more practice.
Ali Zafar's and Shaan's War Of Words
There has hardly been a time when the war of words between two mature actors has taken a turn which the exchange of words took between Ali Zafar and Shaan at the ARY Film Awards. When Shaan called actors who worked in India "cheap sell-outs", Ali Zafar took the statement personally and gave a long statement against what Shaan said.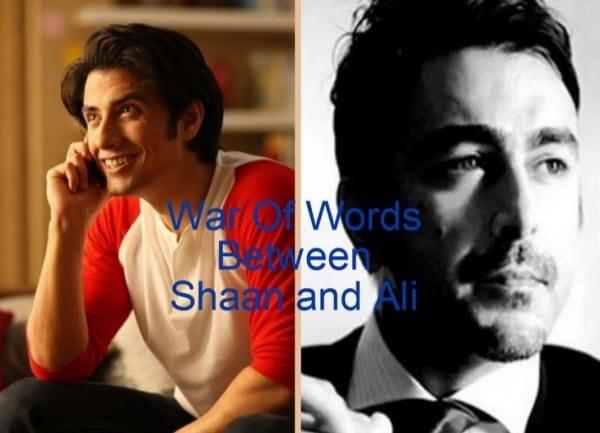 "Hum doosri cheezon ka sahara letay hain apni khaamion ko chupane ke liye, patriotism ke naam pae, doosri cheezon ke naam pae…"
"I think we should be honest. Humain sach bolna chahiye aur woh waqt agaya hai ke anay walay logon se sach bola jaaye"
"I think we should be honest. Humain sach bolna chahiye aur woh waqt agaya hai ke anay walay logon se sach bola jaaye"  was Ali Zafar's reply to Shaan.
Later on Shaan gave this statement and he went on supporting his stance regarding actors who work in India in his other interviews too.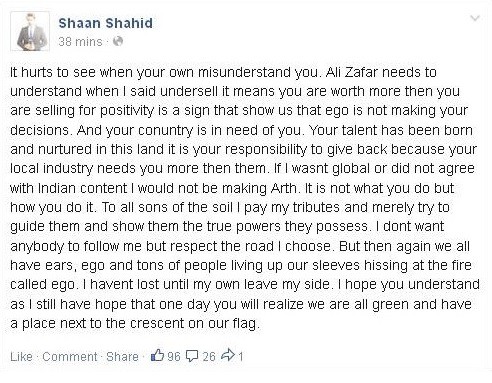 Geo TV Banned!
When Shaista Lodhi played that Manqabat in her Morning Show she had no idea how far this controversy was going to go. The immediate reaction from Islamic scholars with the support of ARY in particular landed not only the host of the show in trouble but entire channel too.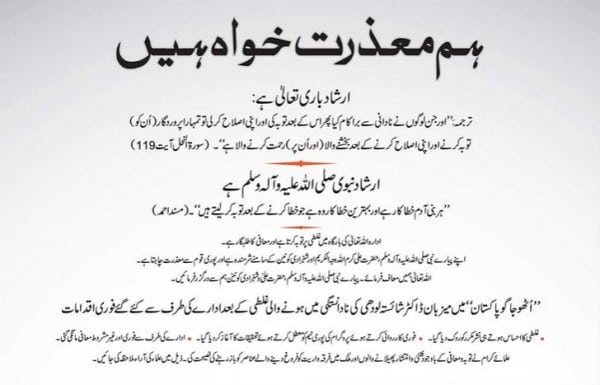 Shaista apologized, her show was taken off air and even the owner of the channel apologized but the matter was not resolved. As a result of this Shaista had to flee the country along with Veena Malik who was a guest at the show. Later on Geo TV was banned for many months. The court punished everyone involved to 26 years in jail because of the blasphemous act!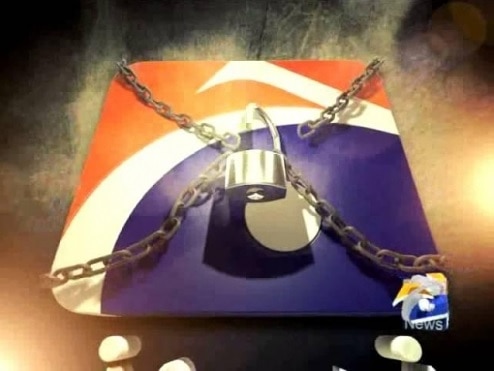 Aam Khaye Ga Aam!
Aamir Liaquat's ridiculing behaviour in his Ramadan Shows was strongly condemned by many people. This video in particular was criticized by many people because everyone thought that Aamir Liaquat was being very rude to his guests. People made jokes about his behaviour too.
Aamir Liaquat even answered the criticism but people still thought that his actions could not be defended in any way.
Rumors of Ushna Shah's and Hamayun Saeed's affair
The rumors of Ushna Shah's and Hamayun's affair came on surface when according to news Hamayun Saeed came to the Bashar Momin launch even though he was not invited there. Later on there was news that Hamayun's wife had caught both of them "red handed". Both parties said that there was nothing like that between them. Ushna declared the whole rumor a conspiracy against her and Hamayun.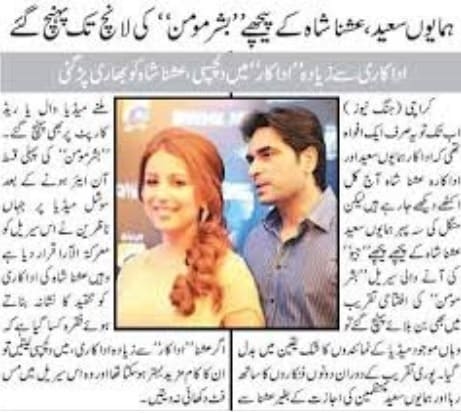 Few days after the rumor Ushna Shah was excluded from the cast of an upcoming drama that was being produced by Hamayun Saeed's production house. After the first episode of "Bashar Momin" went on air, people criticized actress Ushna Shah saying that Ushna would have been a much better actress if she had taken interest in her acting instead of the actor.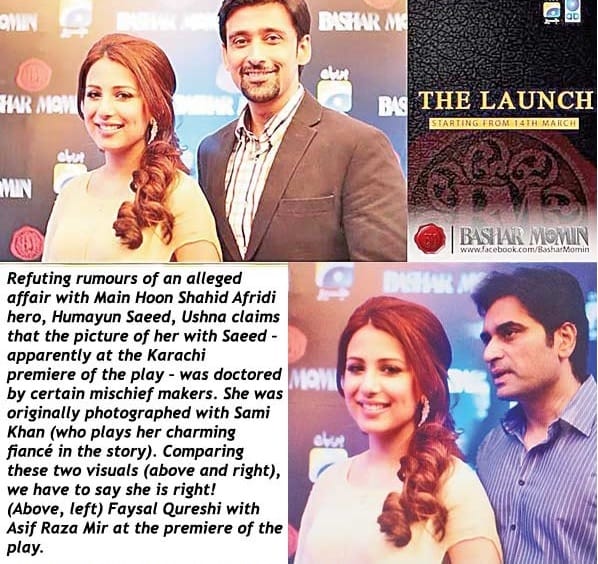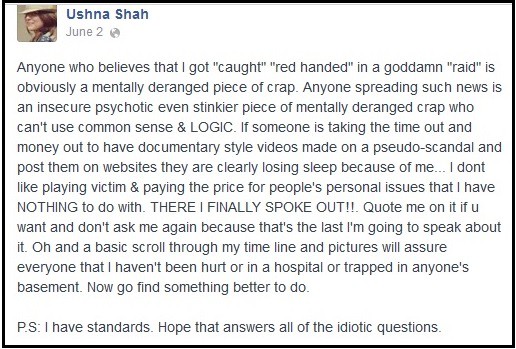 Shoaib Akhtar's Secret Wedding
The news of a celebrity's wedding is not controversial at all unless the celebrity concerned decided to hide such a news or refute it even when people find out about it! People kept on guessing who Shoaib's wife was after the news came out and Shoaib kept on denying it. After a few days he said that he was married!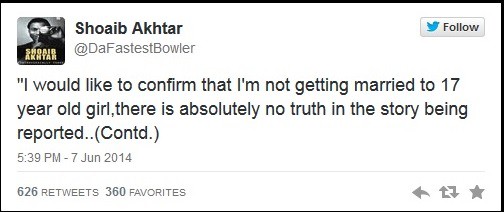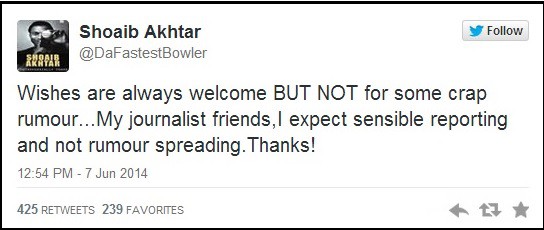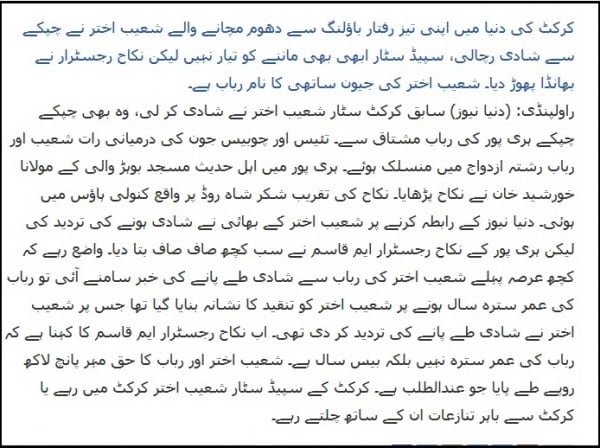 Bilal Lashari Files FIR Against Hassan Waqas Rana
Bilal Lashari and Hassan Waqas Rana's film "Waar" was a huge success but few months after the release of the film when Bilal Lashari filed an FIR against Hassan Waqas Rana it went to show that there was trouble in Paradise. According to the agreement, Hasan Waqas was to share 25 per cent of the profit with the director. In the FIR filed with the Kohsar police, Lashari stated that he was a partner of the investor in the film but Rana deposited Rs 200 million in his account, refusing to share any part of the earnings with the director.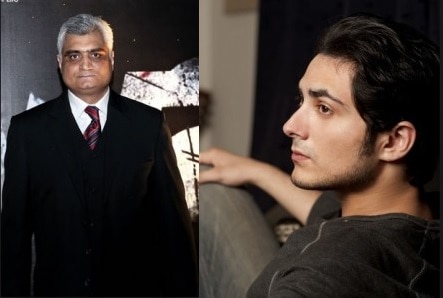 There were accusations and cross accusations, nothing has been revealed about the outcome of the FIR yet.
Mehwish Hayat's Item Song
Mehwish Hayat's image in the eyes of many fans was changed gravely when her item song for the film "Na Maloom Afraad" was made public. When the teaser for the film came out Mehwish Hayat's item song was talked about more than anything else. Many people argued that such item numbers were derogatory to women and were not needed either.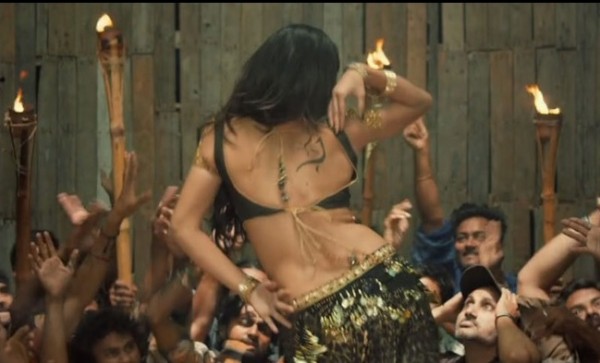 The actress on the other hand said that this item song was a "labour of love" and it was like a "dream come true". Mehwish Hayat also said that item numbers are a "highlight for any film"! People were very upset with these statements and with the manner the item song was shot.
Badar Khalil's Exit From The World Of Entertainment
When a versatile and gifted actress like Badar Khalil who has given more than half of her life to the world of entertainment exits it, it should be a moment of sadness but this moment turned into a controversy when in her last interview Badar Khalil pointed out her annoyance and unhappiness with the world of showbiz. Here are some of her statements which arose a lot of controversies:
"Fawad Khan has a make up artists all to himself because Hamsafar was a hit? These people think that since they have learnt acting, they know everything there is to know. Does experience not count at all?"
"Asif Reza Mir practically lived in our house and grew up with our sons. Now that they are established and have their own lives, they don't care about someone like me"
"Samina Peerzada did not have much potential to begin with but got groomed after doing all kind of roles, just like Shabana Azmi's talent was polished after doing all kind of roles. I feel that Smita Patel had more talent than her"
"My name doesn't always appear in credits; even if I am doing a strong antagonist or support role, my scene never makes it to the still or promos". She also says that her long scenes are cut short after editing."
"There are no friends in showbiz. My husband Khalil would tell me that you should draw a line even in your closet friendships so that you don't get hurt."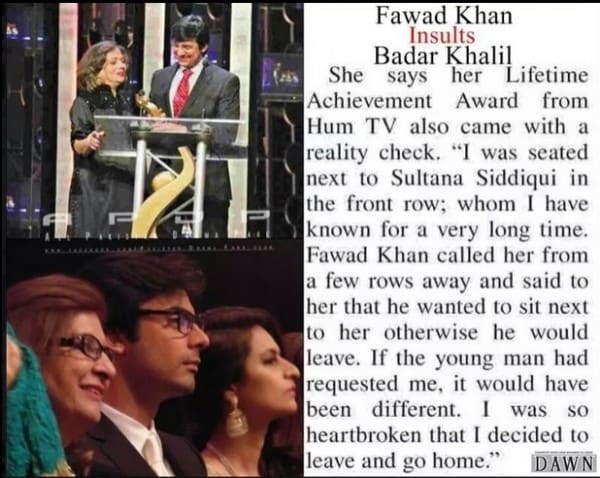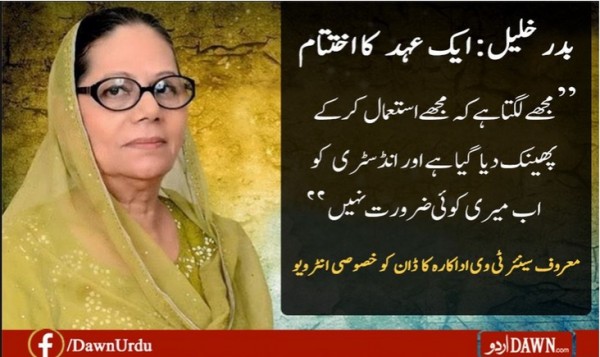 Here is how Ushna Shah reacted: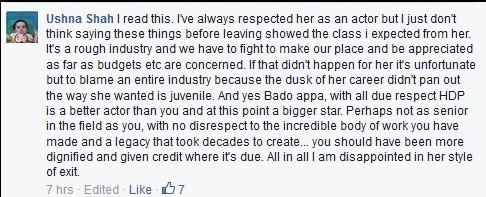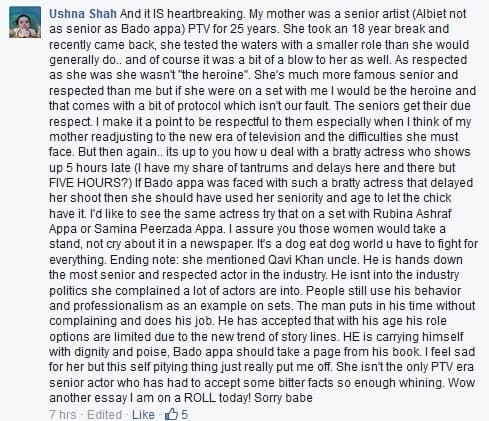 Fawad Khan's wife said that Fawad had no such demands and there was obviously some misunderstanding.
Mathira Sharing The News Of Her Marriage days before The News Of Her Baby!
Mathira is a very vocal person who believes in sharing everything with her fans but somehow she did not feel the need to share the news of her marriage with her fans. Sadly, the news of her pregnancy came out before the news of her marriage and that is when people started speculating all kinds of things since Mathira is already a controversial personality.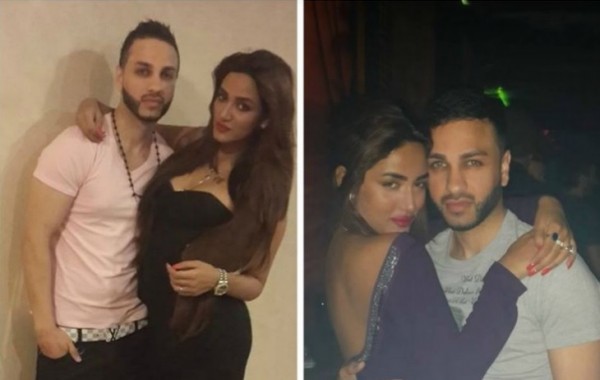 Mathira was very upset with people for such remarks and speculations and that is when she decided to make the identity of her husband public. "Shadi kar li gunah nahi kiya. When we are ready we will come and face the camera. I will not allow anyone to comment on my personal life," was Mathira's statement!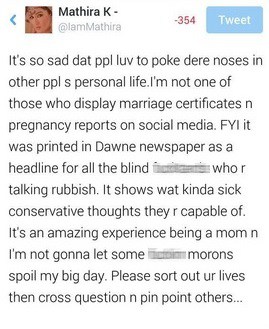 Saba Qamar Calls Hamza Ali Abbasi "Mardon ki Meera"
Soon after the news of Saba Qamar's item number came out Hamza Ali Abbasi showed his dislikes for item numbers in one of the posts on his facebook page and also his interview.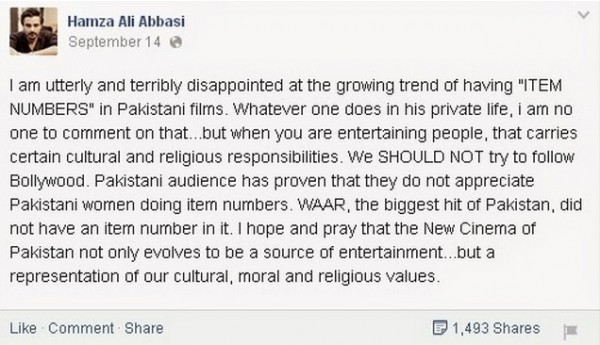 Saba Qamar was deeply offended by this and this was her reply: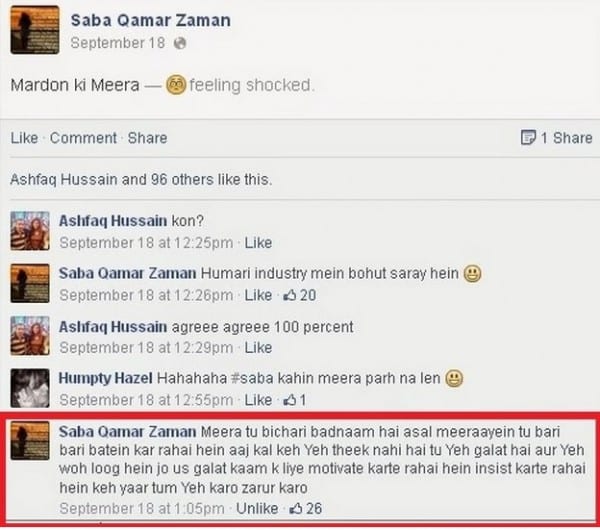 To this Hamza replied in this manner: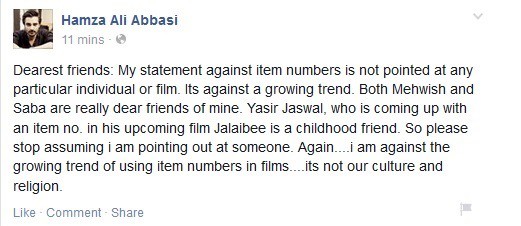 All this exchange of words made people wonder if the two stars who were once best friends no longer even got along with each other!
Ushna Shah's Offensive Facebook Posts
Ushna Shah became well-known this year because of Bashar Momin. Her facebook posts this year were not only controversial but also offensive. Some of these posts will show to you what I mean: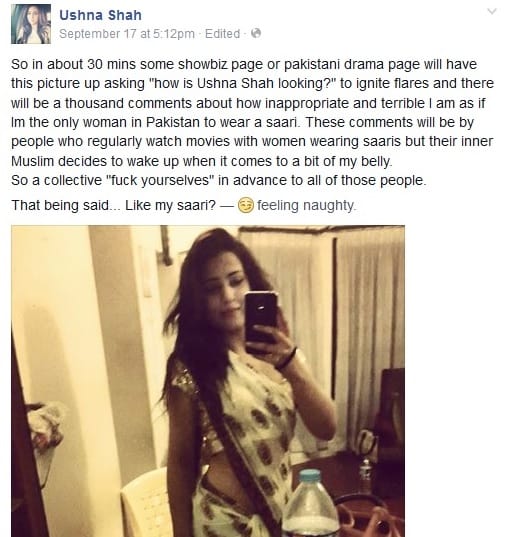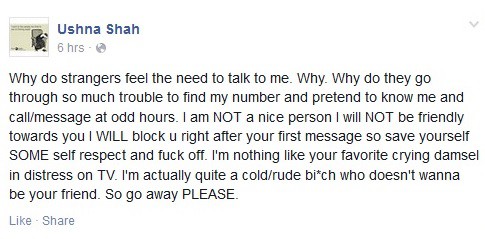 People were not happy with the way Ushna was reacting to everything around her.
Sarmad's Statement About Fawad Khan
When we hear these two names together the first thing that comes to our mind is the blockbuster serial "Hamsafar" but the fans of this hit serial were shocked when in one of his interviews with Times Of India Sarmad Khoosat said, "I like Fawad as an actor and a star but our approach and our process of working don't match and for me the process of filming a drama or a film is more important than the outcome, Our actor-director relationship was extremely nice till Humsafar but after that I had reservations about a few things with him. I might work with him in future. I feel Fawad, Mahira and I should work together again. But I don't have a feeling that 'Oh, I want to do something with Fawad'. My wish list does not have him."
Junaid Jamshed's Statement
Junaid Jamshed's statement regarding one of Hazrat Mohammad's (PBUH) wives landed him in big trouble. Even after so many apologies, he was not forgiven. fearing for his life, Junaid Jamshed left the country for an indefinite period of time.
Junaid Jamshed felt led-down by the reaction of the people but could not escape it!
Which controversy do you think is the one for which the person concerned had to pay the biggest price? And which controversy changed the image of the celebrity forever? Share your point of view!
Saud