Which is the most expensive drama of Pakistan!!! well there is no concrete answer, as in our country the budget of a serial is never made official for the reasons best known by drama producers. Whereas in many countries initial budget of a project is declared, and final budget upon completion is also made official.
Despite this sometimes we see claims by some drama producer regarding heavy budget of a drama. In our country television drama started by PTV, and it is not possible to estimate the cost of a PTV drama due to various factors as apart from actors, rest involved were permanant staff of PTV. However on few occasions PTV released the figure of revenue a drama had earned like revenue of drama Hawaien in 1994 was perhaps 3 crore.
Coming to satellite channels and private producers, neither of these have ever released the information on budget and revenue of a production. But still some private producers/channels claimed of producing the most high budgeted drama in our drama history. This trend is still in infancy, and ironically all such claims till now are put-forth by same media house. Moreover since the budget of any such serial is never officially declared, so mostly it is considered as an act to generate publicity.
This race or practice was started by none other than Geo TV, which started transmission in 2002. Before that any such trend was totally non-existent. Here is a list of dramas which were launched with claims of high budget. Since there is no official list of high budgeted Pakistani dramas, this list is entirely based upon my personal observations and citing, so be open to point out any mistake, by no means it is an official or concrete list.
Umraoo Jaan Ada
Right after its launch in 2003, Geo TV started Umraoo Jaan Ada, based on a famous Urdu novel. It was directed by Raana Sheikh with a heavy cast consisting of Bushra Ansari, Imran Abbas, Saadia Imam, Humayun Saeed, Faysal Qureshi, Adnan Siddiqui, Fahad Mustafa, Badar Khalil, Attiqa Odho and Sonia Rehman. The lead role was played by a debutant Aamnah Bano. The drama has many songs too. Meera and Resham also appeared as guest artists in this drama.
Geo launched massive campaign to promote this drama. For the very first time, Pakistani audience heard the claim of an expensive drama. Exact figures were never made official, however an estimated figure of 1 crore – 2 crore was in speculation. Those days, electronic media was in infancy, social media was not available, so Geo used all available resources in print media like Jang, Akhbar-e-Jehan, The News and MAG to promote it declaring it a masterpiece. As per advertisements and news published, main factors for high budget were extravagant sets, choreography, historical dresses and antique jewelry; to depict the atmosphere of 19th century of Lucknow. But the bubble busted after few episodes as it was an utterly boring and lackluster drama. The debutant Aamnah Bano, failed miserably to carry the role of Umraoo Jan Ada. For the sake of promoting drama, Geo TV also itself raised a controversy regarding some intimacy scenes in it, and arranged a special discussion on these scenes in program '50 minutes'. But all went in vain, and the drama failed to impress anyone.
Geo TV mostly plays privately produced dramas, and seldom produces any drama itself. Umraoo Jan Ada, was a proof, that Geo is not best at producing a drama.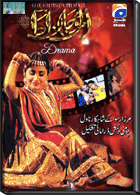 Partition Aik Safar
Another drama produced by Geo, again claims of high budget. This time the drama was Partition Aik Safar, which was started in 2007 and again directed by Raana Sheikh. The drama was launched on the occasion of 60th Independence Day of Pakistan. The cast included Madiha Iftikhar, Samiya Mumtaz, Farah Shah, Babar Ali, Shamil Khan, Adnan Siddiqi, Sami Khan, Sakina Sammo, Faysal Rehman, Meekal Zulfiqar, Aiman and many others. The drama was the story of different generations of a family spawning over 60 years in the history of Pakistan. Madiha Iftikhar was playing a leading role for the very first time in this drama. It was a young to old role, and in old role she was mother of actor Sami Khan.
This time, Geo TV has the support of electronic media along with print media, so a huge publicity campaign with claims of another high budgeted drama is initiated. Again exact budget is not made official, but speculation was between 2 to 4 crores. Some scenes of drama were also shot in Bangladesh and India too. The factors for high budget were; vintage dressings, styling, research work on story, shootings in foreign countries.
The drama was a good effort, but it failed to impress viewers due to many loopholes.  The team failed to reflect the environment and atmosphere of partition i.e. 1947 and 50's, 60's, 1971. Madiha Iftikhar was also unimpressive in all getups whether young and old. The 'attention to details' which is must for any play based on historical events, was totally missing which led to its downfall.
Despite massive advertisement campaign, the drama was ignored by viewers. It was another proof that Geo Tv is not best at producing dramas and gradually Geo TV stopped producing any further dramas of its own. Instead it started airing dramas produced by other production houses.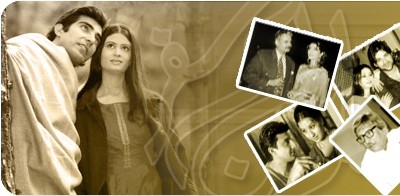 After failure of two dramas claimed as high budgeted, there was a period of silence where no other drama is declared as high budgeted, but old habits do not change so easily. Following its own silly traditions, in 2014 Geo TV again came up with claims of another high budgeted serial named Bashar Momin.
Bashar Momin
Bashar Momin is recently started drama of Geo TV, starring Faysal Qureshi, Ushnah Shah, Sami Khan, Yasir Mazhar and Maheen Khalid Rizvi. This time Geo TV has support of print media, electronic media and above all social media to advertise this drama. The drama is not produced by Geo TV, instead it is produced by A&B production house.
In the advertisement campaigns the drama is declared 'out of world', 'master piece' and a 'unique experience' never witnessed before in the entertainment history of Pakistan. The exact budget is never made official, but it is speculated to be in many crores. The main factors were styling, extravagant sets and props, costly jewelry, necklaces, dresses and locations. A Python snake is featured in the promotion photo shoot as well. Not contented with claims of heavy budget, the drama team also claimed that it will air simultaneously on an Indian channel and many international broadcasters are interested to buy its international rights too.
Its too early to comment on the fate of this serial, as only three episodes are telecasted so far. Enough is already said about it, but there has been nothing exceptional and noteworthy regarding this serial as promised in the advertisement campaign. Also three episodes have passed but the Indian channel and international broadcasters have somehow disappeared or who knows perhaps it was a confidential deal, where names of signatories are kept private.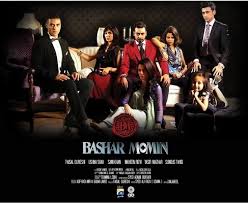 Concluding the list, I must say that the trend of claiming high budgets does raise many questions. Is it a positive and healthy trend to make such claims? Is heavy budget is a guaranteed factor for a quality drama? Do viewers get attracted towards a heavy budgeted drama? Above all when a producer/media house comes up with such claims, shouldn't the budget be made official, which is a base of such claims?
Being a regular viewer of Pakistani dramas like many of us, I can only answer one question that yes the claims of high budget are successful in attracting viewership, but only to an extent and that too in initial phase. If there is no substance in drama then after few episodes the drama fails badly. Why? because; such claims raise the expectation of a viewer from the drama, and when these expectations are not met, it results in flat failure. Also television audience of today is very intelligent, and cannot be fooled by repetition of such claims.
Being viewers of Pakistani dramas do share your opinion too. Are you attracted by such advertisements campaigns and whether budget is a benchmark for a quality drama? Above all how do you react to, when such drama fails to meet the expectation.
Thanks
Rashid Nazir Ali